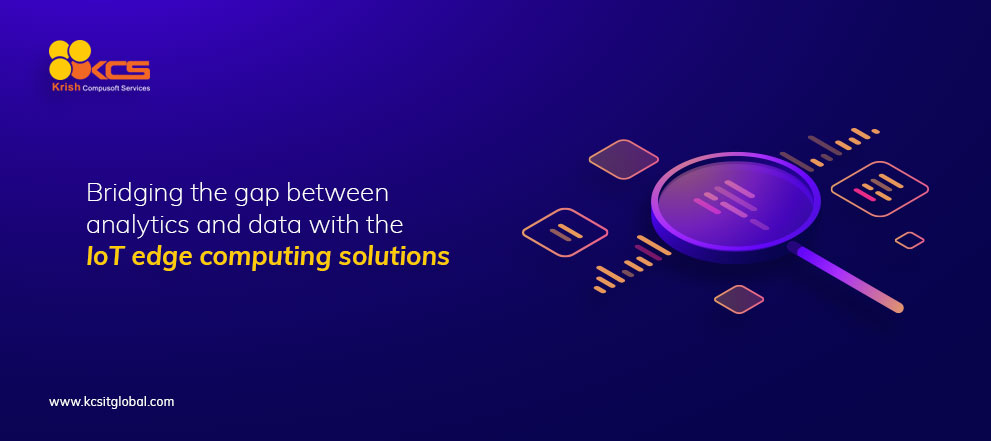 Category:

Cloud, Data Engineering & Analytics, Product Engineering
Leveraging data and analytics combined with IoT edge computing
The Internet of Things is transforming the business landscape by creating a vast network of connected devices, people, and technology. The only way to stay competitive in this highly connected world is to implement IoT-driven analytics to your data and find meaningful insights. Data intelligence in combination with data science pertains to the analysis of the complex data to uncover hidden patterns and trends.
Today analytics has become an integral part of the business world because of the versatility and accuracy of the outcome it promises.
Focus on business value
In the world of the Internet of Things, everybody and everything is connected. Right from consumers in a sensor-rich environments to an enterprise with new ecosystem of technologies like AI and ML. But without data analytics, IoT would be like trying to find a pin in an ocean.
IoT and Analytics go hand in hand in the edge and in the cloud to deliver tremendous possibilities in an increasingly connected world. Blending intelligent technologies it fuels businesses with a steady stream of insights, gives 360o view on customer data to boost revenues and relevancy, enables faster decision making, and accelerates innovation.
It redefines the data storage, batch & data processes to ensure complete visibility, transparency, trust, and accessibility at speed. Enterprises across all the industries are going digital with the digital disruption steering focus from the core modernization to delivering customer experience.
CIOs or business owners who master innovative IoT trends can have the opportunity to stay ahead and lead the digital innovation in their business. According to Gartner, IoT will digitally disrupt every business function in the coming years. Enterprises should ensure they have the necessary skills and system to support key emerging IoT Analytic trends by 2023 to make their data-driven journey successful.
IoT Analytics at the edge
Chances are your business is storing loads of dark data. And if you are already implementing automation, AI & ML, chances are you are creating more data than ever. In order to make sense from that data, enterprises need sophisticated analytics enriched with data sources on an agile, flexible, and secure platform to respond to the changing business needs.
Profitable growth is dependent on becoming an intelligent enterprise by acting on insights today and predict the market needs of tomorrow.
They need to invest in an intuitive technology that can sense the needs of its business users and employees and respond quickly and seamlessly. IoT based platform is the perfect solution that uses smart technologies and industry-specific analytics to evolve core business processes.
It helps businesses expand their top line and reduce their bottom line while focusing on customer experiences. Well, there is no sure-shot way of digital transformation. Analytics and data services are powerful tools, but business intelligence is to combine them with Automation, AI, ML, and IoT to meet the current market trends and bring your business vision to life.
Outcome of implementing a real-time data management process
Enables data storage and boundary less business possibilities through data science

Self-serve data discovery helps gain rapid insights

Agile, informatics rich approach to business decision making

Businesses can get fast actionable outcomes to scale right

Optimize & automate data stream engines to improve customer experience

Gain unparalleled visibility and transparency into your systems

Analyze and act on important data from anywhere anytime

Real-time alerts on compliance and fraud risk management

Promotes IT optimization and modernization

Gain actionable insights from an ecosystem of a self-learning platform

Optimize people processes and existing product performance
Be future ready, right now!
Escalating volumes of data, application silos, complex AI, ML, and IoT deployments, and other challenges makes scalability as well as manageability difficult for any enterprise.
To tackle the issue, Krish Compusoft Services has created "Konfluence", a cutting edge self-serving platform that enables enterprises with business intelligence and insights-driven competitive edge. With the unprecedented huge volumes and variety of data, organizations are forced to re-architect their data engineering capabilities by bringing analytics to the data.
Enabling data convergence, "Konfluence" empowers organizations across various industries to adopt an easy, self-learning system and pave a way forward to take advantage of the new technologies.
Analytics, AI, and ML are deeply integrated into this cloud-based comprehensive suite allowing clients to operate with new agility and efficiency across all their business functions and make smarter and faster business decisions.
It's time to pilot first, transform second with integrated data platform, and generate value along the way to be the real winners!
Recent posts
March 15, 2022

November 29, 2021

November 12, 2021
Articles
February 02, 2022

November 15, 2021