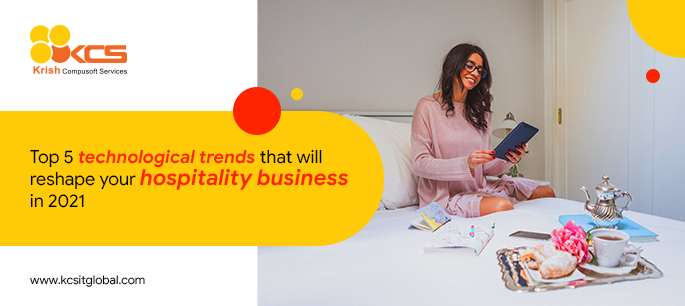 Category:

Digital Transformation, Product Engineering
Top 5 technological trends that will reshape your hospitality business in 2021
Travelers these days demand some kind of technological amenities from hotels and hospitality providers. A bad experience might cost hotels losing one loyal customer or could haunt them in form of a negative review and peer-to-peer social sharing. But, there are some hospitality trends that are expected to completely reshape this industry. They are being fed by rising customer demand, the latest technological advancements, and an ever-evolving market that is continuously adapting to its target demographic.
Studies show that technological expenditure in the hospitality industry is increasing every year. About 62% of the total technological budget is allocated to payment and data security. At the same time, in-room technology comes second at 56%, bandwidth is in third place at 45%, and mobile engagement is in the fourth position at 43%. As far as hospitality technology trends are concerned, experts say that location-based technology, front desk tablets, mobile payment options, room controls devices, integrated mobile apps for guests, interactive digital signage, etc. have already dominated the industry.
Let us explore 5 technological trends that are expected to completely transform the hospitality business this year.
1. Digital check-in/ check-out:
Hotels check-ins and outs can also be done with the help of mobile devices via hotel apps. This is one of the revolutionary steps that will allow for host processes to be executed digitally – minimizing the physical contact. The app will prompt important reminders to the guests and travelers and notify the hotel staff about details like guests' arrival, departure, and other specific requests. The hotels can also send digital cards or welcome messages to the guest and continue to offer support digitally during their stay.
2. Smart Guest Experience:
No hotel can operate without guests; due to this reason, hoteliers could expect to see smart technology further shape their experiences and expectations. Not only the guest data can be used to help better fulfill their needs, but in conjunction with occupancy sensors, it can also be used to automate guest interactions throughout their stay. This minimizes both friction points and labor costs as well. Likewise, smart technology will continue to make it simple and easy to anticipate and personalize various guest services on the basis of their previous visits and aggregated guest data.

3. Smart Room Services:
Smart occupancy sensors will help hotels in sending push menu notifications to smartphones at optimal when the guests are available in their rooms. These notifications can also include personalized suggestions based on their previous order. Indeed, a lot of food delivery apps are already offering a similar experience, sending push notifications to frequent users at their preferred times on their preferred days.
4. Automated experiences:
Restaurants, theaters, and hotel owners are seeking modern ways to reduce the number of high-touch areas to reduce the spread of infections. Automated technology can play an integral part in this regard. Deploying hands-free faucets and toilets can be one of the basic and effective measures. Theme parks, hotels, restaurants, and movie theaters will want to install sensor-based sanitizer dispensers at various spots within their establishments. Moreover, automatic mask dispensers can also be installed to give guests the best hospitality experience while keeping them safe.
5. Smart Parking System:
The parking problem is one of the biggest banes of any major cities or tourist destinations. Therefore, the hospitality industry is focusing on offering services like parking assistance via mobile applications. Here, mobile app development companies play an important role. With the help of these handy apps, guests can reserve their parking slots in advance. Smart sensors within the hotel premises will allow visitors to park their vehicles in the assigned parking slots hassle-freely. This will reduce the involvement of operating staff in the parking lot. Operators can also track the vehicles entering and exiting the slots in real-time.
Conclusion
COVID-19 pandemic has substantially impacted the overall performance of the hospitality industry. But, by following proper rules and leveraging modern technologies in the best possible manner, these new challenges can be overcome. If you are wondering how to make your hospitality business more tech-oriented that better suits the current scenario, KCS is happy to lend a hand. We have a team of highly-trained professionals who can analyze the challenges you might be facing and develop software solutions as per your needs.

Recent posts
March 15, 2022

November 29, 2021

November 12, 2021
Articles
February 02, 2022

November 15, 2021