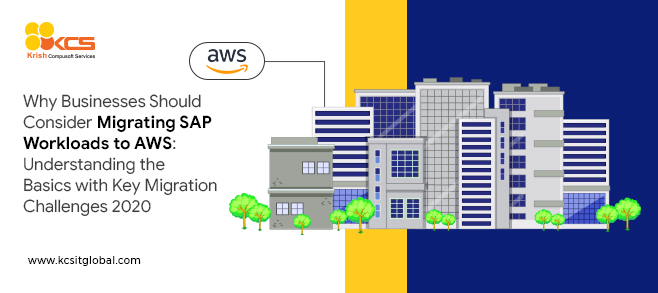 Category:

Cloud, SAP S/4HANA – The Intelligent ERP, SAHAYAK for SAP
Why Businesses Should Consider Migrating SAP Workloads to AWS: Understanding the Basics with Key Migration Challenges 2020
Did you know as per a report published in Markets and Markets; the cloud migration service market is expected to grow from USD 3.2 billion in 2017 to USD 9.5 billion by 2022? The annual growth rate is likely to be 24%. Cloud computing has become the next mandatory thing for businesses after their growth and several reasons drive this change like lower costs, flexibility, agility, and security.
Enterprises are rapidly migrating their on-premise server loads to the cloud. When we say cloud migration services then it everything right from combining the know-how of research and innovation to the complete lifecycle of cloud-ready solutions, to offer accelerated Time-to-Market (TTM) and enhanced operational processes.
There are major cloud service players that provide solutions against key cloud migration challenges like AWS, Microsoft Azure, Google Cloud, and more. But, selecting the one reliable one could be a tedious task especially if you are looking for a cost-effective solution. Before deep-diving into the topic as 'why SAP migration to AWS' is a good choice, let us understand in a brief about cloud migration basics with challenges for businesses in cloud migration in 2020.
What is Cloud Migration and Why Businesses Need to Migrate their Workloads to Cloud?
Cloud migration is the process through which organizations shift their servers and applications to a cloud-based hosting provider. Companies can leverage many benefits while turning to cloud-like scaling server resources becomes hassle-free and can be done in no time. With this, they can also save money as the cloud-based solution is more budget-friendly and unlike shared hosting. And lastly, in case of shared hosting other users cannot directly impact your server or application performance.
In a nutshell, cloud migration simplifies the process of setting up applications that users can interact directly with their browsers instead of downloading them to their devices. Here are a few of the operational challenges reasons that make cloud migration a good choice for businesses.
Spike in traffic and the inability to scale server resources to meet with sudden operational demands.
High operational costs and futile processes.
Requirements for data storage.
To handle all the server and application access needs of a geographically distributed team.
The in-house disaster recovery process cost.

Migrating SAP Workload to AWS: An Overview
Migrating your SAP to the cloud, in a process called SAP transformation, is the first step that many customers take towards implementing this approach. Through cutting-edge technologies like SAP S/4HANA, SAP has prepared businesses to flourish in this fast-paced digital environment. And now, you can take SAP's strength even further by switching to the AWS cloud for full mobility and low costs.
Since the year 2011, AWS has been an SAP Global Technology partner. AWS and SAP have worked closely with different providers to ensure that SAP Workloads on AWS are delivered rapidly and effectively for reduced costs, creativity, and streamlined network management. AWS Server Migration Service (SMS) makes it easy to effortlessly and securely move SAP workloads into AWS Cloud on-premises. One of the essential advantages of converting SAP Workloads into AWS is the scalability, without thinking about how business development can be accommodated. Through SAP migration into AWS, the simplicity of spin up/ down / change configuration is also possible.
Why Cloud Migration to AWS
The data centers and services of AWS's have several layers of physical and operational security to ensure the safety and integrity of the user's data.
No long-term commitments or upfront expenses as AWS offers an affordable 'pay as you go' pricing model
Useful for jobs recurring at regular intervals. AWS is an ideal solution for 'mission-critical' jobs.
Auto-scaling and elastic load balancing can scale the resources automatically in case of unforeseen increase in demand
Key Cloud Migration Challenges 2020 and AWS Solutions
Handling cloud migration is complex along with many challenges that you may run into in your AWS migration project. Here are a few common challenges and tips on how to resolve them.
Challenge: Resiliency for Compute and Networking Resources
Solution: Amazon provides active/standby IPSec tunnels and the AWS Direct Connect service that creates a direct connection from your enterprise network into the VPC. Use a combination of both to ensure highly resilient networking.
Challenge: Highly scalable and dynamic environment making log analysis and metric collection complicated
Solution: Leverage Amazon CloudWatch and see Amazon's reference architecture for centralized logging using CloudWatch, Lambda, and Cognito.
Challenge: Cloud environments are dynamic, and costs can rapidly change as you adopt new services or scale applications up and down.
Solution: Create an economic model to simulate how much you will spend on AWS across applications, services, and projects. It can be helpful to use an AWS calculator to plan your budget more accurately.
There is a major risk of a "security vacuum", as applications move from on-premise to the cloud, but existing security tools and strategies don't go with them.
Solution: Identify AWS services and solutions that can provide equivalent or better security measures to those you have today on-premises. And build those services into your deployment plan,
Challenge: Higher latency and insufficient bandwidth can harm the performance of your application.
Solution: Choose solutions offered by AWS, such as AWS Direct Connect, which can help them achieve highly resilient, dedicated connections between their Virtual Private Cloud (VPC) and on-premise infrastructure.
SAP AWS Migration Steps
Every SAP migration to AWS will be slightly different, so it makes no sense to set out an elaborate recipe here. Rather, the big migration measures that almost every SAP migration to AWS has in common are worth looking for.
Preparation, including comprehensive compilation and analysis of technical and business criteria, staff assignment information, and partner client positions.
Architecture of the AWS solution including failover and backup, along with VM memory and processor configurations.
Build proof of concept atmosphere for others, followed by research, and assessment of "lessons learned".
Preparation of current SAP migration properties, including data cleanup and modifications to the new cloud hosting application code.
Build your AWS Landing Zone.
Install, configure and deploy SAP on AWS, including the "go live" moment when you roll the old system over to the cloud.
Planning the protection and disaster recovery plans and then executing them
The Basis of Modern Landscape.
Managing Risk Control and Enforcement Governance, such as Duties Split (SoD).
Amazon Web Services (AWS) is a worthy option if you are considering moving any or your entire SAP environment to the public cloud. As an AWS Select Consulting partner, we have several Public Cloud solutions for SAP. AWS offers larger cases, more robust flexibility and automation, improved reliability, and stronger third-party support in addition to standard SAP software bundles. And it is not a straightforward choice. Although the cost of operating a data center is becoming increasingly difficult to justify, putting SAP on AWS is not without its challenges. Nonetheless, having consulted on SAP migration to AWS with several clients, we can suggest best practices that will help ensure a smooth transition.

Recent posts
March 15, 2022

November 29, 2021

November 12, 2021
Articles
February 02, 2022

November 15, 2021