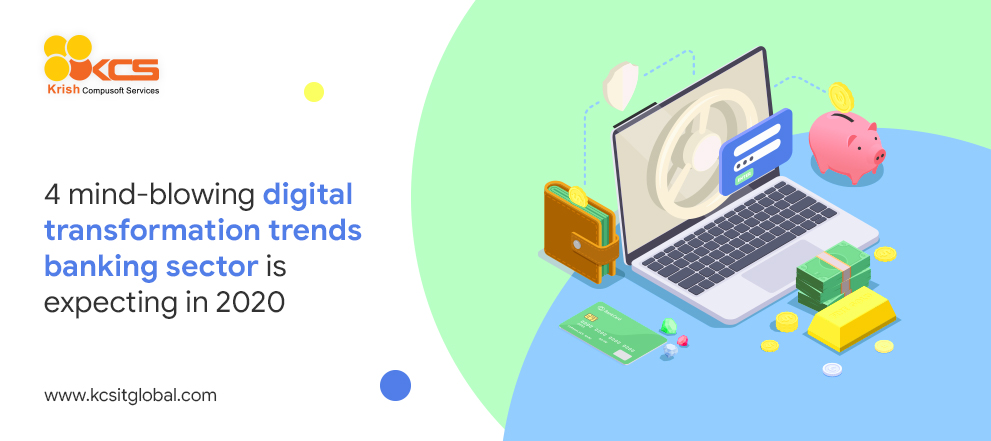 Category:

Financial Services
4 mind-blowing digital transformation trends banking sector is expecting in 2020
Because of the modern and cutting-edge technology, banking and financial services sectors are in the urge of transformation. Gone are those days where people used to drive all the way to banks for withdrawing money or manually balance their checkbooks. The invention of Financial Technology (Fintech) has made managing the finance simple and access to all kinds of accounts just a click away.
But new mobile apps are not the only technology that is transforming the banking and financial service sectors. Banks and various other firms are using modern technologies to enhance their customer experience, streamline their processes, and expand their services. Incorporating artificial intelligence, data analytics, and blockchain technology, the banking sector is successfully leveraging digital transformation. Below are 4 digital transformation trends that banking and financial service sectors are expecting in 2020.
1. Artificial intelligence will make a huge impact in the financial sector:
Almost every sector has experienced the impact of artificial intelligence in their business, and the financial sector is no exception. Some of its uses have been around for a while, for instance, using AI and predictive analytics to determine whether a customer is eligible for pre-approved credit cards or loans, but this use has expanded because of digital transformation in the banking sector.
AI-powered chatbots can help customers in providing financial advices, aids in fraud detection, and can even guide them in investment related issues. A study conducted by Accenture discovered that 54% of bank customers needed tools that can help them in monitoring their budgets and make real-time adjustments. 41% of customers state that they are ready to take financial advice from artificial intelligence. Personalized and real-time advice is a need that's only growing, and AI will drive these tools for banking and financial firms.
The Australian and New Zealand Banking group deployed robotics process automation in their systems and observed 30% cost savings in some functions. The group automated more than 40 different functions, releasing staff to take on more complex tasks. As the technology like RPA is evolving regularly to become more efficient, financial services firm will figure out more ways to capitalize.
2. Maximizing the use of data analytics:
The banking and financial sectors are leaders in adopting data analytics in their business operations. As the technology has expanded with the Internet of Things and various digital devices, there is more information available for banking and financial firms to track. Today, gathering information of any customer can be done by the swipe of a credit or debit card, allowing businesses to easily detect irregularities and better assess risks.
In recent study, IBM found that 71% of banks and financial organizations that used data analytics said that it gave them a competitive advantage. Banks can use the insights of their customers' behavior to enhance the branch experience. Enterprises will find new and innovative ways to use this information for tailor products and services to their customers.

3. Resolving security issues using Blockchain:
For a long time, banking and financial service sectors were planning to integrate digital transformation into their systems. On the contrary to cryptocurrency, the technology is ready to use for advanced security solution. Banks can incorporate multiple points of verification built into every transaction. This can be advantageous for the people who are transferring a large amount of money.
Blockchain also saves money. There's no intermediary to charge fees because the technology makes the peer-to-peer transfer in a decentralized network. Right from monetary transactions to transferring contracts, banking and financial firms can utilize blockchain technology more as popularity grows.
4. More bank branches will adopt digital transformation:
Now that mobile banking has grown in popularity, banks are finding new and innovative ways to enhance the branch experience. Branches might not be able to compete with the convenience of customers having easy access to all their accounts in the palm of their hands, but banks can add value to the act of physically stepping inside the branch.
Digital signage can enhance the interactive experience to the branch visitors. Mobile devices can help customers with certain tasks to navigate through processes quickly and efficiently. Employees can carry out various operations of banks with iPad devices and helping people anytime anywhere. As customers prefer online banking, branches can harness cutting-edge technology to establish better-in-person experience.
Conclusion
Digital transformation can make remarkable changes in the financial services industry and benefit society. It can also take over individual banks' legacy systems, enhance operations, improve efficiencies, and increase control. For the last two decades, KCS is helping the banking and financial sectors in automating various operations of their businesses. Our digital transformation consulting team will guide companies to invest in the right technologies that would meet with their business needs in best way.
Recent posts
March 30, 2022

November 04, 2021
Articles
February 02, 2022

November 15, 2021
Global Presence
For 360o business innovation across the globe, get in touch!