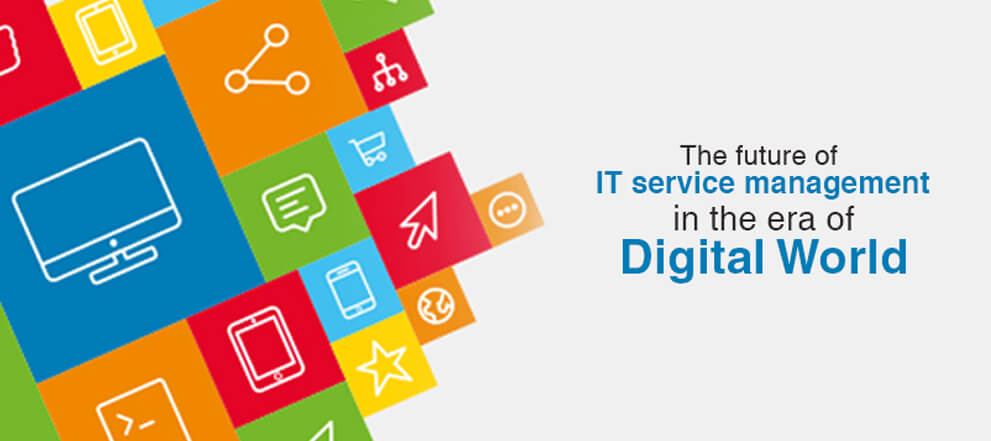 Category:

Energy & Utilities
The future of IT service management in the era of digital world
Digital transformation is on top of every organization's agenda. It helps leaders outperform their peers in every industry and advance rapidly on the economic landscape. However, the increasing level of difficulties that come with the ever-changing, fast-paced cloud world of digital, imposes every innovative company to invest in a strong IT department.
Modernized IT service management is at the core of enterprises which ensures that digital transformation matches well with the operational excellence, IT agility and most important customer experience. Unlock new potentials for your organization with the help of digital technology as well as development services and solutions for new strategic technology imperatives.
In today's era, digital services are highly intuitive than all the traditional IT services of the past. Hence, people have to be innovative, fast and smart to a whole new level to meet the customer demands. Digital Transformation Consulting Services is a new vision for the IT service management, leveraging technology not just for effectiveness or efficiency but to transform the business and enable new opportunities.
If you want to be successful in a 'digital everything' world and if you want your organization to serve with relevance and credibility, you must invest in an IT that drives transparency, enables innovation to its stakeholders and serves all the required demand of your customers.
The potential benefits of a successful IT service management are as follows:
Support Agility and responsiveness
Streamline processes
Reduce operating cost
Improve customer experience and engagement
More informed decision making
Implementing comprehensive and perfect IT service management solutions need experts. One must always consider following points for a successful implementation of the service management:
Do it right: The size of the service management must be right for your organization
The organization must change its culture and adopt the right IT Process Consulting Services capabilities in order to deliver successful results
In order to flourish from the implemented IT service management one must use right tools and define the processes well to execute automation.
IT service management is not the beginning or the endpoint for any organization, one must treat it as a journey and must make necessary changes as your enterprise grows.
Krish Compusoft Services (KCS) is embracing this new digital era with highly integrated IT service management solutions that seamlessly integrate with your current system, thus helping you to focus and reach your goals effortlessly. Having more than two decades of experience with the heavy lifting for digital enterprise customers, they combine services with substantial investments to create the breakthrough user experience and reach to the journey smoothly.
ITSM brings a suave wave of change including the adoption of frameworks that transform your current system into an engine that will yield high business growth in the future. It's time you adapt the right IT service management solutions today to drive business growth tomorrow! A modern and robust ITSM strategy is and will continue to be a strategic imperative.
Recent posts
March 30, 2022

November 04, 2021
Articles
February 02, 2022

November 15, 2021
Global Presence
For 360o business innovation across the globe, get in touch!