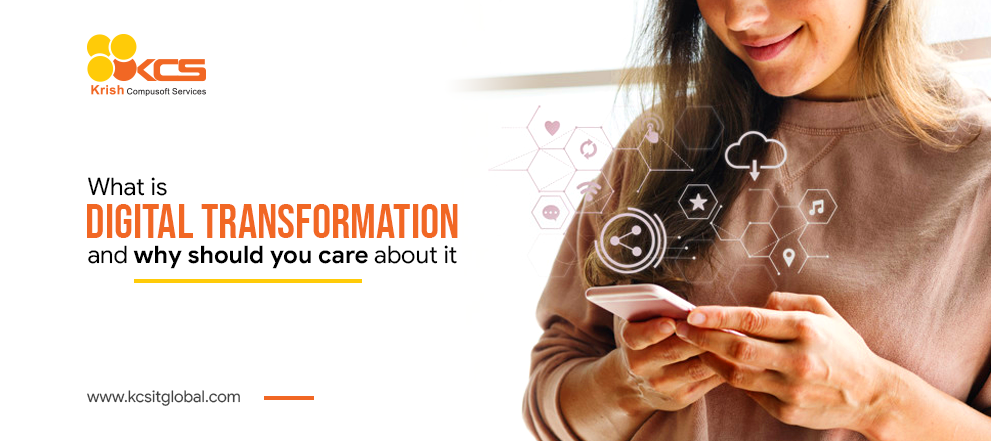 Category:

Hi-Tech
What is digital transformation and why should you care about it
A lot of companies are choosing digital transformation, but it is tough to pin down what that means and how hard it is to use. In addition, a lot of customers are digitally native and have high expectations from this interaction with you. But the real question arises is that what does digital transformation mean? As marketers, digital practitioners, and technology professionals combine and ask how will they transform their marketing to digital, or how will change into a digital go-to-market strategy, or how will they become a 'digital-first' company, and what lies at the foundation?
Why digital transformation matter?
Staying competitive in a continuous shifting global marketplace depends on an enterprise's capability to rapidly comply using the adoption of the latest technologies. IDC predicts that worldwide spending on the technologies that allow digital transformation will reach almost $2 trillion in 2022. Businesses that embrace digital transformation are fixated on engaging their clients in delightful experiences across multiple channels. Those that do not risk falling behind.
Digital transformation plays a vital role in:
1. Customer experience:
Nowadays, customers have wide choices than it was before. This means the stakes are high for enterprises to not only offer innovative products and services but to deliver meaningful interactions and experience that gratify clients and foster brand loyalty. Just imagine how many choices you have for food delivery today. The reasons you might choose one over the other can directly be related to the company's digital transformation. It doesn't matter if it is an easy-to-use app, a streamlined transaction, outstanding customer services, or faster delivery.
2. Employee experience:
This is not just about offering your workforce with the modern and cutting-edge apps and devices; it is about making a simple, latest, and more fulfilling experience for your most valuable asset, your employees. Research tells that businesses that invest in employee experience have more engaged, productive staff, that converts to enhanced customer experience. Digital transformation can help enterprises render not only the tools that people require but also quick access to everything they need from anywhere.
3. Process optimization:
An enterprise's capability to render great employee and customer experiences depend on its ability to smoothly operate on the background. Simplified workflows, digital processes, and automated tasks are ways businesses can make efficiencies.
Who is responsible for digital transformation?
The C-Suite enables digital transformation
Back then, digital transformation projects were often seen as purely an IT initiative. But today, it is synonymous with business transformation. Demonstrating this is compulsory when getting leadership buy-in for all digital transformation initiatives. It is also essential to show how a technology investment will directly affect the bottom-line.
IT and HR lead digital transformation
Digital transformation has contrived It to get out of the fixed mindset and instead turn into a strategic business partner accountable for simplifying change across the enterprise. And with client and employee experiences being so firmly associated, IT and HR now share a joint stake in an organization's digital transformation.
According to a report by the Economist Intelligence Unit, nearly 74% of IT and 75% of HR executives feel personally responsible for increasing the employee experience. CEOs and CHROs should work closely to ensure the technologies in a place completely support people's requirements along with adhering to HR and security policies. This needs shared goals, planning processes, cross-functional skill sets, and new KPIs.

Why should enterprises seriously consider digital transformation?
1. Increased mobility:
Both customers and employees are tied to smartphones, tablets, and laptops and spend several hours using these devices. Agile organizations require mobility solutions that provide the same experience people have in the office. A lot of digital transformation projects take mobility as a central theme. Expanding end-user experiences to add mobile platforms is necessary for modern companies. Across industries, enterprises take benefits of mobile abilities to enhance productivity, increase operational efficiencies, and improve satisfaction rates.
2. Data security:
Powerful digital transformation projects can support an enterprise's guarantee for data security, especially in the time of connected devices and big data. Considering any relevant data supremacy responsibilities, stakeholders should be anxious about protecting user information, specifically when entrusted with a large volume of sensitive information. Across the globe, enterprises might be subject to several international privacy laws.
3. Improved user-experience:
Enterprises are starting to adopt new technologies not only for their functionalities but also for their ability to increase worker productivity using the simpler interface and more intuitive interactions. Enterprise apps with clumsy user-interfaces can make work more challenging for employees, even if the backend is efficient.
Conclusion
Digital transformation not only interests in how an enterprise leverage the latest technologies but also needs a change and investment in people, structure, process, and culture. It is an organization-wide shift in mindset. Businesses run successful digital transformation to enhance their customer experience and future-proof their business. Acknowledging change is essential, leading from the top, modernizing company culture is some of the elements of successful digital transformation. We at KCS believe in collaborating with our clients and understanding the current challenges they are facing in adopting the ever-changing digital technologies. We will help you to adopt the agile business and the operational automation process will offer your greater flexibilities to work with the latest technologies and enhance our operational efficiencies.

Recent posts
March 30, 2022

November 04, 2021
Articles
February 02, 2022

November 15, 2021
Global Presence
For 360o business innovation across the globe, get in touch!