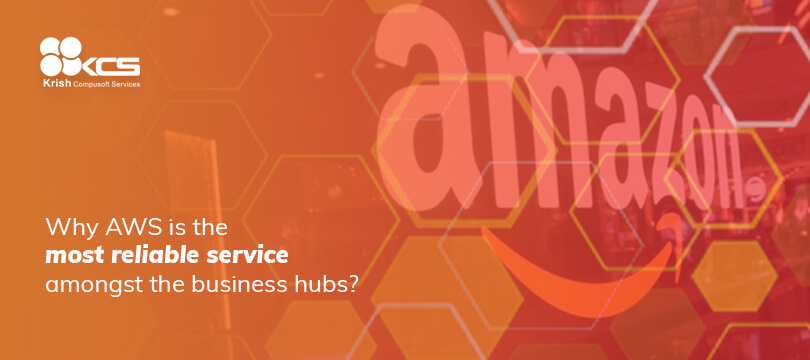 Category:

Retail / FMCG
Why AWS is the most reliable service amongst the business hubs
For many years, Amazon Web Services (AWS) has strongly imprinted its name on the cloud computing world. It has backed up over 10, 000 non-profit organizations, 800 government agencies and 3, 000 .edus. Amazon Web Services serves to a wide spectrum of clients including organizations as well as individuals. It provides the clients with on-demand cloud computing assets and assists with pay-as-you-go method. It means that the clients can easily build and manage their websites and app on AWS.
Multiple Use of AWS
AWS is most commonly used:
To store public or private data
To host a static or dynamic website
To support online student programs
To process scientific and business data
To manage peak loads
Using AWS resources is like buying electricity from power-house instead of purchasing the entire generator. One doesn't need to set their own private infrastructure. Along with experiencing the same benefits, the user also experiences a lot of advantages because he has to pay only for the capacities they use while having an expert vendor handle their server. Following are some of the benefits of AWS Services.
Easy to Use
The supreme idea behind building the AWS was to create a platform where application providers, vendors as well as ISVs could swiftly and securely host their apps; it can be an existing application or a new SaaS-based application. Users can operate the AWS Management Console or deftly-documented web services APIs to access the AWI's app-hosting platform.
Flexible
AWS allows the users to select the operating system, web application platform, programming language, database as well as other services they require. User also receive a virtual environment that enables them to load the software and services needed by their application. This simplifies the migration process for the existing application while securing options for building new solutions.
Scalable
Another benefit of AWS is the ability to rapidly add and remove resources of the applications for meeting customer demand and manage costs. Since AWS has an exceptional infrastructure, the users can utilize computing and storage resources whenever required. It offers services that are affordable for businesses of all sizes, from startups to businesses with huge traffic. It can grow with the user's business. It also help the users by offering ecommerce and storage solutions that help support their business.
Pocket –Friendly
The greatest advantage of using AWS is no long-term commitment, minimum spend or up-front investment is needed. The users pay only for the resources they you which may include compute power, storage and other IT resources. All the server-based services are charged according to the hour i.e. the user can terminate the service or storage from a server anytime and they don't have to pay for that. Businesses of all sizes are benefited by this and it is very helpful for anyone who are conscious about overpaying for the storage they don't require. The users are not locked into a contract with a service or product that doesn't fit their requirements.
High Security
Another advantage of AWS is it builds and delivers its services in accordance with the organization's highest and strict security best practices. AWS conducts through and regular audits to indicate the security of its infrastructure.
AWS undertakes software, operational and physical measures to ensure that the user's web and app are secure. Users can restrict access to AWS resources by applying IAS (Identity & Access Management) where distinct roles can be assigned varying privileges. Users can also employ VPX where the services can be hosted on a private network that cannot be accessed through the Internet.
24*7 access to data experts.
In-built firewall allows only specific access varying from highly restrictive to public.
Encrypted Data Storage Capabilities and Multi-Factor Authentication.
Trustworthy
AWS is built over decades and therefore it comes with flawless global computing infrastructure. Amazon has a huge team of tech professionals that has enabled them to build a solid server network. With AWS, users can take advantage of its reliability. It is the virtual backbone of Amazon.com – a million dollar online business that has been owned for over a decade. It's perfection can be known thorough the consistent increase in their clientele which passed over $8.6 billion in last few years.
From the last few years of development and implementation, AMAZON WEB SERVICES stands as an ultimate choice for cloud computing. AWS is ideal for business because of the ease of use, reliability, flexibility, security ad well as cost friendliness.
Recent posts
March 30, 2022

November 04, 2021
Articles
February 02, 2022

November 15, 2021
Global Presence
For 360o business innovation across the globe, get in touch!