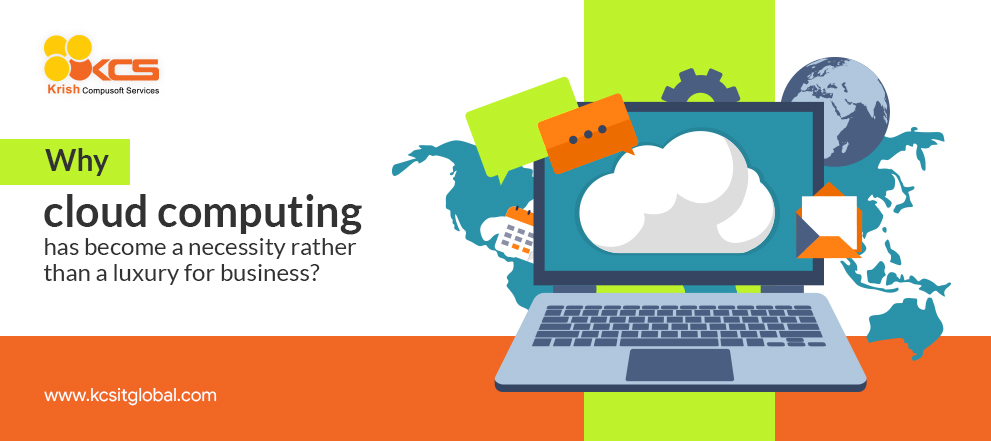 Category:

Hi-Tech
Why cloud computing has become a necessity rather than a luxury for business?
Over the last few years, cloud computing has gained huge popularity within the business masses, though it has been among us since the inception. Due to the increasing limitations of the traditional IT models, more and more enterprises are migrating their business to the cloud environment.
The invention of cloud computing solutions has offered companies an opportunity to achieve the highest business objectives and experience a competitive edge. For many years, big corporations have already integrated cloud computing services into their business environment. Small enterprises on the other hand are taking their business model to the next level with the effective use of cloud solutions.
Cloud computing services have allowed SMEs to acquire the market where a few years back big organizations were ruling. Today, most of the businesses have become on-demand on-need; hence, it gave enterprises of everyone sizes a significant competitive advantage and enabling them to compete in a much larger market space.
Organizations always lookout for increasing their productivity by operating business operations faster, quicker, and in the most economical way. When it comes to cloud computing solutions, SMEs face vast challenges unlike big corporate. They have to continuously improve as a business unit to stay in the market.
Also, SMEs have to constantly work on their quality, pricing, and product competencies. A recent study demonstrates that more than 40% of small businesses are exploring the benefits of cloud computing solutions.
Let us understand why more and more organizations have started incorporating cloud computing services into their business environment.
1. Reduces IT costs:
Cloud technology follows a pay-as-you-go model. Rather than purchasing expensive equipment for current as well as future needs, businesses can leverage the resources provided by cloud computing services providers. This helps in eliminating:
Equipment maintenance costs
The energy consumption costs
The wages of staff
Besides, cloud computing solutions reduce the need to predict future business requirements. Enterprises can provision according to their current demand. As a result, the overall IT costs can be eliminated to a significant extent.

2. Enhanced security:
With cloud computing solutions, your business can get complete protection from hacking, internal data theft, and infection. cloud computing solutions companies are required to meet with a wide range of strict security regulations in order to secure the clients' data. The cloud computing services providers need to comply with a wide range of scrupulous standards to secure the data of their customers. The providers strictly monitor the data to prevent unauthorized users from accessing your data. Most of the cloud computing companies claimed that businesses have observed an improvement in security after they have switched to the cloud.
3. Mobility:
Once an enterprise's data is shifted overcloud, its employees can access remotely; provided they can have an active internet connection. Cloud computing solutions also enable users to access corporate data via smart devices. It assures that no employee is left out of the loop. Cloud computing services also ensure that employees stay up-to-date with clients and coworkers. In addition to this, workers can get flexible hours to work. Businesses can also reduce their workspace and cut down those expenses as workers can work from home without being restricted to important enterprise data.
4. Effective collaboration:
Unlike traditional methods, cloud computing services do not stop employees from communicating or sharing resources only within the premises. Employees working on a single project across different locations would have access to the same files. With this efficiency, organizations can focus on rapid growth and reduce time-to-market. Several enterprises now use cloud-based services to communicate within the organization, hence, simplifying and enhancing collaborating at the same time.
Conclusion
Cloud computing solutions offer a lot of benefits to startups, small, medium, and large-scale businesses. The scalability and reliability of the cloud environment enhance the scope of innovation. To get world-class cloud computing services, KCS is the best place to get your things done. They have a team of aces, who are experts in giving 100% accurate cloud consultations to their clients. For more than 2 decades, KCS is helping enterprises of all sizes to integrate cutting-edge technologies into their business environment.

Recent posts
March 30, 2022

November 04, 2021
Articles
February 02, 2022

November 15, 2021
Global Presence
For 360o business innovation across the globe, get in touch!