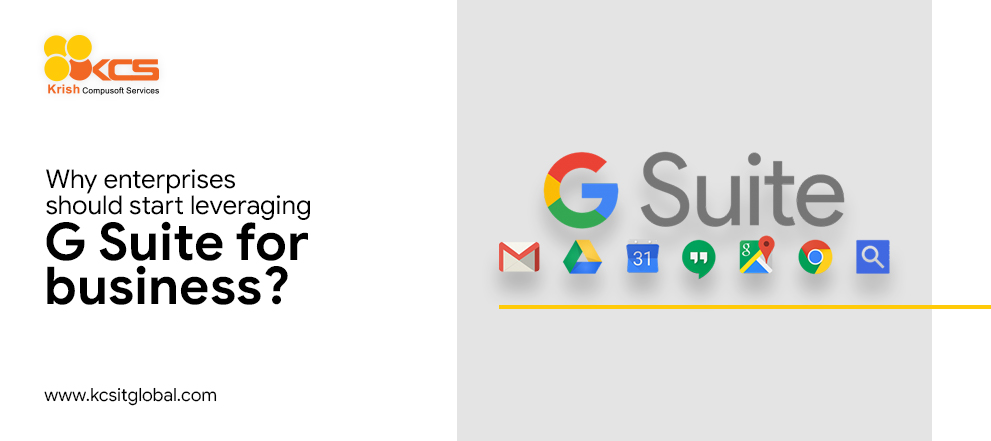 Category:

Hi-Tech
Why enterprises should start leveraging G Suite for business?
doesn't matter if you are running your business on your own or having 50+ employees working for your enterprise, an entrepreneur will always be in search of a way to streamline his efficiency by setting up shop in the Google application suite. Formerly known as Google Apps, the company has rebranded its services under the title of G Suite. Most importantly, Google officially declared that Google for work brand has been upgraded and will be known as Google Cloud. The change is a move Google believe will enable them to target a wide range of audience by placing less of an emphasis on the work attributes and focusing more to the collection of apps that are especially useful in day-to-day business.
In this blog, we will discuss the former to arrive at the latter: Google apps have become an industry standard for in-house workflow and resulted in making the lives of the employees much less complex and stressful. But before we jump into the core topic of the post, there are some FAQ's that need to be addressed.
What am I paying for when I already have a Gmail account?
This question might sound overwhelming, but when you are using an ordinary Gmail account, you do not get the option to have it read yourname@yourbusinessname.com. If you look at a B2B perspective, it is much less likely your emails will be accessible without having your official organization name in the address. It is also an outstanding tactic for brand recognition, especially if your business is constantly growing with new employees. In addition, the ownership also covers an administrator being able to give out enterprise email addresses while recruiting or firing. If a staff member resigns, all the credentials including contacts and emails should be submitted to the company.
So, what does it cost?
For one user, the price is flat $5 per month or $50 per year. If you are in need of unlimited storage space in Google Drive, then you have to upgrade to $10 per month or $100 per year. This is known as G Suite for business. For additional staff members, the cost works like this: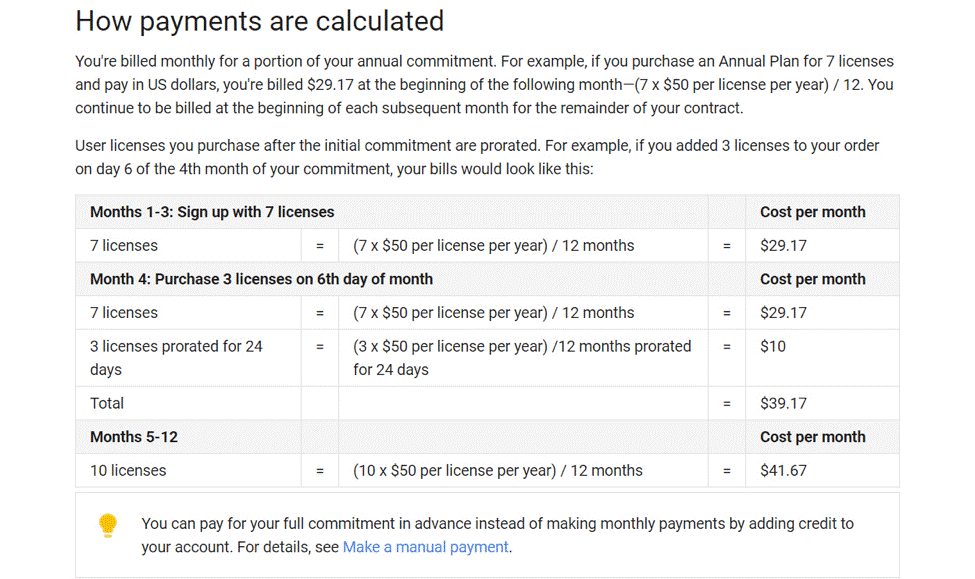 As a lot of enterprises are liable to fluctuate in employee numbers, this plan is flexible enabling you to add or remove the subscriptions you pay for. Notably, having your complete team incorporated under one room is going to open up collaborative potential like never before.

Why should enterprise leverage g suite customer support?
On the contrary to the ownership of an email account, there are several benefits an organization can avail from G suite support.
1. File ownership:
One of the biggest concerns of the previous generation was maintaining track of sensitive and important files being collaborated on within the company. On Google Suite for business, allowing access to documents or files stored on the cloud is quite easy and simple as everything is stored over the cloud. The product also enables you to integrate an employee's computer system so that all their files on the local drive will be uploaded on the cloud where you can access them upon an employee's termination.
2. Sharing documents:
By bringing the whole team under one roof, you can seamlessly share documents across the same storage portal at the tip of your fingers. The sharing feature also enables various modes such as view-only and can edit as per case basis.
3. Grouping email addresses:
Most probably, your organization is divided into various departments and operational roles. Instead of trying to remember everyone's email while sending out an important message to a particular department, you can categorize people who should receive the message into different sections such as marketing, accounting, art, etc. There are no hidden costs for grouping, and the number of groups you can add is unlimited.
4. Unlimited aliases:
For all the G Suite accounts, you are allowed to use multiple aliases. For instance, if an employee works for a newspaper that is divided into various editorial departments, you will receive emails under three aliases: jjensen@moonshineink.com, photos@moonshineink.com, editors@moonshineink.com. This classification enables you to make particular and indicative starting points for promising customers to get in contact. In addition, different aliases can be applied to various accounts as a way for your employees to manage incoming emails as a team.
5. Higher storage capacity:
For a default Gmail account, Google offers 15 GB of storage divided by your email and things you keep in the drive. For a G suite for a business account, the capacity is expanded up to 30 GB at the price of $5 per month. As mentioned previously, storage at once can be updated to individual accounts by paying $10 per month.
Conclusion
G Suite services are available in 3 different packages such as Basic, Business, and Enterprise that provide various storage and security capacities. Moreover, G Suite customer support also renders 2 steps verification option which can be enforced on all of your enterprise's users to assure all devices are connected to your network and are verified via phone or email. If you are running a small or big corporation and planning to avail G Suite services for your business, then KCS is the best partner to contact. Their experts will guide and assure you have 100% successful G Suite integration or migration.

Recent posts
March 30, 2022

November 04, 2021
Articles
February 02, 2022

November 15, 2021
Global Presence
For 360o business innovation across the globe, get in touch!