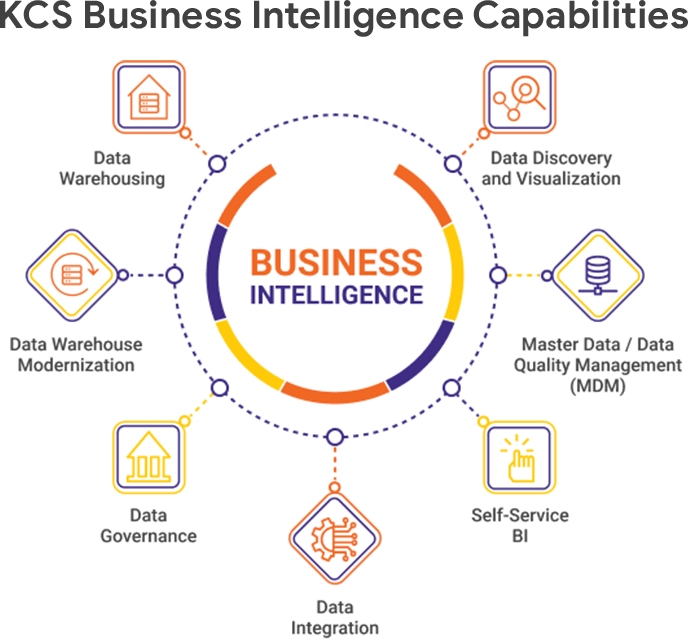 Gain competitive advantage and increase operational profitability with Microsoft Business Intelligence Solution
Microsoft Business Intelligence (MSBI) solutions enable businesses to turn a large amount of unstructured data into actionable insights that can be presented in intuitive dashboards and interactive modules, highlighting business performance. BI apps also enable managers to make better decisions by providing quick access to consolidated company data.
KCS offers end-to-end Microsoft Business Intelligence solution that includes right from BI consulting to BI Implementation to BI support and evolution service. Our enterprise Business Intelligence consulting services help small, medium, and big businesses make better decisions based on intuitive data analysis. Even tiny businesses that do not collect a large amount of data might profit significantly from better analytics. With this, with our MSBI implementation service, we ensure that your enterprise is getting benefitted from the meaningful insight that can help to gain a competitive advantage and increase operational profitability.
As a Microsoft Gold Partner, we assist clients in identifying and managing potential risks to help them avoid costly mistakes, regulatory consequences, and reputational damage. Financial institutions, government organizations, and enterprises in the pharmaceutical, automotive, and other industries are among our clientele. Our Microsoft Business Intelligence (MSBI) services and solutions enable our clients to gain a better knowledge of their internal operations by analyzing data from across the company.
End-to-end Business Intelligence solution to help your enterprise make educated decisions.
Talk to our experts today.
Contact Us
How Microsoft Business Intelligence Solutions can improve your business
The Microsoft Business Intelligence solution enables organizations to make informed and timely decisions.
Clear
Insights
Microsoft Business Intelligence apps aid in discovering areas for improvement, managing and automating internal data flows, and better understanding your customers, among other things.
Centralized Data
Representation
Businesses can get real-time, comparable, and filtered data gathered in one single enterprise system, which cuts down on the time it takes to find data and make choices.
Smart
Business View
Standard BI capabilities such as dashboards that provide KPIs for the entire organization provide managers with a clear picture of business performance and important milestones.
Smooth
Processes
BI solutions allow businesses to automate analytics and reporting, as well as ease a variety of complex processes like data collection, predictive analysis, and computer modeling.
Microsoft Business Intelligence products and services we offer
Power BI Embedded
Azure Analysis Services
Azure Synapse Analytics
MSBI as a Service
MSBI Consulting
MSBI Implementation
MSBI Support and Evolution
MSBI Software Development Services
Enterprise Business Intelligence Consulting Solution
MSBI Services And Solution
MSBI Analysis And Consulting Services
Business Intelligence Development And Implementation
Embedded And Analytical Reporting
Data Visualization And Reporting
Why KCS as your Business Intelligence solutions partner?
Proven BI Expertise: With our data-driven research and reporting services, we've helped a number of global clients improve their performance.
Security Compliance: To assist in the creation of secure and innovative data flows, our personnel are well-versed in data compliance and security requirements.
Transparent Methodology: Our adaptable models and high-quality approach assist firms in defining strategic success and achieving corporate goals.
Utilization of Modern Technology: To create effective and secure business intelligence solutions, our business intelligence consultants use the most up-to-date tools and technology.
Translate your enterprise data into business insights.
Talk to our experts for free MSBI consultation today.
Let's Discuss