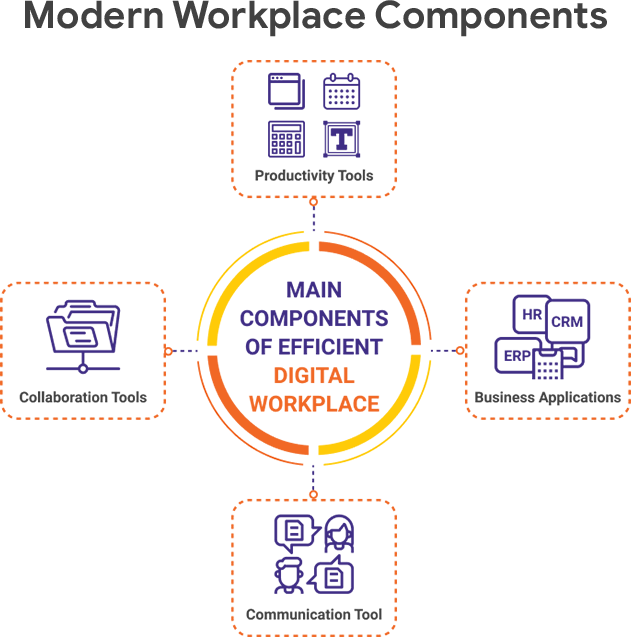 Modern Workplace consulting services to enhance team productivity and collaboration
Workplaces have changed significantly in the last 20 years, mandating the implementation of new workplace solutions. More companies are moving to remote-ready and digital work environments. The pandemic is the significant role-player in this shift that has shaped a need to meet the demands of top applicants. Also, a need to extend their sites globally and need quick means for employees to interact online. For our clients, KCS Modern Workplace professionals make this digital shift effortless.
We leverage Microsoft's modern workplace solutions like Office 365, SharePoint, Microsoft Teams, Yammer, OneDrive, etc. This is to ensure that businesses not only have the greatest technology in place but that it is also tailored to match their individual business goals and requirements.
We're certified Microsoft Modern Workplace Specialists, and we're here to help your company better understand, embrace, and optimize innovative technologies to improve productivity, collaboration, and security. Our Modern Workplace solutions consultants can assist you with determining whether technology is suitable for your business, maximizing the value of products you already have, and improving user engagement across your employees. We can help you improve your business and ensure that your software and technology are customized to meet your specific business needs with a variety of modern workplace service offerings.
Upgrade your workforce with Modern Workplace solution.
Collaborate with us to discuss your business plan.
Let's Discuss
What We Offer as Modern Workplace Solution Consultants
Workplace Architecture
We examine your current employee types and evaluate their actual workplace requirements
We compare and contrast several architectural methods before settling on a goal architecture that includes all associated systems
The workplace architecture and system components are defined by us
Implementation and Rollout
We conduct a Proof of Concept, then design and deploy the central infrastructure
Client hardware is sourced, designed, preloaded, staged, and rolled out by us
Microsoft Windows and Office versions are migrated
Workplace Infrastructure and Client Management
We develop technical and operational inventory concepts, provide Move/Add/Change/Dispose of services, manage licenses, patch applications, deploy software, and backup your office infrastructure
We create, test, and deploy mobile device, mobile application, and data management solutions that include endpoint security
Benefits of Digital Workplace for businesses
Accelerates decision-making and innovation
Provide more efficient ways of working
Faster release of services and products
Strengthens talent attraction and retention
Prevents information overload
Reduce sales cycle
Improve employee experience
Why KCS for Modern Workplace Consulting
KCS has been assisting clients all over the world in creating modern workplaces to empower their staff, increase productivity, fulfill customer expectations, and ultimately generate more income. As a Microsoft Gold Partner, we have the resources, talents, and capabilities to install Microsoft Modern Workplace solution tools for organizations of all sizes.
Our consulting experts can assist you in designing and implementing your Modern Workplace, as well as driving your innovation agenda through its successful implementation.
Our strategists and operational experts can assess the condition of the Modern Workplace in your industry and among competitors.
Our technology experts can examine the maturity of your Modern Workplace and help you identify key areas for improvement.
Our Human Capital experts can help you determine the best governance models for managing and measuring your Modern Workplace.
Get customized Modern Workplace solutions from experts at KCS.
Drop us your requirement today.
Contact Us