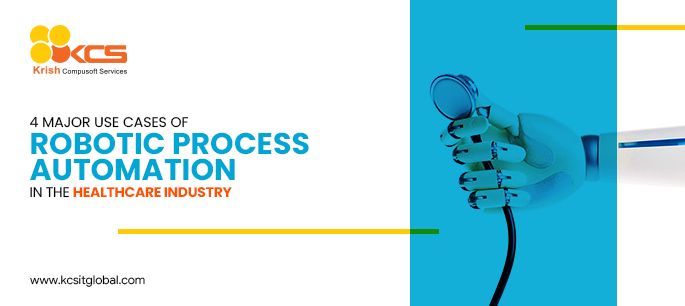 Category:

AI & Automation
4 major use cases of Robotic Process Automation in the Healthcare Industry
Now more than ever, the healthcare industry has encountered daunting challenges in integrating and sourcing data from varied internal and external sources. This sector gathers and processes a large volume of data daily from various sources such as clinical apps, lab information systems, third-party portals, radiology information systems, scheduling apps, etc.
In order to enhance efficiency and leverage tangible benefits, Robotic Process Automation (RPA) can automate repetitive, labor-intensive, and time-consuming processes essential to processing, functioning and offering healthcare. Rule-based robotic process automation software can mimic user interaction at the UI level and execute the same tasks at a significantly faster rate with minimum error. The robotic process automation services have been proven to offer a large volume of business value across several industries along with having relatively low barriers to adoption.
An analysis released by McKinsey Global Institute states that the robotic process automation capabilities in the healthcare sector is close to 40% and can solve the below problems encountered by hospitals and clinics:
Aging and contracting workforce
Enhance operations amidst rising cost pressures
Legacy systems that are difficult to change
Another study shows that the RPA market is expected to reach $5 billion in 2024 and the healthcare industry is anticipated to be one of the fastest-growing sectors during this period.
Top 4 Use cases of Robotic Process Automation Services in the Healthcare industry
1. Adaptive Staffing:
The use of robotic process automation software enables healthcare professionals to have a real-time view of all patient's care journeys. It is being highly used to adapt staff needs for supporting the changing volume of patients in the emergency department and minimize waiting time in ambulatory services. A bot could also automatically update the patient's admission, discharge, and transfer statuses and send notifications and alerts to hospital staff with minimum human intervention.

2. Appointment scheduling:
One of the most complicated tasks in the healthcare profession is scheduling appointments. On the basis of data given by the patient, it is highly tedious to regulate it with doctors' schedules and availability in hospitals. During the last-minute cancellation circumstances, the hospital staff must inform patients without fail. This complex task could be streamlined using robotic process automation software that can quickly automate and process patient data collection methods. This software can scan copious data to make a report that can be sent to staff for fixing an appointment. Also, robotic process automation software can also notify the patients about a doctor's unavailability.
3. Simplify Claim Management Process:
Managing insurance claims can be prone to errors and prove inefficient if executed manually or with off-shelf software and can significantly affect cash flow. The claim management process includes several tasks such as data input, processing, evaluation, and handling appeals. Moreover, assuring regulatory compliance is another issue that can lead to claims being denied. This is why RPA is needed to simplify the insurance claim management task.
4. Accurate audit procedures:
Auditing is a standard in the healthcare sector as it is required for regulatory compliance. It includes various tasks for risk assessment and is done for several objectives involving quality of services or patient safety. Making audit reports manually could be tedious and error-prone since evaluating multiple reports can lead to oversight, which could ultimately result in non-compliance with regulations. With RAP to optimize the audit process can help healthcare enterprises make accurate audit reports and assure 100% compliance.
Conclusion
All the above uses cases state the significant potential RPA has in the healthcare sector. It enhances the odds of success for healthcare professionals and is surely a winning operating model. Many healthcare enterprises globally have started their RPA journey, what about you? For the organizations that are planning to integrate automate several aspects in their business, then KCS is the best robotic process automation company in the market. They have a team of highly trained professionals who have delivered a lot of robotic process automation software to varied industries including healthcare.

Recent posts
March 15, 2022

November 29, 2021

November 12, 2021
Articles
February 02, 2022

November 15, 2021