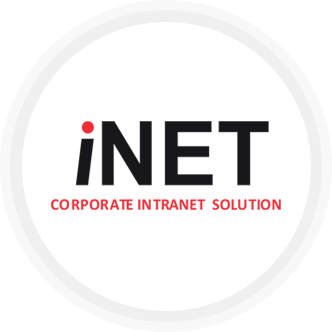 Overview
iNet – An intranet, enterprise social network, information management, and collaboration platform that helps organizations engage, collaborate, inform, and connect with their workforce internally and globally.
Redefine the way your business communicates with our feature-rich solution that learns how you work, builds a more productive and informed workplace, and creates an outstanding employee experience by bringing together all information, tools, and applications in one place while connecting your entire organization. iNet offers complete integration with O365 to build a perfect intranet with the tools your employees use the most.

Product Modules
Working together in collaboration has a whole new meaning with our all-in-one intranet solution that promotes a faster, smarter, and better working environment
Content Management
Easily access all your organization's content, documents, and information from one place. Ensure your employees get current engaging content with rich editing tools and cloud storage integration
Team Communication
The solution promotes seamless top-down, bottom-up, and lateral communication creating a collaborative happy atmosphere in the organization. Work better together!
Intelligence & Automation
iNet is a next-generation intelligent intranet platform which automates all tasks, sync operations, and promotes unified communication. It also gives smart responses to a user's query
Employee Directory
Use the advanced search option to find people, documents, and conversations, activity stream, contact information and much more. A smart search for smart teams!
Profile Management
Explore informational rich profile management feature makes it easy to connect and find everyone in your company. See who's connected to whom in just a single click.
Document Management
File sharing and document management have never been this easy with iNet. Work where the files are while discovering true collaboration within the organization.
Social Network
Go social, chat internally as well as with the global workforce without losing control or any important conversation.
Key Features
Add agility and simplicity to your digital workplace with our feature-packed solution. It will make your work life easier, more collaborative, and more productive.
Mobile app

Single sign-on

User-based permission control

Instant chat messenger

Intranet forms and workflows

Multiple integrated applications

Extreme flexibility and scalability

SaaS or on-premise deployment
Key Benefits
It's the little things that make our bespoke solution industry leading. It will help keep your organization on the toes and outperform!

Increases transparency throughout the organization

Unlocks organizational potential, knowledge, and expertise to excel

Enables faster decision making with streamlined workflows

With the mobile app, you can everyone connected on the go

Never miss a milestone with proper collaboration on projects & tasks

State-of-art SaaS technology with high security
Global Presence
For 360o business innovation across the globe, get in touch!