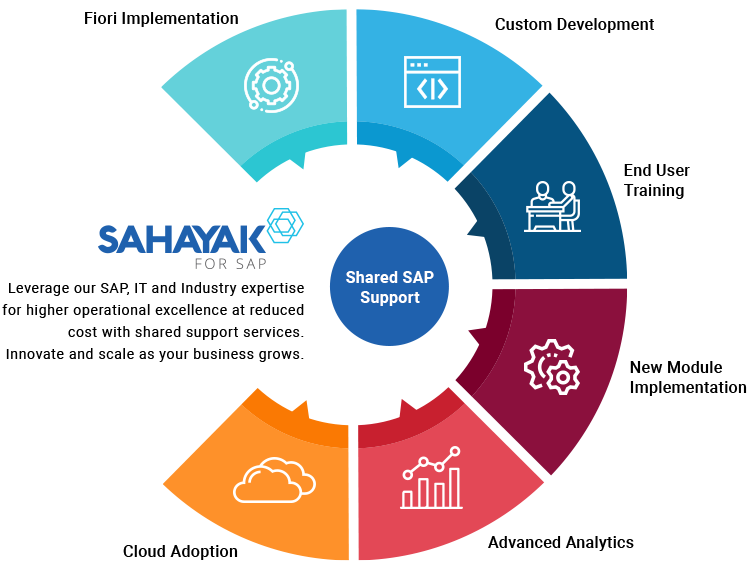 SAHAYAK for SAP
KCS presents SAHAYAK for SAP, a shared services initiative for our SAP customers to help them focus on their business while we ensure the continuous availability and optimum performance of their SAP applications. Shared SAP support gives an opportunity to our small and midsize customers to reduce the operating costs of their business applications while improving user productivity and business performance.
We offer a hybrid model where you can avail of – fixed cost offshore support over predetermined business hours for core SAP functional modules, ABAP and Basis, and at the right time, complement this basic end user and system support with specialized project-like services such as Fiori implementation, custom development, end user training, new module implementation, advanced analytics, cloud adoption and more.
Why SAHAYAK?
Many organizations invest heavily into acquiring business and IT applications but are unable to leverage the full potential of these systems as IT is not their core focus.
We offer the collective expertise of our SAP, IT and Industry consultants in a shared cost offshore framework, so that you get access to the best pool of experts at significantly lower cost. Do not burden your IT budget with full-time dedicated support, rather leverage a major portion of it on innovation and improvement projects.
We assure you of optimized system performance and the best service levels through a well-managed shared services framework, which allows us to attend to all our customers in the program promptly and effectively.
Scope of Service
We created a set of SLA-driven plug and play standard services that are useful for almost all SAP customers and added a wide range of bespoke project-like offerings that can be availed on a need basis, when the business needs their SAP landscape to evolve with the organization's processes and scale.
Fixed Scope at fixed monthly cost
Functional end user support across core implemented modules for SAP ECC or SAP S/4HANA
Technical support for uptime maintenance and performance optimization – ABAP and Basis
Standard offshore support hours 8x5 in customer's primary geography
Scope Extensions available on-demand at additional cost
Onsite support
Offshore support hours extension upto 24x7
End user enablement and training
Fiori implementation
SAP benefit maximisation
Custom development and integration
Business analytics
Cloud adoption
Digital transformation