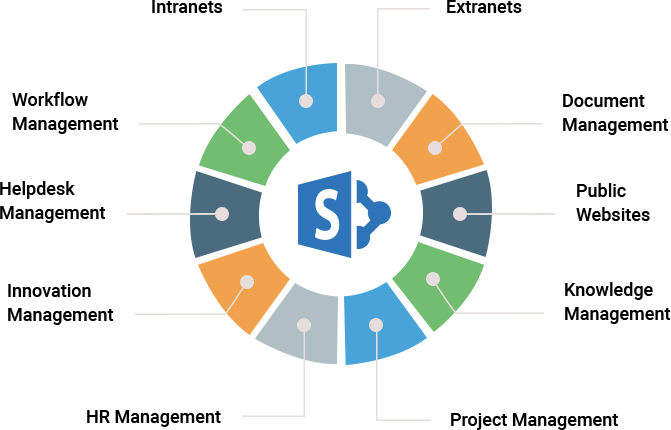 Establishing a robust digital workplace with Microsoft SharePoint solutions
As innovative SharePoint Solution Providers, we understand the gradations of content management technologies and have proven experience in delivering successful projects to global customers. We are a certified Microsoft gold partner in the domain of SharePoint Application Development, Collaboration, and Content.
Since we collaborated with Microsoft for SharePoint services in 2011, we have implemented a wide variety of solutions to both small teams and global corporations while implementing various SharePoint versions like MOSS 2007, SharePoint 2010, SharePoint 2013, SharePoint 2016, O365, and now all set to help organizations in SharePoint migration to 2019.
Our experienced team has implemented large scale multi-lingual intranets, global extranets, corporate websites, knowledge management portals, business process automation, and intuitive social collaboration solutions across diverse industries and business functions for our clients across the globe.
SharePoint development services we offer
Accelerate your business growth by adopting SharePoint application development services

SharePoint Consulting and Advisory

SharePoint Development

SharePoint Maintenance and Support

SharePoint Managed Services

Custom SharePoint Development

SharePoint Integration

SharePoint Software Solutions

Business Intelligence

Workflow/Collaboration Solutions

Enterprise App Development

Records and Document Management

Transformation and Modernizing

SharePoint Migration to 2019
Looking For SharePoint Consulting? Get 30 Minutes Free Consultation Now