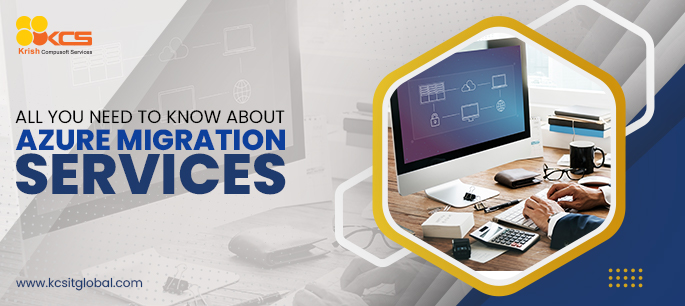 Category:

Cloud
All You Need to Know About Azure Migration Services
As the cloud becomes a popular option and essential for businesses using web applications and also business enterprise applications, the benefits of uninterrupted uptime and lower operational costs are realized for businesses adopting the cloud. For migration to Microsoft Azure cloud, two approaches can be undertaken. In the first case, the web and business enterprise applications are capable of working in a virtual environment independently, as a standalone module. In this type of approach, the applications need little hosting and/or adapting work and such applications are ready to start working from a cloud environment at once. In the other case, there is a lot of work that is required to change the architecture of apps of a complex nature to make the most of the Azure working environment.
In addition, there are virtual desktops, servers, databases, and web apps that can be migrated to the Azure platform for achieving their full potential. To make the migration to the Azure platform seamless and error-free, Azure provides an integrated centralized hub that helps users to migration to Azure on-premise servers, applications, data, and infrastructure. For this purpose, Azure provides a unified migration platform where users can start, run, and track the processes to migrate to this platform. In addition, Azure also provides various tools to help users in their migration and also helps to migrate servers, databases, web apps, and virtual desktops to make the full use of the Azure platform.
Azure Database Migration Service (DMS) and Data Migration Assistant (DMA)
There are different options available in Azure for hosting the database of users in the form of PaaS and IaaS. With reference to this, the Azure Data Migration Assistant (DMA) and Azure Data Migration Services (DMS) play a prominent role in the process of migration to Azure. With the help of these technologies, Azure can assess existing databases, the refinement/recommendation of remedial measures if required, and also enabling the migration. The remedial measures should be given top priority and is a must for any Azure migration steps before the databases can be moved to Azure Data Services. The migration to Azure can be performed offline or online. However, online migration should be preferred by the users as the downtime is minimized to migrate to the new environment.

As stated earlier, with the help of Azure Data Migration Assistant, the migration to Azure is assessed and this process identifies the various possible roadblocks which can impact the migration, and also highlight the features partially supported or unsupported that may adversely impact this process. DMA does a detailed analysis of on-premises SQL instances and their compatibility with the Azure platform. In addition, if the users intend to migrate the data to an upgraded version of the SQL server available in Azure, the DMA also provides valuable information regarding the compatibility issues that need to be taken care of.
Why Should I Migrate to Azure?
With Azure, user can migrate to an enterprise-grade infrastructure with highly optimized rates, and surely a positive impact on their bottom line.
Azure lets its users adopt a cloud operational expenses (OPEX) model that helps businesses better manage their cash flow and respond better to volatile market conditions.
Azure helps businesses to better mitigate business disruptions and prepare them towards maximum resilience with its disaster recovery options.
Azure helps users to better innovate with a fully managed platform. Azure has built-in scalability, high availability, and optimized costs and all this is achieved by transforming .NET, PHP, and Java apps and websites to handle platforms like PaaS, and others.
Azure enables its users to accelerate app development cycles, a simplified deployment by containerizing the existing apps.
Azure helps businesses to protect their valuable assets with high grade and trusted cloud security. Microsoft has already invested $1 billion to rev up Azure cybersecurity.
Azure helps users to meet stringent security compliances and operate in a highly secure cloud environment.
Azure has deployed Azure Sentinel, a cloud-based SIEM providing high-grade security and AI-informed security analytics.
The Azure platform is highly flexible and allows users to operate on their terms and conditions as per their specific situation. With the help of hybrid flexibility as users move their assets, they can reuse their existing Windows Server and SQL licenses on the cloud, thanks to Azure Hybrid Benefit.
What to Consider Before Migrating to Azure?
There are multiple aspects that need to be considered before users migrate to the Azure platform. Users need to know that Azure provides advanced performance and availability metrics, but such features can be expensive to use for processes with frequent and large data transfers like Power BI. In addition, Azures offers a calculator that helps users to estimate their cost of migration. However, users need to note that in case of re-architecting, migration costs can shoot up significantly, and users should add such costs to their estimations. Other point to consider is that on-premise setups enable users to use their windows authentication. However, during migration to Azure, users need to use Azure Active Directory for authentication purposes.
Step-by-Step Azure Cloud Migration Strategy
In the assessment stage of migration to the Azure platform, users need to leverage cloud migration assessment tools and helps them to compile their inventory of existing physical and virtual servers in the existing setup, and in addition, the information and performance of user applications should also be included. This preparation helps users to collate the information about their servers and metadata, and this information is handy during the cloud migration process. Users should also map their servers based on the criteria of their suitability to on-premises applications and accordingly representing their relevant applications. After applications have been grouped, they should be checked for what kind of migration strategy suits them. For this purpose, cloud migration assessment tools are required to learn Azure recommendations and migration processes. The right approach should be selected and also cost factors need to be considered.
In the migration stage, there are different types of considerations that need to be factored in as the migration to the Azure cloud proceeds. In the 'lift-shift' type of migration, the user applications are just moved to Azure and there are no changes required to the code. In the refactor migration, there are some changes made to the design of the applications, but there are no changes in the code. In the rearchitected type of migration, there are changes made to the codebase so that it can fit in the cloud, and this is done to make the application modernize, modified, and scalable and self-deployable. In the rebuild type of migration, the applications are completely changed using the cloud-native applications, the services that are required by Azure PaaS.
After the migration stage, users can leverage the Azure Cost Management and analyze their cloud spending in greater efficiency and improved transparency. After migrating to Azure, users can leverage the flexibility offered to modify, secure, or making improvements to the migrated and existing workloads, thus enjoying various benefits. In addition, users can effectively secure their data and applications with Azure Security Center for advanced functionality.
How KCS can help you in Azure Migration Services?
KCS is a renowned IT company based in US and is a Microsoft Gold Partner and provides state-of-the-art Azure migration consulting services and helps businesses to fully leverage the Azure cloud platform by utilizing various tools and platforms given. Microsoft has given various solutions and tools to enable businesses to execute complex solutions and involving complicated IT infrastructure. KCS Azure migration services gives a suitable direction to this complex migration process by helping its clients and guide them about the tools and resources that need to be used to achieve the planned outcomes using the Azure platform. Our expertise in Azure Migration Services help our various clients to migrate their servers, databases, web applications, virtual desktops, and data to the Azure platform. This allows a seamless transition to the cloud in an accelerated and cost-effective manner with processes and system that are highly scalable.

Recent posts
March 15, 2022

November 29, 2021

November 12, 2021
Articles
February 02, 2022

November 15, 2021