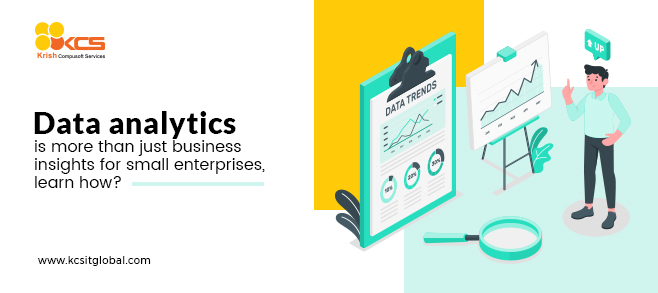 Category:

Data Engineering & Analytics
Data analytics is more than just business insights for small enterprises, learn how?
Since the last decade, almost every business sector has integrated data analytics into their business ecosystem. Every day more and more enterprises irrespective of their domain, size, and structure are trying to adopt the latest data analytics tools to identify patterns, smooth-function various operations, trigger conversion, and enhance revenue. According to a study, the value of the global analytics market has risen from $122 billion in 2015 to whooping $200 billion in 2020. IDC states that the total digital data created across the globe will be one billion TB (163 zettabytes). Approximately, 60% of this data will be created and handled by enterprise organizations.
Why should small enterprises need data engineering solutions?
Though data analytics is proven to be extremely beneficial for all the stakeholders involved, small enterprises have achieved a lot from this self-supporting tool. Data analytics have rendered small-scale businesses with a decisive edge over their rivals by eliminating all the technical barriers, lowering financial constraints, and offering fruitful insights. It has also played a vital role in the procedural efficiency of regular business operations so that small organizations can function in a smart, productive, and sustainable way. The analytical results and findings can guide enterprises to make quick and intelligent business decisions. In addition to this, data analytics consulting make data gathering, processing, and analyzing more accurate and easier.
How can small enterprises benefit from data engineering services?
One of the major fall-backs small-scale organizations face is that they lack the resources to go all-in on their big data investments. Hence, SMBs need a smarter and powerful strategy to keep up with big data trends. Here are a few tips:
Instead of stressing about the small or big data set, small enterprises should start by investing in small-scale analytics and focus on employing data analytics technology for enterprise decision making by a maximum business dataset. On the contrary to collecting all kinds of business data for future usage, SMBs should use data sets that help them solve immediate problems.
As most of the small enterprise executives are dependent on personal experience and beliefs instead of business data-driven results, an overall change becomes a prerequisite for introducing big data culture in SMBs. Cloud computing can also help organizations in implementing big data solutions into their business.
It gives you multiple benefits, first: it helps connect all services through a unified platform. Second, SMBs can get huge cost benefits by employing cloud-based data engineering services.

SMBs operate at a much smaller scale, henceforth, investing a lot in operation analytics, R&D analytics, etc. makes less sense for them. Rather than focusing on these analytical processes, they should concentrate more on customer analytics. Using the best product marketing, bespoke services, and target offers, SMBs can get huge cost benefits. At last, small enterprises should not fear from leveraging data outside their organization for more insights into customer behavior, operation, and financial management.
SMBs can get a lot of advantages of data analytics solutions if they set their goals clearly and do not get distracted by market-type. However, the success of the business – large or small – in adopting big data solutions relies on two things. First, easy access to the data and second, employing the right processing technologies.
Let us understand some prevalent usage scenarios of big data in operations, marketing, and sales:
1. Implementing price differentiation strategies:
Enterprises these days are using a customer-product level pricing strategy using big data analytics to accomplish their business goals. According to a study, a 1% rise in price can increase operating profits by approximately 8.7%. Therefore, carrying out the right pricing strategy with the help of data engineering solutions can moderately improve profit margins.
2. Growing customer responsiveness:
B2C marketers are using big data to get more and more insights into customer behavior with the help of data mining techniques and data analytics solutions. Proper use of data analytical techniques is essential in this case. This will help small businesses to build more relationship-driven marketing strategies, promoting greater customer responsiveness and consequently better sales.
3. Integrating data analytics into sales and marketing:
Small businesses are continuously investing in customer analytics, fraud & compliance monitoring, operational analytics, R&D, and enterprise data warehouses. Today, all of these methods are considered as an integral part of sales and marketing. While customer analytics is one of the most important areas of this investment, evidence shows that developing the other four areas can lead to increased revenue per customer and enhancement in existing products and services.
Conclusion
There is no doubt in the fact that data analytics technology will continue to evolve and encompass more fields in the future. With the increasing rate in the data generation, even small businesses will find it difficult to maintain data set with the help of the older system. If you are a startup, small-scale business owner, or a tech giant, and planning to leverage data analytics solutions into your organization, KCS is the best place to get it done. Their years of experience and dedication in data analytics consulting have helped them in being a leader in the industry. Also, they have a team of highly-qualified aces are also expert in rendering personalized consultations to their partners.

Recent posts
March 15, 2022

November 29, 2021

November 12, 2021
Articles
February 02, 2022

November 15, 2021