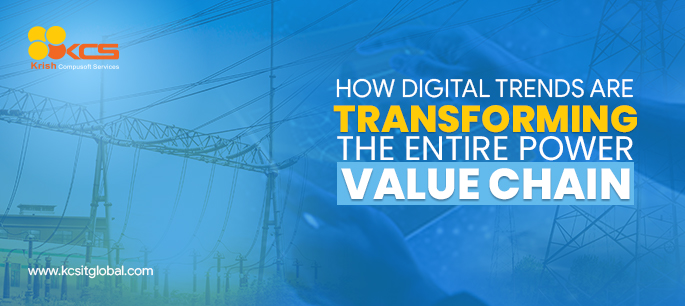 Category:

AI & Automation, Digital Transformation
How Digital Trends are Transforming the Entire Power Value Chain
As the fourth industrial revolution powered by various digital transformation initiatives gathers steam, it has left an indelible mark on the power and utility sector, which has transformed itself to the core by adopting deregulation, clean energy methods and addition of renewable energy in the generation mix. These digital transformation initiatives are having a deep impact on the already complex processes and systems of the power and utility companies and advanced digital transformation initiatives are changing the entire workings of a sector, which has since long resisted change and was heavily regulated. Such proactive processes help power and utility companies to focus on people, processes and technology to gain an upper hand in the way utilities are run and heavily influence the way power is produced.
With the help of digital transformation in power utilities, companies are able to better manage their processes and go deep in the realm of automation, and gain a deep insight in the workings and performance of the equipment, plants, and other critical assets to enhance their performance. In this process, the decision-making capabilities are greatly improved with the help of actionable data and insights putting the utilities ahead of their competitors and better retain their customers and at the same time find newer ways to operate in a highly volatile market.
Power and utilities digital transformation has many facets currently, ranging from generating power from conventional energy sources like fossil fuels, namely coal and gas, and also hydro, nuclear and predominantly renewable sources of energy like solar, wind, and geothermal among others. In addition, there is the new option of using green hydrogen, produced through electrolysis and this is a clean energy alternative. Each of these subsectors have their own challenges and priorities and require major investments in transforming the way power utilities operate by modernizing the type of equipment they use and using the prevailing digital transformation in the power sector to expand their area of operations and have a greater say in the realm of cutting-edge technologies like IIoT, AI, ML, and Big data among others. This makes the power and utility companies more sustainable and competitive both in the short term and long term. It must be realized that these digital transformation solutions are different for different entities and sectors, and each solution, even being in the same sector, is unique and is determined as per the core business processes of the entities and therefore need to be implemented with great care so as to ensure its efficacy.
Digitalization in the Power Sector as an Integral Part of Digital Transformation
In order to reap the benefits of digitalization as an integral part of the digital transformation initiatives of power and utility companies, they also need to take care of how the customer experiences of their operations shape out so as to cement their place in the market and make use of technology to enhance the experiences of their customer base and moving forward towards their set business goals and objectives. Power and utility companies need to realize that the future is inadvertently moving towards digitalization of all their core processes, and there needs to be a real and sturdy connection between the real and virtual worlds. In this era of digitalization, huge amounts of data are produced, and power and utility companies need to learn to leverage this data into real value and actionable insights so as to further guide themselves in the uncharted path of digital transformation.
As a result of this, companies have developed different tools like faster, advanced and more powerful computers, enterprise mobility through software application deployed through smartphones, growing deployment of technologies like sensors, advanced analytics, Big Data and others, along with virtual and augmented reality, so as to make full use of the advantages granted by their digital transformation initiatives. With the help of digitalization of their products and services, a business can strengthen its operations and also at the same time also improve its profitability. Power and utility companies have now realized that the digital transformation initiatives undertaken by them are harbingers of a positive change, and create a more efficient, sustainable and secure system and a strong process framework, under which the power and utility companies operate.
Power and Utility Companies are in a Constant State of Flux
Power and utility companies are in a constant state of flux and dramatic change with a well-defined shift taking place from the fossil fuel-based energy sector to the utilization of renewable sources of clean energy sources and also with the advent of distributed generation, power generation has become decentralized among others, and giving rise to smart grids among others. The emergence of distributed generation has changed the way business takes place in all power and utility companies. The consumption of capacities of renewable energy are constantly rising and have more than doubled the level of a decade ago and are going to make up the lion's share of novel power installations by the year 2030 and nearly three-fourths of the distributed power generation is going to come from decentralized sources and all these sources are customer owned, making them prosumers. In addition, a number of power plants are transforming themselves into load managing units, where such sources quickly supply high amounts of electricity to the grid when the generation of distributed energy sources fades. Power and utility companies have to plan for sudden surges in load and efficiently manage unplanned downtimes, which are a strong challenge to counter.
Need to Adapt to Rapidly Changing Market Conditions
With the rapidly changing power and utility sector, especially on the generation side, the customers of such entities are also staking their claims, keeping in mind the changing market conditions. The consumers of today are assertive and informed, and strongly inclined towards the power generation with the help of renewable and clean energy sources. In addition, consumers presently are getting more demanding about the availability of electricity and the performance of the customer care segments of the power and utility companies, and seek greater transparency along with regulatory compliance.
It is here that the impact of digital transformation initiatives come into the picture. With the power generation and distribution becoming more decentralized, both power companies and their companies seek transparency as they embark on new journeys in this realm. To make things better and systematic, this translates into adoption of cloud services, which are becoming a popular choice for the power and utility companies. Along with this development, there is also a rise in the use of analytics which is targeting the operations and maintenance of power plants and the critical infrastructure of such plants.
Such kind of developments are leading to the adoption of enterprise mobility amongst the power and utility companies, who want to ride on the wave of digital device usage from an increasingly mobile workforce, and in tandem use of smartphones is also on the rise, and this impacts the type of services that can be accessed by the consumers, who wish for information on the go. All these developments foster the development of intelligent systems that allow utilities to optimize their processes and also improve their customer service at the same time.

Advantages of Digital Transformation for Power and Utility Companies
The digitalization of the energy and utility companies is leading to the adoption of newer and cleaner technologies by them and this plays a key role in the decarbonizing their processes, and a new equilibrium is created by the automation of generation and distribution infrastructure, and the integration of devices and consumers to achieve a systematic growth and future evolution of this key sector. All this leads to distinct advantages for power and utility companies that are given below.
The first distinct advantage that power and utility companies have while adopting the practices and technologies of digital transformation is the first-class service that they provide their customers with, and this leads to the consumers getting a prominent role in their dealings with the utility companies, thereby experiencing better service levels and also increased transparency. In addition, consumers can easily make consumption related decisions and adopt various energy conservation measures, leading to their optimization.
With the aid of digital transformation processes, power and utility companies can offer products and services that give added value to the services companies provide to their consumers, and this also includes complementary services, like introducing incentives related to energy efficiency, leading to a win-win situation for both consumers and power and utility companies.
With the aid of digital transformation, smart grid technologies can be readily implemented by the power and utility companies. With the help of smart grid technologies, consumers are incentivized and encouraged for the adoption of smart meters, and with the help of asset management of such devices deployed in the smart grid, the availability of the grid is maximized and its reliability is dramatically improved, thus leading to the improved access to electricity.
Last but not the least, with the help of digital transformation technologies, if implemented effectively, lead to higher profit margins for the power and utility companies, as their operations are optimized, and they are able to retain and grow their customer base, leading to better profitability.
Last Word
As the operations of power and utility companies become complex and digital, they are riding the wave of sensor technology, advances in control systems, industrial software and AI, and this is leading to maiden ways of driving the operational efficiency up North, and on the other hand, lead to the adoption and implementation of flexible business models, where consumer is the king and there is a huge potential for growth. Thus, development of the industrial internet of things (IIoT), advent of better sensor technology, and with the refinement of the Big Data technologies, there are tremendous strides being made in the field of analytics, complimenting the rise of smart grid, as well as the automation of the entire systems.
However, there are still a lot of challenges that need to be countered. This includes the volatility of the power and utility sector, and this has hindered the full utilization of digitalization technologies and the implementation of digital transformation technologies and the benefits it can bring to both t the utility companies and the consumers. Due to this, for the power and utility sector companies, they need to carefully analyze the advantages and drawbacks on the path of digitalization, and how to make both tactical and short-term decisions that influence the outcomes of such critical initiatives.
Recent posts
March 15, 2022

November 29, 2021

November 12, 2021
Articles
February 02, 2022

November 15, 2021