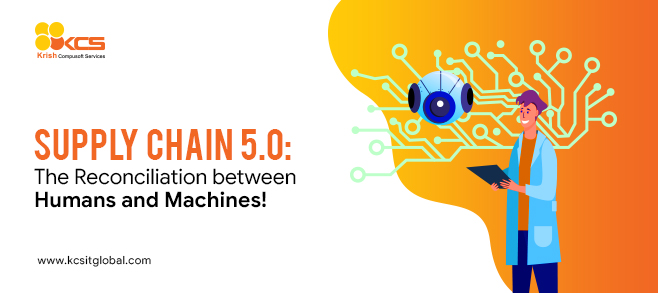 Category:

Tech Consulting, Digital Transformation
Supply Chain 5.0 – The Reconciliation between Humans and Machines!
In this constantly changing digital world, businesses are trying hard to stay at the top of their industry. And the logistics and manufacturing sectors are also not lagging behind when it comes to integrating cutting-edge technologies into their business ecosystem. Since the outbreak of AI & automation, natural language process, and robotics, lean manufacturing and just in time have experienced a drastic change in the technologies that support them.
A quick recap of Industry 4.0
The world had just got used to industry 4.0 and we are already heading towards 5.0. In simple terms, industry 4.0 was all about AI & automation, simplifying manufacturing, IoT, robotics, cognitive, etc. These technologies helped manufacturers in replacing several laborious activities or operations that required human activity with faster, perfectly replaceable actions, and intelligent connected machinery. This resulted in enhancing the overall performance of the factories or assembly lines or processing plants.
If you talk to someone about digital transformation in the industry, at least 4 out of 5 people will suggest you to developing an application or a robot that increase the performance of the website, generate leads, and upgrade customer service or retention, etc. Talking to a chief operating officer in the manufacturing sector, they will think of multi-million-dollar investment in a new plant over the course of 5 years. Even though there is a gap in between, neither of these two is wrong. If you step out of the digital technology room and explore the challenges of companies using their version of industry 4.0, you will feel optimized that there is a new world where these two can happily merge and bridge that gap.
What is industry 5.0?

Industry 5.0 will upgrade the roles of the machine as well as humans in the manufacturing sector. This will leave the tedious and repetitive operations to the mechanical and open up the creative side of the biological. This will enable the worker to handle more responsibility and enhanced supervision of systems to increase the quality of production across the board. Industry 4.0 generally focused on the interaction between machines and systems for achieving optimum performance to enhance efficiencies and productivity. Industry 5.0 aims to take a step forward and refine communication among humans and systems.
Managing the flow of data
Supply chain professionals are very well aware of the benefits they can avail from digital supply chains, but now this potential has become a reality. Connected devices and IoT-powered solutions have become a necessity for all the shippers. IoT technology integration will assure effective tasks that connect all points in the supply chain along with streamlining the information exchange.
Predictive maintenance and supply chain
Predictive maintenance is one of the powerful potentials and already attracted hundreds and thousands of industry leaders. It uses two of the most powerful technologies mankind has ever created i.e. machine learning and artificial intelligence. In simple terms, predictive maintenance will silently observe what is happening in a particular vehicle and can predict if there is a possible error.
Creative thinking
Artificial intelligence imitates human intelligence which is later processed by machines and computer systems. This technology is generally used to handle more repetitive tasks, even though that is evolving as machines are capable of recommendations that humans can trust. The point is creativity is not something that one can automate, no matter how hard some researchers try to do the same. It has the ability to guide humans so that it boosts their creativity, but that makes artificial intelligence a tool instead of a collaborator in the sense that industry 5.0 suggests. However, artificial intelligence is not widely adopted. A study by Forrester suggests that 58% of business and technology professionals are studying AI systems, but only 12% actually put them to work.
Customer needs personalization
One driver behind industry 5.0 is the need for personalization for customers, therefore the demand for involving humans more in the manufacturing process. A research conducted by Industry Week states that looking from customers' perspective, 29% of Americans say that they already have personalized products. Manufacturers that have the ability to provide customers exactly what they ask for will be rewarded. 62% of Industry Week's research respondents said that they are willing to pay more for bespoke products like phones and tablets.
Conclusion
One of the major factors that make industry 5.0 unique is mass personalization. It, therefore, has some elements of anti-industrial sentiments. Interestingly, industry 5.0 relies on robots or collaborative bots (cobots). Robots have already a mainstay in the manufacturing sector, and industry 4.0 technologies allow flexibility in manufacturing processes. Industry 5.0 combines human creativity and craftsmanship along with the productivity, speed, and consistency of robots. Industry 5.0 is particularly intended to improve the customer experience. It will make a huge impact on products like luxury watches, craft beers, jewelry.

Recent posts
March 15, 2022

November 29, 2021

November 12, 2021
Articles
February 02, 2022

November 15, 2021