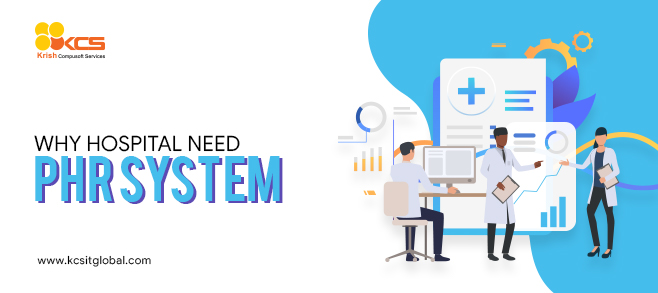 Category:

Digital Transformation
Why hospital need PHR system?
A PHR is an online tool that keeps patients' medical history. It can save patients from repeat and needless medical testing. A PHR could also save a life by recording serious allergies or listing all medications, hence avoiding unsafe drug interactions. It can also maintain important legal documents like your power of attorney or do-not-resuscitate order. If you are a healthcare professional or running a healthcare facility, storing all the medical information in a single, accessible location will help provide valuable information to you, decreasing a stressful situation, and avoid unfortunate accidents.
If you are a senior citizen or have multiple diseases, your PHR will help you hold control over your treatment. While it will not replace the medical records managed by doctors, it will help enhance the quality of your care. When you consider that medical errors are probably the third leading cause of death in the United States currently, you owe it to yourself in order to make a personal health record.
A personal health record is an internet-based app that enables you to collect, store, manage, and share information related to your health with doctors and healthcare professionals. Various insurers, HMOs, or medical provider groups render PHRs to their members, and some internet companies sell PHR services for anyone to use. The cost of leveraging an internet PHR provider may vary. Some enterprises need a one-time-only fee, while others charge an ongoing fee and still offer the service for free. The free services might be supported by advertising revenue.
PHR providers also have various ways to transmit your health information from where it is stored now to your electronic PHR. Some PHR providers have built partnerships with healthcare organizations, pharmacies, and labs that allow you to import your medical records from your healthcare providers. Other PHR providers need you to get your health records and type the data into your electronic PHR.
What are the benefits of having a Personal Health Record?
A potential benefit of having a PHR is to receive a broad view of your health by keeping all of your information available at one central place. A PHR can enable you to access your health information to assemble for medical appointments. It can also allow you to communicate better with the doctor about your medical needs. People suffering from chronic diseases might use a PHR in order to keep track of various things such as how their medications are affecting them, r how they are feeling from day to day, etc. For instance, Diabetics may use a PHR to log their glucose level. People having hypertension might want to use it to maintain their blood pressure readings.
You may wish to add other health-related information to your PHR like your diet and exercise routines. One can also use a personal health record system as a log in order to chart their progress towards health and wellness goals. PHR could help you take care of a family member or friends who require a helping hand in tracking and managing their health information because of age or ailments. Here are a handful of benefits that PHR offers:
Helping coordinates various providers and treatments
Enhance participation in your treatment
Reduces costs by eliminating redundant tests
Available in emergency
It may help avoid a medical mistake
Streamline communication between
What to include in a Personal Health Record system?
The contents of PHR are dependent on you and what medical treatments you have taken. A typical PHR system includes the following information:
The Patient's name, address, and contact information
Attested copies of insurance cards
An allergy alert list
Family history of illness
Legal documents such as POA and DNR
Blood type
A list of healthcare professionals included in your care and their contact information
Copies or recent tests
Health progress report from doctors or physicians and other information related to patient's medication, diet, or treatment plans
Exercise and diet habits
Lab and pathology tests
Patient's health goals
Should your PHR be online or offline?
PHRs are as simple as copies of documents in a file or folder. Generally, electronic PHRs are available free of cost from insurance carriers, online vendors, employers of your doctor, or health system. The advantage of the online PHR system is that they have a powerful array of features that patients can use to upload and store information. Some of them can be directly linked to hospital EMR, and also, they are privacy protected by the Health Insurance Portability and Accountability Act (HIPPA).
Another advantage of having an electronic PHR is that it is easy to access if the patient is traveling. The patient should take care that he/she places a card in their wallet that alerts healthcare professionals on how to access their information. Using an online PHR, the patient can get appointment alerts to help them coordinate treatment. Consider how handy this can be if you are maintaining healthcare for you, your family member, and a parent. Some PHRs offer communication between you and a professional caregiver. If you are planning to have a PHR, here are some questions to ask:
Is it safe and private?
How user-friendly is the system?
Can I set up PHRs for multiple family members?
Can I add external files such as lab tests into the PHR system?
How easy is it to update my information?
Conclusion
If you are planning to share health information in your PHR and various healthcare professionals, using an online resource will be easier than maintaining paper records. It will enable you to format your information quickly, accurately, and securely regardless of which or how many doctors nee to access it. If you are a healthcare professional or running a healthcare facility and planning to integrate a PHR for your patients then H-Connect is the best option to choose from. It is specially designed and developed to streamline various operations and hospitals and healthcare facilities.
Recent posts
March 15, 2022

November 29, 2021

November 12, 2021
Articles
February 02, 2022

November 15, 2021