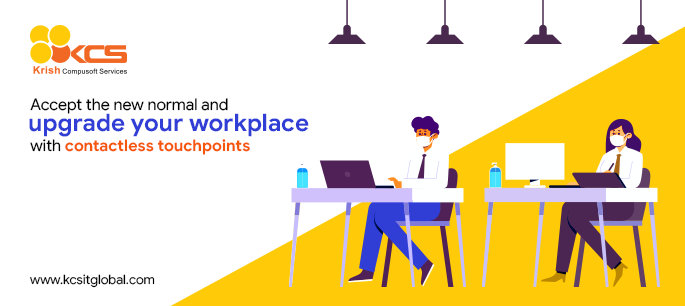 Category:

Digital Transformation, Design Solutions
Accept the new normal and upgrade your workplace with contactless touchpoints
There is no doubt that scientists and researchers are working 24/7 to control the COVID-19 pandemic, while that happens, companies have to make their workplace 100-times safer than before. Cutting-edge technologies and IoT devices play a vital role in order to secure the office premise from Coronavirus. Popular AI-based edge and temperature screening camera providers have launched a 3-in1 COVIO-19 safety device. It can detect temperature, hand sanitization, and touchless attendance management system using RFID.
This system can be installed along with current RFID-based card attendance management at all touch points. Therefore, if the device detects an employee with a high temperature than normal, the doors to the office will not be opened for that particular person.
How does it function?
This temperature screening and the sanitizing product is manufactured to help public health practices. Flexible and personalized, the package takes a quick, level-one calibrated temperature scan. Using its built-in RFID card reader mechanism, it can be attached to existing attendance management databases and monitor a person's temperature regularly. The camera at the top of this device captures the person with exalted temperature and saves it for the record.
These types of devices are perfect at the entrance of offices, schools, and even grocery stores. The technologies included in the 3-in-1 COVID-19 safety device are a body temperature sensing unit, an automated hand sanitizer dispensing unit, a 3.5-inch display, a camera, and a tower-based alarm system. This device fulfills all the FDA guidelines for a 3 seconds average benchmark sensing and is precise to 0.3 degrees.
With all the essential components required to secure companies and communities, and also to ensure business continuity and compliance management is in place. Here are some features included in the 3-in-1 COVID-19 safety device:
3.5-inch screen
LED tower-based alarm system with a buzzer
Automated temperature detection when any personnel do hand sanitization
Supports OEM and ODM services
Automated temperature detection when a person uses an RFID card to check-in
Cloud-based alert management system
WiFi and Ethernet support
Can be installed with current RFID attendance system
How touchless workplace can alleviate reopening concerns?
Let us have a closer look at how the touchless office can help the enterprises in reopening their offices.
1. Access control systems:
Decrease contact and handle congestion in high-traffic areas with the help of touchless technology and access control that enables employees to enter office without having to touch a turnstile. In order to take this technology to another level, role-based access control is a solution that can restrain access to certain users. This solution will function even if any employee comes to work sick, they cannot access office entities such as office doors, elevators, or in some cases the building itself.
2. Guest registration:
Account for every variable like building visitors with streamlined guest registration. Before entering the building, guests are required to complete a digital health screening checklist. By doing so ahead of time, guests can check-in upon quickly upon entering and use the building without including lingering congestion to a lobby or touching any surfaces such as pen and desk.
3. Online or mobile resource booking:
Booking on-site resources electronically with the help of IoT connected devices and an electronic document management system and restrict employees from coming in contact with other employees. Staff members can book amenities ahead of time, and electronically sign waivers or other forms seamlessly that needs zero in-person contact. Employers can enable workers to book and pay for on-site appointments digitally using an electronic service booking system. Employees can book fitness classes, telehealth appointments, or bike servicing with the help of cutting-edge web or mobile applications.
Conclusion
Business shall find that agility will be the key to navigate the uncertain future of work. It is possible to be a shacking transformation, as both employees and employers try to find the perfect balance with these grim measures and prohibitive design in place. However, on the other hand, staff members should be allowed more autonomy and flexibility. Since, the global pandemic has offered workers the opportunity for a mass crash course in using digital tools, enabling seamless collaboration remotely. If you are planning to digitize or integrate touchless technology into your office, KCS can help you with all your issues. They offer touchless check-ins, sensors for monitoring physical distancing, and other IoT-based products to safeguard your employees' health and step into new normal.

Recent posts
March 15, 2022

November 29, 2021

November 12, 2021
Articles
February 02, 2022

November 15, 2021