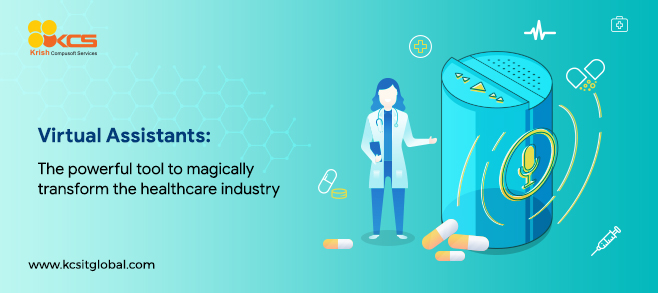 Category:

Data Engineering & Analytics, AI & Automation, Digital Transformation
Virtual Assistants: The powerful tool to magically transform the healthcare industry
We are living in a golden age where our homes and our lives are dominated by virtual assistants like Alexa, Siri, or Google home. Be it for listening to music, or asking foolish questions, getting news reports, or sending texts or making calls, or asking them to turn the lights off – the popularity of these virtual assistants is growing faster than a beanstalk.
This new world of smart conversational interfaces is changing the way consumers seek information in any industry, including the healthcare sector. It is almost as if these virtual assistants are the next logical step in driving the pharma domain and improving patient's lives.
Applications of Alexa and Google home skills for the medical industry:
Alexa or Google home or other such voice-enabled devices have the potential to help patients get answers to critical questions about varied diseases, their available treatments, health tips, and medical questions. Aside from convenience, patients use smart applications to interact with these smart speakers without using their hands.
These devices remove barriers and help patients with disabilities have more control over their health. For example, a Digital Pharma conference in Europe covered how smart speakers like Siri, Alexa, or Cortana can help people with Alzheimer's disease improve their daily activities. They are also helpful to patients with diseases like multiple sclerosis which impacts their mobility or even just the use of their hands or diseases like macular degeneration which impacts their vision.
According to marketsandmarkets, Healthcare AI projected to be an almost $200 billion industry by 2025
Below are a few skills of these virtual assistants that brings the doctor to you:
They listen to your symptoms properly while suggesting all possible conditions. Many applications can be downloaded in your smartphone helping you to connect deeper with your device.

They take notes on your health stats to keep a check on your medical condition as well as share it with your doctors.

You can stay connected well with your doctors and hospitals.

It can dial your doctors, or call for an ambulance without having to get up or dial a number.

Some people also use Alexa or Siri to find information about local healthcare providers, like "Alexa, which is the highest-rated orthopedic doctor near me?" Alexa will then search local business listing including Google, and then come up with an answer.
How does an Echo Work?

How can we help?
It's time to get into the competition and bring a voice to your business that's heard by your patients, or doctors at work, or enhance patient's experience. Voice technology is here and many businesses in the pharma sector are flocking into it. We are always happy to help!
With almost two decades of experience, KCS is a leader in rendering unique tech-led services all around the world. Be it tech-consulting, product engineering, cloud, or bots KCS is a pro in delivering top-notch services without compromising on the quality. Our experts can develop robust apps and skills to unlock an incredible range of possibilities for your business.
Takeaway:
Amazon and Google are investing heavily in upgrading the AI capabilities of Alexa and Google Home.
Recent posts
March 15, 2022

November 29, 2021

November 12, 2021
Articles
February 02, 2022

November 15, 2021