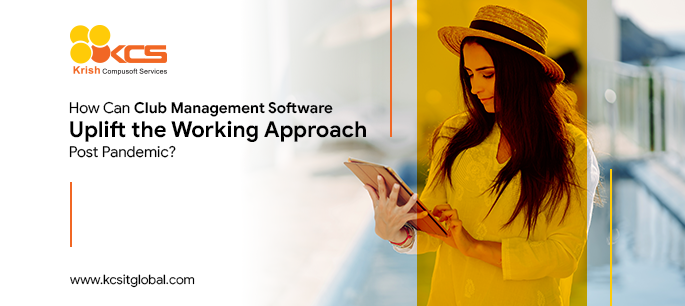 Category:

Digital Transformation, Product Engineering
How Can Club Management Software Uplift the Working Approach Post Pandemic?
Management of any type of clubbing business is never an easy deal, whether it's about public club management or residential club management. It is always associated with a myriad of responsibilities, activities, tasks, and decisions. While handling the stack in one go requires a strong working strategy. 
As per the survey, various kinds of clubs are continuously raising and gaining popularity over the years. According to a report of the International Health Racquet and Sports club Association (IHRSA), 1 out of 5 Americans belongs to the club. That means people in the high ratio are joining the clubs. Thus, no matter how many employees you have, a club manager always needs a simplified way of working to confront the entire operations. 
When it comes to streamlining the overall process, the only solution that comes across the mind is Digitalization. Digital solutions for Club Management, directly point out the Club Management Software. This software not only serves  benefits  to the user but uplifts their working approach too. 
Its significant features play a vital role to make club management tasks and operations up-to-date. Initially let's clear our thoughts concerning leisure club software. 

What is Club Management Software? 
Club management software is a collection of tools that allow clubs and associations to manage their day-to-day operations effectively within a minimum range of time and resources that correlatively boost their productivity and enhance their working style. Moreover, this digital platform helps the clubs to run their business smoothly.
How Club Management Software Works?
Club management software is also known as Membership Management Software. As the name suggested this software is designed to manage the overall process of membership, maintain the records and other details. This platform facilitates high quality of service to the members by making them able to carry out some high-priority tasks such as schedule an appointment and online renewal.
After the outbreak of COVID-19, people have started to rely on online activities; consequently, the demand for Membership Management Software has been an increase.
Its client-centric and member focus working techniques are suitable for every club environment and working culture. Additionally, its service-oriented activity makes everything clear and possible for the users. The software eases various tasks for the members such as reservations, appointments, membership renewals, and scheduling. Club management software played a significant role in facilitating the process of creating a hassle-free payment system by allowing members to make payments online. 
Aside from having a quick and secure payment gateway, its connection with automation allows club administrators to complete a variety of duties with little effort and maintain precise information about clients, members, duties, and appointments. In the end, Leisure club software serves a great experience to their users. 
  Advanced Features of Club Management Software That Will Improve Club Businesses' Working Approach After a Pandemic 
Why club management software after the pandemic? The loss that bears by club businesses during the pandemic can easily be compensated with leisure club management software in the time of post-pandemic.  
Let's look at the features of Membership Management Software that must be used to transform the club business procedure into digitalization during the post-pandemic. 
1) Membership Management: - You can modify and store member and staff records, search for member information quickly, and upgrade or downgrade memberships using a centralized member database. No need to fire any complex quires to perform a searching operation, by inserting a single parameter user will able to search the member effortlessly. 
2) Payment Getaway Integration: - The Club Management System enables the club to provide its members a payment gateway solution that allows them to pay their bills online. Members will be able to settle their bills with the club without having to go to the club using this option. 
3) Reports: - Users can generate reports that will provide a deep insight to the club managers to know the overall performance of the business so they can make the right decision to enhance their business performance. 
4) Email Marketing: - The membership database is a crucial asset for every club business. After the pandemic, if the club will be looking to expand their business, then with the help of automated emails and SMS, club business can reach their targeted audience and will be able to provide detailed information about exciting offers. 
5) Biometric and RFID Card Control:- The social distancing policy will be maintained in many public spaces even after the pandemic is over. By using the Biometric/RFID Card Control feature of club management software, club managers can implement a social distancing policy from the entry point of the club. Moreover, through this feature, club managers will be able to diminish the fraud entries.
6) Scheduling: - This feature allows your staff to schedule the appointments with the client or the client can able to schedule appointments for the session on the basis of availability. The whole process can be done without any human being interactions.
Closure:
If you are a club owner and still using the traditional working style in this digital age, then you must focus on your working strategy in order to reach measurable goals. In the post-pandemic period, eCube, the Club management software, is a perfect alternative for you to re-accelerate your business. Its prominent features such as online booking/payment, biometric control, hardware integration, reports, and many more, serve your business an extreme level of benefits and help your club to flourish swiftly.

Recent posts
March 15, 2022

November 29, 2021

November 12, 2021
Articles
February 02, 2022

November 15, 2021