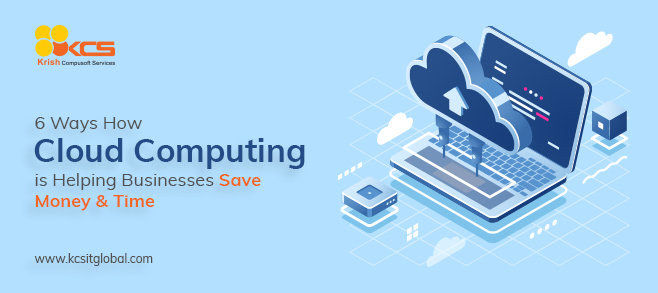 Category:

Cloud
How cloud computing is helping businesses save money and time
As per the definition provided by Microsoft, cloud computing is said to be the delivery of computing services which includes servers, storage, database, software, networking, intelligence & analytics over the internet (cloud) which thus offers faster innovation, flexible resources, and economies of scale.
The definition of Amazon based cloud service AWS is slightly different. It states that cloud computing is the on-demand delivery of IT resources over the internet. It also states that instead of owning, buying, or physical servers and data centers, one can access technology services like computing, power storage, and databases from cloud providers.
Simply put, cloud computing is said to be the delivery of on-demand computing services that range from applications to storage to the processing power which is available over the internet and typically based on a pay-as-you-go basis.
Though the term cloud computing came into existence somewhere around the year 2000 but the concept of computing as a service was embraced in the mid-nineties. If surveys and researches are to be believed then by the end of 2019 more than 90% of companies were already on the cloud.
Another report by Linker says that by the year 2023 the global cloud computing market is expected to reach $623.3 billion. The data speaks about the present and brighter future of cloud computing services.
Let us see how cloud computing services are beneficial for businesses and how it is helping them to save money and time both.
Enhanced Collaboration:
There is no need for resource transportation or space allocation when using cloud-based programs. As cloud-based programs can be used anytime on almost any device with an internet connection, it aids businesses in better collaboration with the team and clients, especially the ones which are functioning remotely.
With the cloud-based software, teams that are in different locations can collaborate easily on documents without needing the e-mail attachments and sharing calendars and tasks list from any location. Participants can get easy access to the documents just by signing up without downloading the document of installing software.

Growth Management:
With cloud computing, operations becoming flexible software and documents become easily accessible. Along with this, if business owners need new resources, they can accommodate it with ease. In case there is a sudden growth, businesses are backed with the support to enhance their capacity.
When a business has cloud computing resources, they can react to the needs as they arise and can use what is required for managing organizational growth and enhancing business efficiency.
Lower Cost of Operation:
There are many ways through which you can save money when using cloud-based services. This includes server maintenance, power and cooling costs and software licensing and upgrade expenses. This could be understood with an example, rather than spending money on maintaining hardware that often goes unused, it is better subscribing to software and services at a low monthly fee. This can ultimately help small businesses in stretching their budgets further.
Protected Data Backup:
Data is the most important aspect of any business at present. In case you lack time and resources in implementing a backup strategy or in case you keep the backed-up data on-site cloud can help you ensure that you can retrieve the latest version of data in case there is a system failure or disaster.
Businesses can choose to a cloud-based service to back up their data online so that in case of any mishap data can be recovered within minutes.
Better Dependability:
As compared to the services delivered on-premise, cloud-based services tend to be more reliable, especially if servers or the other hardware are old. There is an experienced and dedicated IT staff of cloud service providers that means they can resolve problems faster as compared to a small business with limited IT resources.
Easy Resource Management:
The off-site located servers and their management are left to experienced providers, choosing cloud computing businesses can focus on their core work rather than handling the management task. Resources in the cloud can be accessed when needed. For businesses that want to stretch their resources and wish to be more competitive, it becomes necessary to work in the cloud.
The EndNote
With the storage of data in a secure cloud, it becomes extremely easy to access the data from anywhere. Apart from this, the ease of resource management also helps businesses in focusing on their core values.
When businesses are backed up by cloud computing, they have enhanced collaboration with both team and clients. Other than this, it also helps in growth management. Many other things like this ultimately help businesses in saving money and time both.
KCS is proud to announce itself as a cloud computing service provider. With our association with top cloud services like Microsoft Azure, Google Cloud, and Amazon AWS, we help businesses in storing and safeguarding their data at the most secure public and hybrid clouds.
Recent posts
March 15, 2022

November 29, 2021

November 12, 2021
Articles
February 02, 2022

November 15, 2021