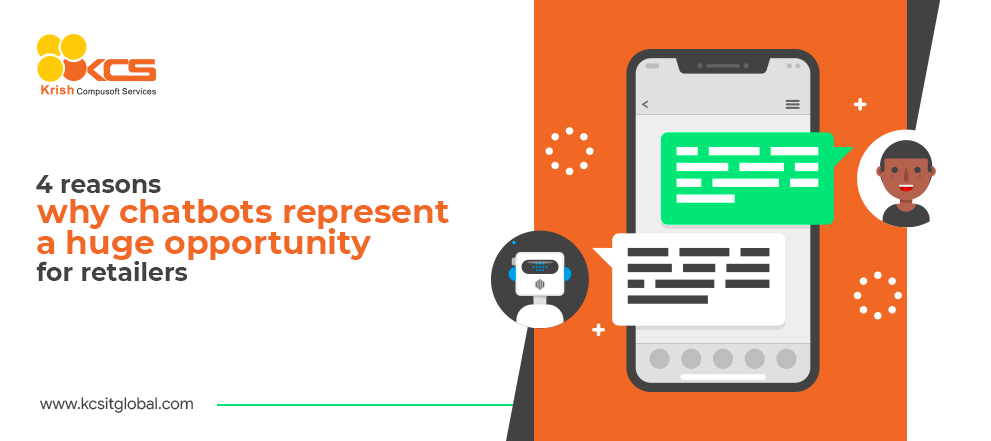 Category:

Retail / FMCG
4 reasons why chatbots represent a huge opportunity for retailers
Since the evolution of eCommerce and the increasing popularity of online shopping, any company's audience has the power to the greatest of all time. According to a survey, it is estimated that in 2021, eCommerce will account for 17.5% of the global retail sales, vs. 13.7% now. Nonetheless, these innovations simply mean that retail competition is tighter than ever. In order to stay ahead of your competition, the primary key is keeping evolving your sales as a retailer in 2020 and beyond lies in technology.
One such technology that has the potential to create a huge impact on the bottom line of any online retailer is the Facebook Messenger chatbots. Bots are nothing but pieces of software that can communicate with customers right from Facebook Messenger or any online platform. Even though they are not developed to replace the human agent, but they can smooth function operations and processes via a humanlike conversational style. Your retail business is lacking chatbots facility and here are the top five reasons why.
1. Time and money saver:
Chatbots are specially designed to follow a question and answer format that imitates the back-and-forth of human interaction. Hence, they are suitable for answering frequently asked questions from your potential customers. It doesn't matter if the query is regarding product features, tracking order, shipping costs, returns, chatbots can be equipped to offer needed information in a conversational style. Due to bot implementation, your executives will have more time, energy, and resources to concentrate on complicated queries instead of wasting time repeating the same answer to FAQs.
One thing every retailer should keep in mind is that chatbots for their retail business should provide users the opportunity to request a conversation with a human executive if required. This transaction can easily be carried out with the help of a customer engagement platform. The last thing you want to do is disappoint or upset customers by having a bot offering irrelevant, automated responses to a more complicated question or problem they might have.

2. Enhances customer experience:
Chatbots in retail industry are available round the clock and will always represent your enterprise well by offering user-friendly customer service. On the basis of how you develop your chatbot, they are empowered to answer product questions, placing an order, offer a recommendation, or offer support anytime anywhere. A bot's constant availability also represents customers that your company has its convenience and experience in mind, as interacting with a bot is easy and pleasant, and there is no waiting time included.
In addition, if your chatbot is not able to answer a particular query, you can transfer the conversation to a human agent. If an executive is not available, then the chatbot can offer information regarding customer service opening hours instead. It doesn't if a chatbot resolves the customers' problems itself or connects them to an agent; it is a necessary tool for enhancing the speed and quality of eCommerce customer service interactions.
3. Increases sales:
Chatbots have the ability to turn a prospect into a permanent or frequent buyer. This is not because it can answer questions engagingly, but also because it can offer a completely bespoke shopping experience to the customers. Chatbots in retail industry is perfect for rendering personalized product recommendations. You can develop your chatbot to ask users a few questions to measure their requirements preferences, and then show a list of products they might like.
From here, customers are most likely to make a purchase and a chatbot can facilitate this too. It can enable customers to place orders and submit payment immediately via Stripe or PayPal. You can also leverage conversational AI in retail to send messages to re-engage the customers. Within some parameters, you can use this functionality to send such as latest product notifications, or updates regarding upcoming sales or coupons.
4. Help in staying ahead of the competition:
With the astounding rates at which the retail world is flourishing, your brand gets new competitors globally almost every day. In order to succeed, you must do everything you can to set your business apart from others like it and a chatbot is a perfect solution. Even though there are popular retailers leveraging chatbots, they are still a relatively new technology to the industry. Therefore, adopting one now will put you ahead of the competition.
Chatbots offer a helpful, fun, and unique experience for customers, from when they are browsing products, to when they are buying one, to when they get support. A chatbot will simplify their experience with your enterprise and make it memorable; hence, they will be more likely to prefer you in the future over your competitors.
Conclusion
Chatbots are effective ways to take benefit of the increasingly major role of artificial intelligence in customer service. Using the perfect method and execution in the customer journey, a chatbot can offer instant quick answers 24/7 and free up the time and resources of your executives. If you are a retail business owner and planning to enhance customer experience then, KCS offers world-class chatbot development services to its clients. KCS in association with BotSupply renders powerful chatbots that will help you in increasing your sales and stand out from the crowd.

Recent posts
March 30, 2022

November 04, 2021
Articles
February 02, 2022

November 15, 2021
Global Presence
For 360o business innovation across the globe, get in touch!