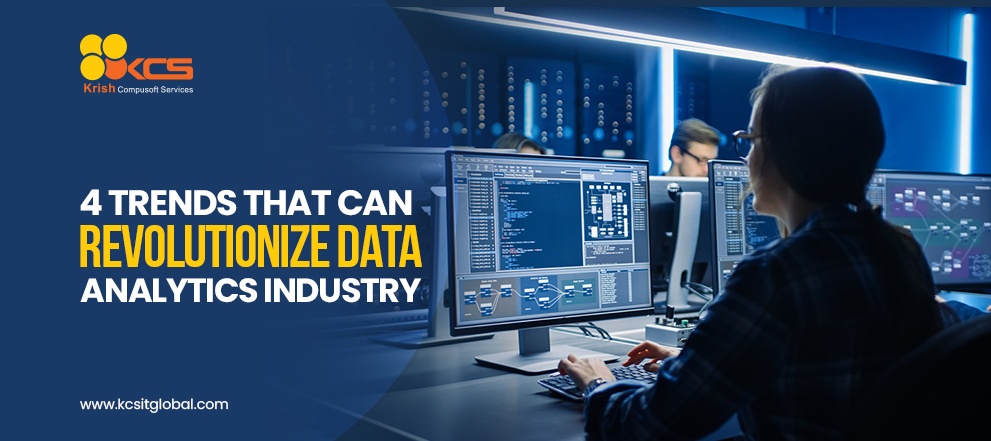 Category:

Hi-Tech
4 trends that can revolutionize data analytics industry
A lot of enterprises these days are searching for new and innovative ways to extract insights out of their system with the help of predictive analytics tools and software. With the right approach, data analytics can help business in smarter decision-making that is backed by the data. The future of data analytics is ripe. With the invention of artificial intelligent software, machine learning, statistical modelling, and other data science disciplines, data analytics can be more predictive and actionable rather than retrospective.
According to IDC, the global big data and business analytics market reached $189 billion in 2019 and is expected to grow drastically to $274 billion by 2022. The technology has set its benchmark by establishing a massive shift where the enterprises are adopting it to reach beyond the traditional methods of analytics.
What is data analytics?
Data analytics is a process of making a significant transformation in the decision-making process of branding and recruitment. Since then, people have experienced how data analytics is making a remarkable change in how the business is being done, but it would be more stimulating to watch what technology has for us in the coming year. Big data analytics scrutinizes a large amount of data to find hidden patterns, correlations, and other insights. With the help of predictive analytics tools, it has become easy to analyze data and get answers from it almost immediately.
Here are the four trends that will revolutionize the big data analytics industry in 2020
1. Data analysis automation:
Data analysis automation is the first and foremost and it turned out to be the most preferred technology across all the industries so that the business potentials can be enhanced and improved. In addition, it is now expected that almost 40% of the database work is likely to get automated in 2020. Let us hope that the automation will help enterprise leaders to efficiently see further ahead to help in driving their enterprises using suitable analytics to drive decisions.
2. Data analytics using IoT:
More than 20 billion active IoT devices are seen at the beginning of 2020 which is a remarkable shift and would subsequently collect more data for analysis. In some big IT enterprises where IoT devices are already being used to carry out various high-end operations, most of them are already witnessing beyond it to implement the assisting technology to run intelligent data analytics. Therefore, the world will shortly witness more analytics solutions for IoT devices to render accurate data along with transparency.
3. In-memory computing:
In the year 2020, the in-memory computing is likely to get a push as the cost of the memory turned IMC more mainstream is reduced. IMC can be an excellent solution for a varied range of benefits in the analysis while being mainstream. The persistent-memory technology of IMC has reduced cost and complexity. Furthermore, this technology is a new memory tier that is well established between NAND flash memory and dynamic access memory. As the broad-scale implementation of IMC solution is manageable, a lot of enterprises are now adopting in-memory computing to boost application performance whilst offering a considerable opportunity for future scalability.
4. Augmented analytics:
Within a couple of years, augmented analytics would become dominant. The technology has already shocked the industry by showing unusual results by merging AI and ML techniques by introducing new ways of creating, developing, sharing, and consuming analytics. The augmented analytics have already become the most preferred technique to use for business analytics. Here are some of the benefits of augmented analytics:
It has the potential to automate various analytics capabilities such as preparation, analytics, etc.

It contains buildings of models and insights generated, which will be much easier to specify with which to interact.
Conclusion
The futuristic trends for 2020 show that 50% of analytics queries will be generated with the help of voice recognition or NLP technology, provided that the predictive analytics software would be easy to use and access. We at KCS has designed a revolutionary data engineering platform, Konfluence that helps enterprises in streamlining their data analysis process and enhance their decision-making process.

Recent posts
March 30, 2022

November 04, 2021
Articles
February 02, 2022

November 15, 2021
Global Presence
For 360o business innovation across the globe, get in touch!