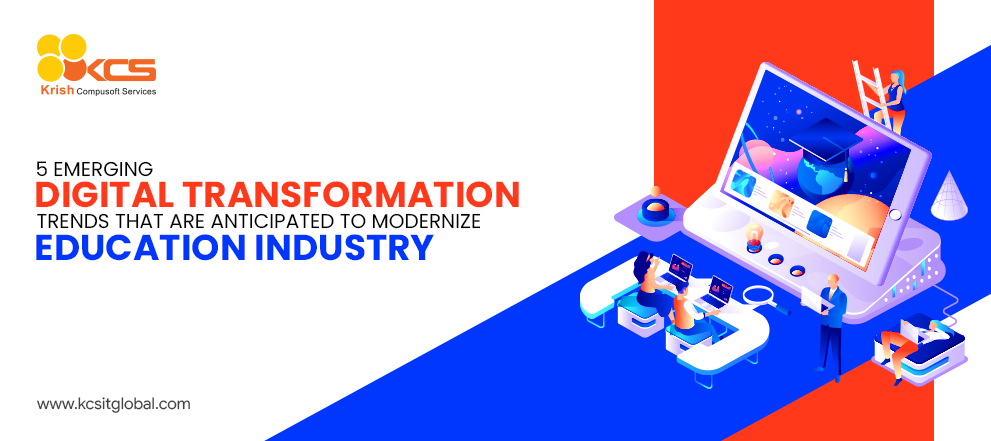 Category:

Education
5 Emerging Digital Transformation Trends that are anticipated to modernize Education Industry
2020 brought dramatic changes to all fields of life, including education, because of the global macroeconomic downfall by the COVID-19 pandemic. In addition, it was the time when digital trends in education technology got a rise. It is expected that 2021 will be the year of innovations in the ways of learning. Since the Coronavirus catastrophe, almost every school, college, and educational institute have started using Zoom, Google Classroom, and other tools to conduct online classes for the students and send them work. Parents and guardians on the other hand have used it throughout this time to help homeschool, and with the positive cases of COVID-19 ramping up, it looks Educational Technology (EdTech) is going nowhere soon.
A report published by Grand View Research shows that the global education technology industry will be worth over $285billion by 2027, growing at an 18.1% rate each year. Of course, EdTech is only set to rise more now that a lot of students will rely on technology to get an education. And in these tough times, some pieces of technology stand above the rest. Here are some of the best EdTech that will completely revolutionize the education industry.
1. E-Learning:
In simple terms, E-learning refers to learning via internet-enabled handy devices or computers. The traditional ways of education did not offer such a broad facility of research and evaluation as rendered by e-learning. Though this trend in education has already gained popularity, it is going to be more essential for the students of 2021 due to:
2021 pose increased health risks in physical interactions due to COVID-19 pandemic outbreak in 2020
The increasing scope of the internet to every aspect of the world
E-learning technology is rising at an incredible scale
Also, e-learning facilitates students to enhance their knowledge and hone their educational aptitude. Moreover, it has brought brilliant solutions to the students who encounter hardships during assignment making. For Instance, a lot of students have increased online writing enterprises' popularity in the last few years. While they are busy with other educational tasks, they assign their homework to these companies to execute their additional tasks. Hence, they get their job done in no time at low costs. In short, e-learning has risen as an exceptional and inevitable learning way for the future generation.
2. Artificial intelligence:
Artificial intelligence (AI) is the powerhouse of machines to think and respond in several forms just like a robot. This means that machines can reason and execute tasks like a human being. AI is not a new thing topic for students of the coming years. It has already transformed the education system globally to a great extent. With the addition of new features such as smart content and virtual global conferences, AI has become more impactful. It is going to appear as one of the existing trends in education technology for 2021, mainly because:
It is the fastest way of teaching and learning
It allows the students to get personalized in learning
It has globalized the world regarding education systems
AI helps the teachers to identify learning incapacities
Teachers get more knowledge to be a source of knowledge for others
Learners can submit technologically written feedback

3. Virtual Reality Learning:
Virtual reality (VR) is one of the most intriguing and engaging trends in education in 2021. It creates an unreal or real-world via the virtual tool in the eyes of the learner. Students can see the world, move anywhere in it, and blend things. There are several benefits of virtual reality in the coming years such as:
The learners can visualize places and things they can't visit in the traditional study environment
It enables students to enjoy learning for hours
This technology is so enticing that everybody wants to wear VR tools at least once in a life
VR has eliminated the concept of language as a learning obstacle
The education industry has come up with quality content in various subjects
4. Mobile-first learning:
Mobile-first learning system has offered rise to educational trends and issues for 2021. This means the mobile app of a desktop site is adaptable to greater screens for learners. They can get quick access to course materials with their mobile phones and smartphones without physically visiting their college or universities. Whether they are traveling or eating during breaks, the courses are accessible with a couple of taps on their mobiles. Hence, M-learning has grabbed the attention of teachers and educators for designing an education system for the future generation.
5. Gamification:
Gamification has appeared to be one of the most popular educational technology trends. It means learning through fun and gaming to enhance results. Teachers who follow this learning technique convert this classroom into a gaming zone unlocking students' active creativity. Therefore, the students purposefully experiment with their creative power. They also acknowledge the value of collaboration and teamwork. Subsequently the play and fun lead them to increase their aptitude and knowledge on the related subject. Several educational levels have various types of games for an enjoyable learning environment for the students. Both junior as well as senior classes come closer to their subject matters using these popular educational trends.
Conclusion
At last, 2021 is going to open phenomenal ways of learning for the students who know nothing but modernity. Both educators and learners will get the benefit of a modernized approach to education. The latest educational means will be faster, more technological, and promising. The next generation is going to learn from advanced, engaging, and tech-based, global educational schemes. For the educational institutes and enterprises who want to upgrade their ecosystem with cutting-edge technological tools, KCS is offering personalized digital transformation consulting solutions. They have a team of qualified experts who offers the best digital transformation solutions to their clients.

Recent posts
March 30, 2022

November 04, 2021
Articles
February 02, 2022

November 15, 2021
Global Presence
For 360o business innovation across the globe, get in touch!