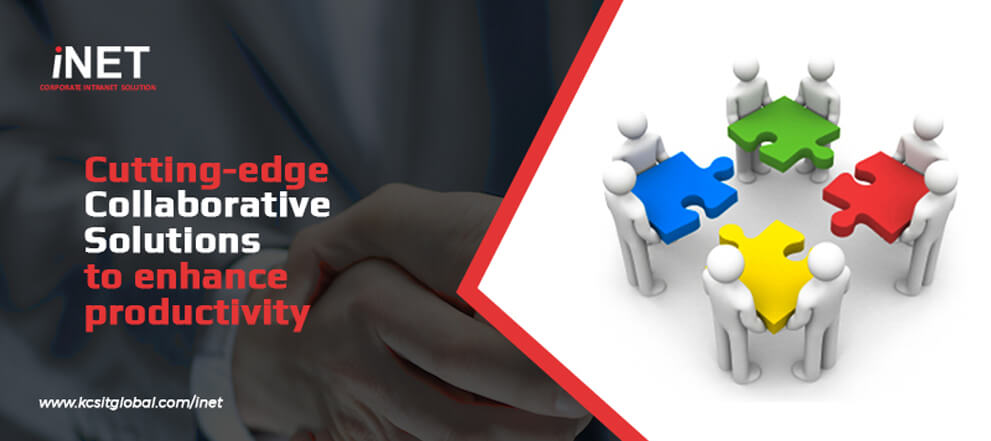 Category:

Financial Services
Cutting-edge collaborative solutions to enhance productivity
Collaboration platform in today's workplace has become essential as we rapidly move towards a more digitally connected world. It facilitates and apparently makes it easier for employees in the organization to work together intelligently. It centralizes certain universal activities of the firm which includes internal communication, sharing of project information, coordination of efforts and working together to deliver the assignment on time.
Raise employee's productivity as well as accountability with smarter collaboration tools and project management solutions which will help minimize email distractions, workplace interruptions, unnecessary meetings and other avoidable disruptions. Empower your employees to drive business goals with real-time collaboration ensuring employees learn to work smarter and there is a seamless communication flow for team members to have easy access to mission-critical information.
The benefits of collaboration:
Easy communication, effective employee brainstorming, share information and files to anyone, anytime and anywhere.
Pool necessary skills from other employees, departments or even offices for any project effortlessly
A collaborative platform ensures a happier workplace and cultivates a sense of community within the organization.
Employees can work smarter than harder compelling them to achieve goals faster and drive the business forward.
3 ways collaborative platform will help you enhance productivity:
Improved business processes for real productivity gains

Collaboration technology can boost business performance by changing enterprise processes and increasing transparency in everyone's work. It not only digitizes the old way of doing business but also introduces new ways of doing things possible. Improved inter-department, as well as inter-employees communication, helps to finish assignments faster, discuss issues in real-time, accelerate decisions, and eliminate any misunderstandings. With each evolving business process, collaboration software enhances business value and competitive positioning.

Faster operational execution

Collaboration software can solve problems faster and more-effectively and can help users troubleshoot problems and move ahead in their work. Also with faster communication, there is faster execution. Information can be shared more concisely and quickly having an ample of time to solve or mark issues. It provides agility in answering questions and momentum in addressing competitive challenges. It can help to unleash the full power of the business talent while embracing new enterprise models to work collaboratively towards a unified goal.

Shape the collaborative behaviours enabling results

Collaboration tools can work great with change management activities that boost, shapes and incentivizes the desired collaborative behaviours. It can help avoid roadblocks to productivity and can enable workers to learn new skills which are beyond the scope of their current responsibilities. Small or large organizations can now plan for crises and emergencies easily and collaborative platform proves to be a great tool to help them stay connected in real-time to manage streams of information.
When speaking of the collaborative solution, we are one of the leading solution providers in the market helping our discerning clients expand their horizon and achieve their targeted goals. Turn to us for innovative solutions for a better tomorrow!
Recent posts
March 30, 2022

November 04, 2021
Articles
February 02, 2022

November 15, 2021
Global Presence
For 360o business innovation across the globe, get in touch!