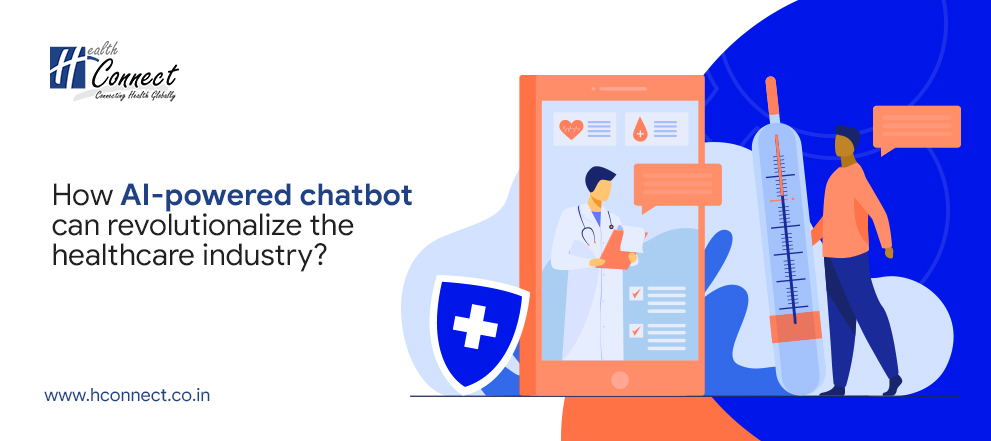 Category:

Healthcare
How AI-powered chatbot can revolutionalize the healthcare industry?
With the rapid advancements in technology, the chatbot market has now become one of the fastest-growing sectors in the healthcare industry, with the market estimated to be worth more than $314 billion by 2023.
As the demand for chatbot consultation in increasing, this growth is not surprising at all. Combined with the commercial benefits for doctors, there is a genuine demand for more advanced technologies to form part of patients' healthcare.
A recent study in the USA unveiled that more than half of the customers would use an app for remote general consultation if they are given the option. Whereas the research in the UK found that apps would be used by 47% of the patients to book the appointments, and 42% to handle prescriptions.
Healthcare chatbots can be divided into three types:
Task-Oriented Chatbots: They are designed to manage particular situations like placing orders or scheduling appointments. These chatbots are focused on helping the patient or medical-aid seeker to complete a fast virtual medical checkup in the inspiration and research phase of health consideration.
Information Oriented Chatbots: They are mainly focused on the generative aspects of a conversation. Depending on the AI and expert system, they will provide answers as creative as possible, avoiding repetition, and trying to keep the conversation interesting for the person they are chatting with.
Open or Close Domain Chatbot: The third type of chatbot is either open-domain, built to retrieve information for questions like what will be the weather in a week's time or closed-domain. These types of chatbots are also known as domain-specific that are operated with regards to a particular area of interest, focusing to provide answers to a small scenario like briefing about symptoms of a disease, if the patient is searching for it .
The role of AI and Chatbots in the healthcare sector
AI is being used in almost all aspects of the field of medicine including drug discovery, disease detection, research, and treatment. Apart from these things, the industry has also shown a huge interest in automating its existing customer services.
A chatbot can guide patients through the facilitation of the booking procedures as well as support experience with no need for a dedicated customer support team. Moreover, chatbots are also capable of diagnosing and helping patients through assessment and understanding of symptoms through chat.
Data collected by chatbots based on AI can also help healthcare professionals save more time and assist in treatment and decision making. The chatbot facility can also help the healthcare industry in revenue optimization, cost-effectiveness, and the automated method of working with insurance companies.
How Chatbots have completely changed the healthcare industry?
Personalized diagnosing and treatment:
Clinical decision-making has been one of the keys that focus on artificial intelligence since the 1970s, and still AI in medical diagnostics and decision-making is one of the top use cases. The simultaneous analysis of multiple factors enables AI-powered chatbots to recognize early symptoms that humans might overlook which enhances the quality of diagnosing and increase the number of early detection cases.
The American Cancer Society describes that the implementation of chatbots allows mammogram analysis that is 99% reliable and 30X faster, significantly increasing care outcomes.
Uncrewed patient assistance:
It hasn't been so long since surgeons started involving robots in operating rooms. Recently, AI-powered robots have worked more closely with humans and have adopted more routine patient management tasks. They help in uncrewed patient management, so the doctors could do their work seamlessly.
Virtual consultation:
These AI-enabled chatbots enable patients to take remediation actions as soon as they encounter early symptoms and without visiting the doctors. Babylon's Health's chatbot uses a voice recognition technique and a huge database of diseases to offer the best possible diagnosis and recommended actions based on the patient's medical history and symptoms.
Impact of chatbots in curing mental health ailments
Where human psychologists train for years to be able to practice their trade, chatbots only require an advanced algorithm and little bit of help from machine learning. In simple terms, a mental health chatbot is one type of conversational interface application that is designed to have a conversation with the patient about his/her mental wellbeing. They also offer instant 24/7 available chat facilities. AI-powered chatbots also deliver detached statistics for the patients to self-diagnose his mental state. It also offers doctors basic recommendations on how to enhance patients' mental wellbeing.
The primary goal of a mental health chatbot is to assist patients to handle and understand their mental states on their own as much as possible. It also helps patients to connect with mental health professionals upon necessity.

How KCS Can Help Healthcare Industry with AI-Enabled Chatbot?
Being a top-notch digital transformation service provider in the healthcare industry, KCS has been serving its eminent clientele with different technology solutions from time to time. Whether it is a healthcare mobile app, hospital app, heart rate monitoring app, video consultation platform, data analytics solution, or AI-enabled solutions for healthcare; the developer's team at KCS is constantly in the urge to serve the industry with out of the box solution.
KCS's AI-enabled Whatsapp Chatbot
In today's time, we have our dependency on Google a lot. Whether it is finding a restaurant nearby or searching for the best schools, we always trust the results provided by Google. But, when it comes to finding some medicine or cure in Google, there is a lot of confusion. In such a case, we personally think to have a personal assistant who could guide us well about the disease, its prevention, and cure. To bridge patients to hospitals directly with no hassle, we have come up with an AI-enabled chatbot.
We have developed a Whatsapp chatbot (AI enabled) to help the medical practitioners and professionals burden their load and aid in providing seamless patient services. As we know at this time of the COVID -19 pandemic, patients are not willing to visit the hospital until there is an emergency.
Considering the need of the time, we have developed a solution that could help patients to get timely advice and consultation without visiting the hospital. The chatbot can help hospitals and doctors by providing pre and post consultation to their patients.

Why KCS Chatbot?
The developed team of KCS has built a perfect solution for the patients that could provide them the right guidance regarding the disease. Our chatbot is specially designed to provide consultation to comorbid diseases or the cases that need special medical attention such as:
Depression
Mental Illness
Anxiety
Cancer
Gynecologist
Pediatric Treatment
The most important thing about our healthcare chatbot is that it does not work for an individual doctor but we have made it with 100 doctor's minds. Our chatbots are crafted with frequently asked and special questions related to each disease. The algorithm of our chatbot enables it to deliver the most accurate answer about any question in the minimum time possible.
How Healthcare Industry Would Get Benefitted from KCS Healthcare Chatbot
Whether you are a pharma company or you run your hospital, the AI-enabled health chatbot can resolve many issues for your business. Pharma companies can leverage the benefit of a chatbot by suggesting specific medicine to the patient (in case the symptoms match with the algorithm). Along with this, hospitals can attract their potential patients through the chatbots.
Do We Have a Product Ready?
KCS has already developed an AI-enabled chatbot for a leading pharmaceutical company in India and is closely working with many others to provide the solution. We have a product ready for POC (proof of concept). In case, anyone wants to see the demo of the product they can contact us directly.

Recent posts
March 30, 2022

November 04, 2021
Articles
February 02, 2022

November 15, 2021
Global Presence
For 360o business innovation across the globe, get in touch!