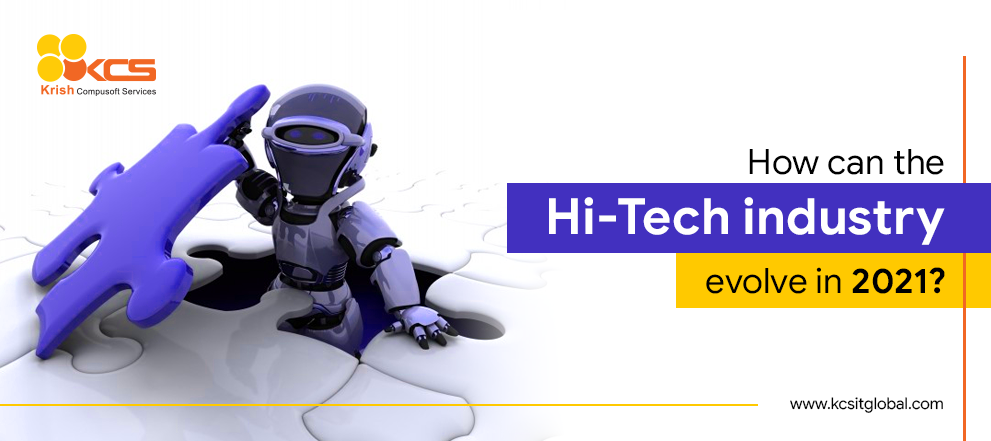 Category:

Hi-Tech
How can the Hi-Tech industry evolve in 2021?
If you have been following news on modern technology trends such as machine learning, artificial intelligence, cloud computing, etc. then you might be aware of these technologies are transforming the way we work and interact with others. In fact, machine learning and touch commerce are becoming more and more popular across various industries like healthcare, technology is upgrading the way we manage and run business and making Hi-Tech approaches an integral part of our lives.
Keeping the manufacturing costs as low as possible is one of the top priorities for all manufacturers. Hi-Tech manufacturing enterprises are making various multifarious and micro products along with increasing their production capacity. The changing customer needs have also influenced far-reaching changes in how hi-tech company's functions. Earlier, the applications of semiconductors were limited to smartphones and personal computer systems. This means semiconductors manufacturing companies were selling their products to mobile phones and computer-making enterprises. Today, semiconductors are used in varied industries right from automotive to manufacturing to energy and home automation.
Semiconductors are used in robotics, sensors, cloud computing, connectivity, etc. They are used in tools that are powered by technologies like artificial intelligence and the Internet of Things. According to a survey , it was found that the Hi-Tech industry is one of the leading sectors in the adoption of artificial intelligence with a 37% share, followed by professional services at 18.2% and financial services at 16.6%. Another study by Deloitte states that 51% of hi-tech companies say that they increased their artificial intelligence investment by 10% at the beginning of 2020.
Here are some of the top technologies that will play an integral part in revolutionizing the Hi-Tech industry.
1. Blockchain:
Earlier, blockchain was generally used in cryptocurrency only. However, many enterprises are constantly finding new ways to use this technology. Other concepts like validating product authenticity and securing transactions are suitable for blockchain technology. In this digital world, privacy and security are the most important factor. There are significant predictions that 2021 will be the year where blockchain will also be used in food safety, intellectual property, and real estate management.

2. 5G connectivity:
At the beginning of 2020, a lot of telecommunication enterprises have announced the 5G network to the world. These companies have also demonstrated a lot of benefits of this network, some of them are faster connectivity at lower latencies, and low power consumption. Therefore, 5G connectivity will boost many technological advancements right from media to cloud services and augmented reality. All the industries will be transformed and 5G will not be limited to mobile phones. Opportunities for enterprises will be significant and also the value in various business areas.
3. Virtual, augment, and mixed reality:
Till now, virtual reality (VR) was not used beyond several narrow niches. Hi-tech enterprises were not trying to concentrate on VR as much as they did on augmented reality (AR). They believed that VR will not be that profitable and useful. However, in the middle of 2020, there was a sudden rise in the usage of VR and mixed reality among Hi-tech companies. Mixed reality, which is the combination of both virtual and mixed reality, can be used by large businesses. Also, AR should not lose its popularity. Because of this technology, organizations can present their products artistically. It offers excellent rendered images with realistic effects, especially lighting.
4. Artificial intelligence and data-driven decisions:
Hi-Tech enterprises these days are heading towards data reliable processes in real-time. Logically, you cannot make a data-driven decision if your data is incomplete or outdated. Organizations are developing the concept of data-driven decisions, the only trustworthy option in the technological world. They are establishing infrastructure and software which deliver reliable data. This the best and the only way to enhance efficiency and make smarter choices. In addition, AI is more than just chatbots and automated emails. In 2021 and beyond, we will see more enterprises strengthening their AI and machine learning.
Conclusion
Technological innovations will continue to disrupt the Hi-Tech industry. How companies adapt to these advancements determines their success in this digital environment. Hi-Tech organizations that will differentiate themselves are the ones that develop their products and solutions, digitalize their channels, and simplify their business processes according to the requirements of their end customers and partners. KCS helps you bring scalability and agility in order to speed up the processes, allowing you to embrace your goals with powerful solutions and principal technologies. Our Hi-Tech solutions provide you with tools to penetrate niche industries and drive products swiftly to reach your core users for better results.

Recent posts
March 30, 2022

November 04, 2021
Articles
February 02, 2022

November 15, 2021
Global Presence
For 360o business innovation across the globe, get in touch!