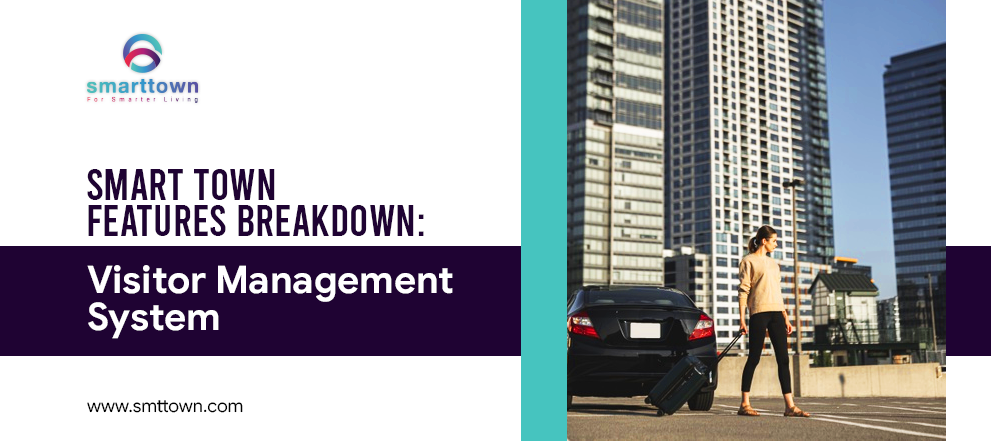 Category:

Real Estate
Smart Town Features Breakdown: Visitor Management System
Do you experience hardships in keeping track of each and every visitor comes to your society? Are you tired of maintaining a manual register to keep a record of all the visitors? This is the perfect time to digitize your visitor management system with Smart Town.
Smart Town is a powerful society management software that is specially designed to automate various aspects of a cooperative society. Modern society requires a modern solution for management which can reduce human efforts. Housing societies have a bag full of responsibilities to manage.
With their sizes growing almost every day, handling them has become a task of its own. It doesn't matter if it is a collection of society's dues from members, managing common utilities, keeping track of visitors, etc. everything should be maintained by a computerized system.
When we are talking about society management, security is the top-most priority for all societies. In order to keep the society secured, management tries their best but still fail to give 360-degree security to their security. Here's where Smart Town comes into the picture. Installing Smart Town society management software at the entrance gate of your society will act as the first line of defense.
Smart Town is loaded with a power visitor management system that keeps an eagle eye on each and every person passing from your society's entrance gate. If a friend, family member, or handymen such as plumber or carpenter is trying to visit one of your society members then they have to enroll themselves to the gatekeeper. Once the gatekeeper gets the confirmation from a particular society member about visitors that he/she will get an entry in the society premises.
In a world where Coronavirus cases are rising almost every day, it has become mandatory for society management to take security measures to keep their member away from the infection. When it comes to keeping up with the latest technology innovations, Smart Town has always stayed ahead of the competition. It is integrated with a contactless visitor management system that requires zero physical contact for managing the app.
What type of visitors a society generally expects?
Candidates for in-society job interviews
Business meeting attendees
Messengers or delivery personnel
Contractors or vendors
Society member's family or friends
Handymen (plumber, carpenters, painters, etc.)
Benefits of visitor management app
1. Visitor management software will enhance social security and members' safety:
The security of your society and the safety of your people are extremely essential, and they have become the highest priority for all society. Online visitor management software like Smart Town, offers the extra protection you need by recognizing visitors quickly and accurately.

2. Cost-efficient:
Smooth-functioning and automating visitor registration means that processing the cost of all visitors is decreased. Over a period of time, this can also mean significant cost savings. There are also costs that are more challenging to measure, like those associated with a breach of security – with an automated system these costs are all but removed.
3. Visitor management app increases efficiency:
We all know how tedious and inefficient the paper-based or manual system can be. Now think about the modern system which is loaded with state-of-art-camera, scanners, and a monitor to view the information of all the people passing from the gate. The gatekeeper will also save time, as they have pre-registered visitors and be automatically notified when they arrive.
4. Visibility and accountability:
The modern visitor management app enables you to recognize anybody who is in your building at any given time. In addition, most software will provide your staff with the power to handle and study various visitor patterns.
5. Visitors can be pre-registered:
Visitors can be pre-registered by security, hosts, or receptionists. If you know a visitor is scheduled for a visit, all the appropriate information that can be added ahead of time. Interestingly, confirming emails with a map, safety instructions can be automatically sent to any visitors. All of these will drastically speed up a visitors' sign-in process, which is perfect for all the people included.
Conclusion
A perfect Contactless Visitor management system is highly flexible and scalable. This means it can be easily personalized to fit your increasing needs. Smart Town can also be tailored, updated, and serviced quickly via a direct, ongoing service relationship with us. If you are a society owner or secretory and planning to modernize your visitor management system, Smart Town is capable of doing it in no time.

Recent posts
March 30, 2022

November 04, 2021
Articles
February 02, 2022

November 15, 2021
Global Presence
For 360o business innovation across the globe, get in touch!