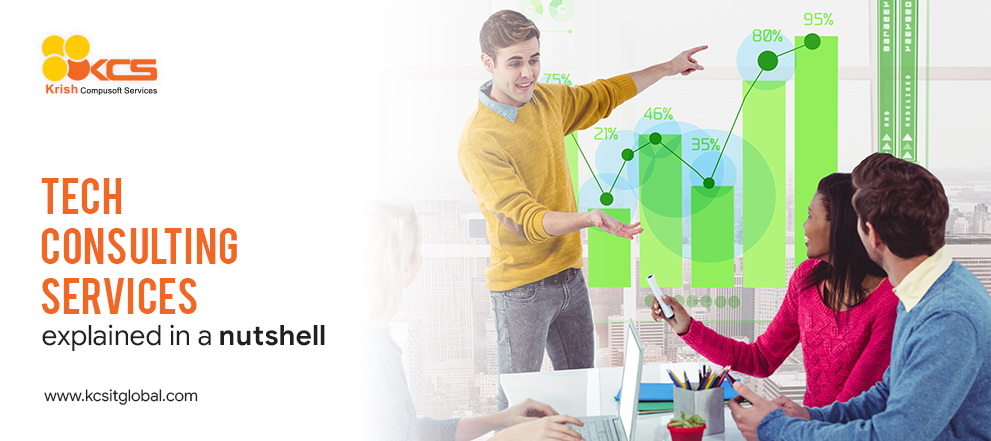 Category:

Hi-Tech
Tech Consulting Services explained in a nutshell
As the technology is advancing almost every day, it is quite challenging for enterprises to keep up with the pace. It is not about choosing the right technology for your company but embracing and utilizing it fully to benefit your business. Today, the competition is so dense that finding the right technology consulting solutions provider has become a stressful task.
Before we start discussing about why enterprises need a tech consulting services or how to choose the best tech consulting firm, let's understand what tech consulting services is in a nutshell.
What is tech consulting services?
In layman's term, tech consultants guide enterprises on how to choose the best technology that suits their firm's values and how to make the most of it to meet their business objectives. 'Technology' can mean processes or systems that underpin business performance. Building or incorporating technology in business can lead companies to cost reduction, lowering risk, accelerating growth, or simply transforming various operations.
A firm can be called the best Technology Consulting Solutions provider if:
It has a team of aces who are flexible enough to work as per their client's instructions.
Has an out-of-the-box thinking approach.
A long list of happy and satisfied customers.
A list of successful projects, partners, and programs.
Before finalizing any tech consulting firm, you should have answers to these questions:
Will they be there when you need their assistance?
Are they offering a wide range of products and services?
Will they coordinate, are efficient, and offer the right communication, and render the services that match your business strategy?
Will they offer enhanced security, cloud and data implementation, and find quick solutions to problems?
Why enterprises need tech consulting services?
To reduce the costs of maintenance and system by integrating modern technologies like cloud computing, machine learning, artificial intelligence, etc.
Enhance their business performance, integrating a faster, better, and cost-effective delivery of services with modern technology.
Diminishing security vulnerabilities amidst built-in, multi-layer security protection throughout their company.

According to a study conducted by IBISWorld, the average tech consulting in the US industry trends will grow up to 3.9% by 2015-2020. The report also states that the current market size of tech consulting solutions is $481 billion. If you talk about US industry trends, Chicago's technology consulting solutions provider are serving the industry for more than 20 years. The industry is booming with an estimation of $250 billion making it one of the most successful sectors in the city. Data shows that a large consulting firm has around 200,000 consultants in their organization. In 2012, the market of the tech consulting industry was $122 billion which whoopingly increased to $250 billion by 2019.
The reason why tech consulting services are in huge demand is because of their expertise in multifaceted systems, complex programming, and complicated network. Though, some enterprises struggle to find the right firm that meets their business needs and trouble in leveraging the best enterprise technology and database services for their project. One question that continuously pops in their head is that do they hire big tech consulting solution providers or go with a flexible and specialized firm that has expertise in modern technology and tools and strategic thinking?
1. Big technology consulting solutions providers:
A big tech consulting firm has a robust brand recognition and firm industry reputation. As they are serving the industry for many years, they can easily handle complex projects. Also, they have easy access to sophisticated management tools that helps them in delivering streamlined large-scale networks because of their sheer size.
2. Small tech consulting firms:
As they are niche-driven, they can easily stimulate on your projects. They can also customize and change their approach to satisfy project, budget, and reduce your operating costs. Small tech consulting firms can find the best solutions to any problems in a shorter timeframe. One of the interesting things about this type of firm is that you are directly in touch with the senior executives or the consultant who is working on your project, so you can get the real-time updates and solutions to all your problems.
How to choose the right technology consulting solutions provider for your business?
The first thing you need to do before starting the hunt for a tech consulting firm is to define your goals, mission, and timeline. Share your project plan with various consulting firms and ask them to explain their vision. Ask the technology consulting solutions provider to provide proper coaching, training, and give real-time updates about your project. You can also ask them about their experience on similar projects they have worked on and what was their approach in solving their problem.
Conclusion
Integrating modern technology in your business will not only help you in streamlining your enterprise operations but also will save a lot of time, money, and other resources. If you need any assistance regarding which technology you should incorporate in your business, then KCS is the place where you will get answers to all your questions.
Recent posts
March 30, 2022

November 04, 2021
Articles
February 02, 2022

November 15, 2021
Global Presence
For 360o business innovation across the globe, get in touch!