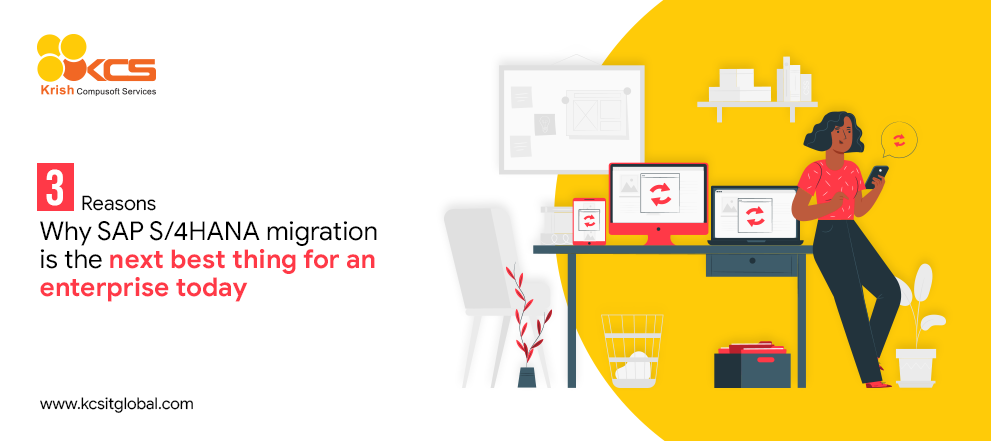 Category:

Manufacturing & Engineering
Three reasons why SAP S/4HANA migration is the next best thing for an enterprise today
Recently, SAP announced S/4HANA as its latest version of its Enterprise Resource Planning system functioning on its cutting-edge memory database HANA and providing a modern user experience. It also creates a core that connects your business with individuals, big data, networks, and IoT as well. SAP S/4HANA migration renders your company a better integration among head offices and other locations with the help of a two-tier placement method and real-time analytics. Machine learning offers you better efficiency, automation, and agility for your supply chain and audit functionalities.
Apart from this, there is a lot of things included with S/4HANA service cloud integration which appeared on September 15th. HANA is the latest SAP database and S/4 is ERP software launched that functions on top of it. This suite is expected to operate all of an enterprise's routine processes in a business, solidifying, and automating the core process, using a simple data model. SAP S/4 HANA solutions are expected to run on a cloud platform, whether your firm's own data center, SAP's Cloud, or in the public cloud with AWS, Azure, and Google Cloud.
SAP S/4HANA migration is considered to be the next-generation ERP system, and a modern business suite for both SAP customers, and users, updated with an innovative SAP HANA platform. It enables your organization to lower the operating costs by drastically increasing your system's landscape. Today, more than 1300 businesses globally are using SAP S/4 HANA services, with more to come. In fact, a lot of firms are expected to update to S/4 by the end of 2027.
What companies expect from SAP S/4HANA migration?
Companies that are planning for SAP S/4HANA migration, have very high expectations from it. Here's what they expect from the same:
59% of firms expect an enhancement in their existing business processes
46% of companies are preparing for enhancement in operating reports
58% of organizations anticipate a downfall in running and managing costs
17% of enterprises expect updates in user experience
35% of firms expect holistic, real-time access to information
42% of organizations anticipate readiness for SAP's Digital Core
Let us understand why enterprises should choose SAP S/4HANA migration
1. Real-time data access:
Initially, when the SAP HANA database was launched, the gossip was mainly focused on speed. But, SAP S/4HANA's in-memory database was faster than the expectations. With great speed comes the greater flexibility to have information available in real-time. The saying "imagine a world with no batch jobs" perfectly suits this situation. What will users change about their routine work, if they never had to wait for data to be accessible?
2. User experience:

Millennials all across the globe had put a lot of pressure on SAP to change the UI/UX approach. Hence, the same view on all devices such as laptops, tablets, and PCs approach was adopted in UI/UX and offered SAP the required updated look and feel of the transactions. The FIORI solution has opened up the door for SAP to show that the next-gen product is powered by the SAP HANA database for the speed to support the fast look and feel screens and searching capabilities.
3. Digital core:
You can observe advantages from the above why shift to SAP S/4HANA items just by having the SAP HANA database, hence, think of SAP S/4HANA consulting services. The only problem is that SAP is really only investing in the SAP S/4HANA enterprise management ecosystem moving ahead. Having recently seen a presentation given only to SAP partners, it is fascinating to see the latest features that SAP continues to develop regularly.
The SAP S/4HANA Enterprise Management 1709 version will get a couple of new bells and whistles such as advanced variant configuration and updates to Consumer Products. The SAP suite of HANA is already getting old. In order to keep pace with the latest technologies, you need SAP S/4HANA migration so that you and your business are prepared to leverage the next-gen technology that SAP develops and integrates.
While we are discussing the digital core, it is necessary to mention the SAP Cloud Platform. In layman's term, this is the place where SAP is delivering more of Platform as a Service (PaaS) location to enable old and new technologies to incorporate with a digital core system. IoT, hybrid cloud, and custom DevOps all have a place to operate through the SAP Cloud platform.
Conclusion
At last, there are several reasons companies have for why they should choose S/4HANA Service Cloud Integration, but they only have three options. First, do nothing, second, get away from SAP, and third, move forward. There are various ways of moving forward with different time-lines and price tags. Reach us if you are interested in SAP S/4HANA migration. We have a team of industry experts that can resolve all your doubts regarding SAP S/4 HANA solutions.

Recent posts
March 30, 2022

November 04, 2021
Articles
February 02, 2022

November 15, 2021
Global Presence
For 360o business innovation across the globe, get in touch!