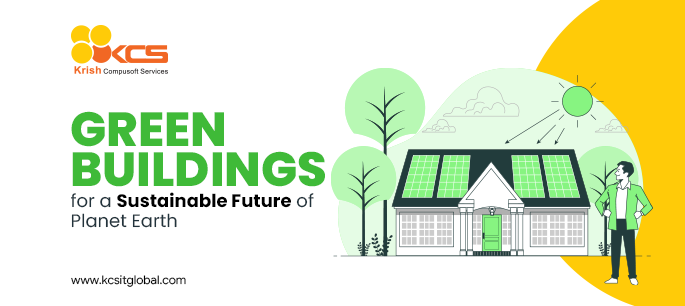 Category:

Tech Consulting, Digital Transformation
Green Buildings for a Sustainable Future of Planet Earth
Introduction
As per UNEP (United Nations Environment Program), carbon emissions from buildings constituted 38% of all carbon emissions in 2019, and carbon dioxide emissions need to be cut to half by 2030 for net zero carbon building stock by 2050. Considering these circumstances, the building and construction sector needs to be focused on attention from both designers and occupants and other stakeholders, where everyone plays a constructive role in making buildings more sustainable. It is in this context that green buildings are becoming popular with each passing day and buildings are now being designed and constructed in such a way that the negative impacts in the form of carbon emissions from them in their operations are reduced or eliminated altogether. Green buildings are highly desirable for a sustainable future where positive impacts are seen on our climate and natural environment.
To further the cause of green buildings, the concept of zero energy buildings is gaining popularity. In zero energy buildings, the exact amount of energy that is consumed by the building is produced by it during the course of a year. At present, there are only a small number of net zero energy buildings, however, with advancements in construction technology, and progress made in renewable energy systems and other allied technologies, building net zero energy buildings is becoming easier with each passing day.
Leadership in Energy and Environmental Design (LEED) Certification
LEED certification is essential to design, construct, and maintain green buildings and buildings designed with the LEED criteria to become energy efficient and use minimal resources. The LEED certification system consists of a few rating systems that are concerned with the design, construction, operation, and maintenance of the various type of buildings, and for each parameter, the building earns certain points. Based on the point system the buildings receive, certification is divided into the following categories:
Platinum- 80-100 points
Gold-- 60-79 points
Silver-- 50-59 points
Certified-- 40-49 points
In addition, LEED rating systems are classified into five categories according to which documentation and organization of processes are implemented. These categories are as follows:
Building Design and Construction
Interior Design and Construction
Building Operations and Maintenance
Homes
Neighborhood Development
Benefits of Green building
Green buildings promote sustainability and conservation of natural resources, leading to positive environmental impact.
Green buildings reduce the overall carbon footprint of buildings as the emissions of carbon dioxide are cut by switching to cleaner fuels, and the use of renewables.
Natural light and ventilation are ample in green buildings, leading to better health and productivity of the occupants.
There is a significant reduction in the utility bills of the green building occupants by helping to save a substantial amount of energy and water consumption.
Green buildings result in better indoor air quality which translates into lower concentrations of carbon dioxide and other pollutants.


Green Buildings Market and Trends Influencing This Sector
As per leading market research companies, the market of green buildings was nearly 250 billion dollars in 2020. As per the Reports and Data market research company, the green building market is poised to expand at the CAGR of about 13% during the time period of 2021-2026. Ecofriendly infrastructure is popular for reducing the carbon footprint of residential and commercial buildings and covers the entire lifecycle of the green buildings in the form of site selection, design, construction, operation, and maintenance of such buildings.

KCS Value Proposition in Green Buildings
Right Team
Collaboration between KCS and our partners to provide integrated solutions for end clients, spanning from design to technology to audit support.
Tie up with various SMEs to strengthen the Green Building team at KCS
Utilization of Data Engineers
Inclusion of Industry 4.0 experts
Software Engineers
Right Technology
KCS possesses in-house capabilities to cater to the growing demand of green buildings and the major competencies of KCS are as follows:
IoT
Remote Monitoring
BI, Data Analytics
AI/ML enabled solutions
Cloud Technologies
Advanced Solutions
Right Solutions
KCS has a rich experience in providing solutions such as:
Remote Monitoring
Asset Performance Monitoring
Advisory/Audit Support
applying Right Strategy
Right Approach
KCS has two decades of experience in implementing the right strategy for the right spot to get the desired results. KCS follows the Agile Methodology in delivering tech projects. A sample approach is given below, however, the approach will change as per the specific requirements for clients.


Recent posts
October 21, 2021

October 08, 2021
Articles