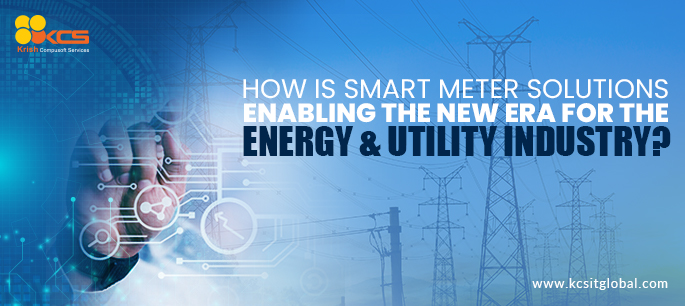 Category:

Digital Transformation
How is Smart Meter Solutions Enabling the New Era for the Energy & Utility Industry?
Power and utility companies are invariably embracing new technology, trends, and developing digital solutions to operate beyond their current constraints and expand their businesses. According to research, by 2025, the market for digitization in the power and utility sector is expected to reach 64 billion dollars.
As the power & utility market is taking a massive turn toward digitalization. Consequently, E&U businesses are opting for digital solutions over traditional methods of conducting operations. Identically, with each passing day, the allure of the conventional metering system is fading away. The popularity of smart meter solutions, on the other hand, is at an all-time high.
As per the survey, 3.2 million smart and advanced meters has been deployed by the energy supplier in the year 2020. Hence, we can say that, smart meters provide both E&U businesses and customers an exciting new possibility.
Let's look at the role of smart metering systems in the power and utility sector, which will reshape the whole industry.
Definition of Smart Metering Solutions
A smart meter is an Internet-connected gadget that monitors and maintains the real-time data of electricity, water, or natural gas use consummation and keeps track of when and how much a resource is used. After gathering all live data, it acts as a network termination point, sending the information to customers and utility service centers in about an hour.
What Makes it "Smart"?
Digital technology, connectivity, control, and enhanced network functioning are all features of smart metering systems. Smart metering technology will radically transform the way metering works. They provide consumers with a lot more information about how they use energy and allow them to cut back on their consumption.
The Future of Energy Smart Metering Solutions
The smart metering solution is one of the inherent procedures in smart grid infrastructure, which is proving to be a game-changer for the entire electricity business. Smart metering solutions, in addition to helping to improve customer service, are also laying the groundwork for new and creative business models.
The smart meters incorporate technologies such as IoT smart metering solutions that improve energy efficiency and lower total operational expenses. Hence, smart meters will continue to gain traction as a potential device for changing the electricity and utility industries in the coming years.
As per the collected data, within 2026, the smart meter market value is anticipated to surpass the 8% CAGR growth rate, which was already $10 billion in 2018.
AMI Smart Meters-Energy Facility at Modest Costs
AMI (Advanced meter infrastructure) allows for more frequent readings of electricity usage using two-way communication meters. This data may be analyzed in real-time, and signals can be sent out to regulate demand.
It will continue to be popular in the energy and utility landscape, the demand for meters with AMI technology is expected to skyrocket. Therefore, its sales continue to be supported by exceptional visibility and availability at competitive rates. Reduced energy expenditures, better transparency, and dependability are some of the additional advantages of an AMI meter.
AMI gives utility companies real-time data on power usage and allows consumers to make well-informed energy decisions based on a variety of criteria, resulting in a win-win situation for both sides.
Smart Meters with Cellular Connectivity
Utility companies are always looking for a safe, dependable, and adaptable means to link and interact with smart meter networks, and cellular technology is the ideal fit. Utility businesses can supply effective and uninterrupted access using cellular technology.
For Smart Metering installations, cellular WAN solutions offer a variety of benefits, including cheaper communications infrastructure costs and considerably reduced installation costs and implementation timeframes.
Furthermore, the advent of LTE-M and NB-IoT technologies have and will continue to have a broad influence on the ever-evolving use of cellular connections for smart meters.
Advantages of Energy Smart Metering Solutions
Energy metering solutions assist to update the power system by allowing for more frequent and reliable remote monitoring and transmission of energy usage and power quality data. Here are some other benefits of energy metering solutions for energy & utility companies.
Manual activities (meter reading, service termination) can be managed remotely to cut operational costs.
Better forecasting and power consumption efficiency.
Enhance customer service by profiling and segmenting your customers.
Diminish the theft of electricity (a serious problem in some markets)
Streamline micro-generation monitoring and keep track of both created and used energy.
Conclusion
Smart meters' major goal is to ensure well-organized energy management with active end-user engagement by coordinating utility businesses in making intelligent judgments. Ultimately, smart meter solutions definitely have the potential to create a new age in the energy & utility industry.
KCS is the right place for you if you are seeking IoT smart metering solutions for your E&U firm. Our IoT platform includes ready-to-use components and APIs that significantly reduce the time and effort necessary to develop smart metering systems.
Recent posts
March 15, 2022

November 29, 2021

November 12, 2021
Articles
February 02, 2022

November 15, 2021