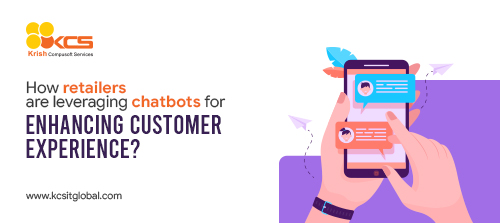 Category:

AI & Automation, Digital Transformation
How retailers are leveraging chatbots for enhancing customer experience?
The turmoil created due to the Coronavirus pandemic would have been unimaginable. The epidemic has forcefully transformed customer behavior, imposing enterprises to completely revamp their approach to work and modify their customer experience strategies. The COVID-19 has led governments all over the world to incorporate remarkable measures to protect their citizens, their economies, and most importantly, their countries.
A recent study by Sitel Group on COVID-19: The CX impact, clearly states, even in the middle of a pandemic, customers stay focused on and value of emotional connection. They are looking for enterprises that acknowledge and can satisfy their requirements and will actively ignore those judged to have fallen short. As the direct threat of Coronavirus started to reduce, and customers begin to return to a pretense of normality, companies that prioritize customer experience management will be the ones that will succeed, instead of surviving in the new normal.
Even though you might have an outstanding customer experience strategy, integrating chatbots is one of the simplest ways to allure customers. A report suggests that 64% of internet users say that 24-hour customer service can be achieved through chatbots facility. Supported by a survey, 53% of the consumers acknowledge that they would do business with organizations that they can interact with. And the best part is, chatbots can save up to 30% of the customer support costs.
What are chatbots?
In layman's terms, chatbots are simple software that can imitate a human conversation with the help of a live chat interface. Chatbots can replace or reinforce conventional communication touchpoints of any enterprise. Using chatbots, the customer service team can maintain interactions accurately. Needless to say, enterprises receive significant queries round the clock. Human agents cannot reply to all these queries at once, here, the chatbots can be a handful. More often, people confuse chatbots with live chat, but these two are completely different concepts.
A brief about Live Chat
A chatbot is originally a machine that communicates with consumers. On the contrary, live chat includes human agents. Enterprises can either keep their messenger partially or completely automated. In full automation, only the chatbot connects with the customers to guide them through their questions. But the engagement of human agents at critical points in the communication is considered to be more effective. The tedious job of managing repetitive questions can be allocated to the chatbots. Human agents can continue the conversation when the discussion gets complex. Hence, chatbots can be helpful in offering outstanding customer service.

Can chatbots enhance customer experience?
The greatest advantage of integrating chatbots in customer experience are the savings on operation costs. With the help of chatbots, enterprises can offer customers with best-in-class quality, in various languages, and round the clock. Utilizing human agents for this is highly cost-effective. On the other hand, customer support chatbots can also enhance the user experience significantly. Let us understand how.
1. Simple live chat:
Generally, a consumer would have to look for the contact number or email address of the company to discuss their issues or queries. But chatbots make it simple as users do not have to leave the interface and can directly type in their message. Moreover, engaging customers on their favorite platforms such as Facebook and Instagram can enhance your brand recognition.
2. 24/7 availability:
Your live chat staff may log off after business hours, but a chatbot would not. Customers might encounter issues at any time of the day, and they will need instant support for the same. Customer support chatbots are available round the clock, and customers can hence receive the required help without being circumscribed to the 9 to 5.
3. It makes the buying process easy:
In order to help customers in purchasing products, a chatbot can notify on their screen to provide a discount coupon, offer extra information, or show a 'how-to' video content about a particular product. However, they can also leverage the chatbot to learn more about the product/service. Chatbots can also be revamped to render additional transactional help.
4. Smooth function experience of customer support chatbots:
In a survey conducted on 2000 participants, it was discovered that 94% of them apprehended contacting the customer support executives. It turns out that the entire study of call forwarding and automated responses consumed a lot of time and patience. The truth is, customers these days do not have that kind of time. Such kind of delay in support and they are already planning to leave your brand. This is where chatbots come into the picture. Consumers can directly get the required assistance without having to wait for their call to be connected. They can interact with your enterprise right from their office desk or by sitting on their bean bags at their homes. By installing the customer-centric software, you represent that customer satisfaction is indeed your priority.
5. Quick response for all queries:
Human agents may find it challenging to manage multiple queries at the same time. This is not the case in chatbots. It doesn't matter how repetitive the questions are, a chatbot will reply to it in the best possible way. In addition, customer support chatbots respond with consistently correct answers.
Conclusion
Chatbots have made it simple to reach out and interacts with the consumers on a large-scale. These conversations may look easy, but they bring a lot of value to the business. Due to smart chatbots, conversational marketing is also possible. In addition, your enterprise can strike the right balance, between automation and human support. For the business who are planning to revamp their customer experience strategies, KCS offers highly powerful AI-based chatbot services. The smart business chat software contrives in the utility of automated chat with the compassion and intelligence of human support.

Recent posts
March 15, 2022

November 29, 2021

November 12, 2021
Articles
February 02, 2022

November 15, 2021