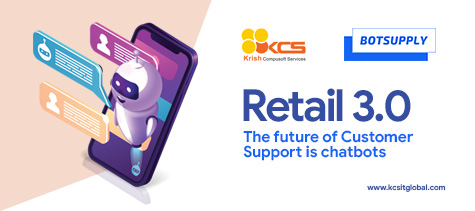 Retail 3.0: The future of Customer Support is chatbots
Where is my package? I want to exchange a product! Are your customer support teams still answering these questions?
Join the Retail 3.0 webinar to learn how easy is it to automate repeat queries and save costs during peak periods.
Your customers get answers 24/7 and your customer service teams get more time to focus on complex issues.
Join Tanuj, Chief growth Officer from KCS and Francesco, CEO and co-founder BotSupply and in 30 minutes learn how chatbots can completely change customer support for retailers.
Hear about the most common use cases and get a chance to win a free customized demo!
Register here: https://bit.ly/37V2SsP
When: 4th November 2020
Time: 06:00 PM IST
Speakers:
Francesco Stasi: (CEO & Co-founder of BotSupply, Keynote Speaker, Entrepreneur and leading expert on Conversational Interfaces)
Tanuj Singh: (Chief Growth Officer, KCS and an award-winning global marketing leader, author, digital chef with 20+ years of experience in digital product management and growth marketing)
Recent posts
November 04, 2021

August 15, 2021

August 12, 2021
Articles
Global Presence
For 360o business innovation across the globe, get in touch!