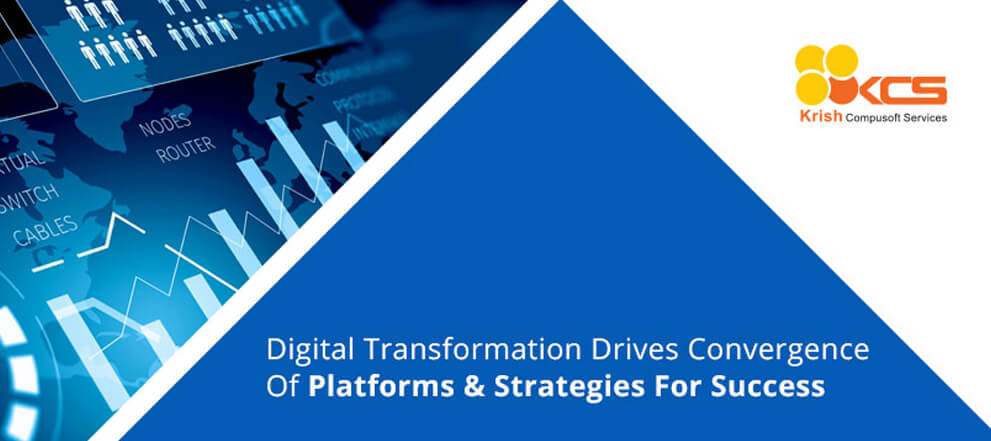 Category:

Manufacturing & Engineering
Digital transformation drives convergence of platforms and strategies for success
The world is moving quickly and technology is evolving each day at a rapid pace. Customers of the new age like speed, innovation, and convenience. Enterprises have begun to realize the need to revive their business models and transform digitally. Almost 85% of the organizations in the entire world believes that digital transformation holds the key to their success.
Successful digital transformation begins at the top level of any organization. It is the superior layer of executives who are responsible for strategizing and generating future goal of an enterprise. It is their responsibility to generate a convincing future and communicate it to the organization. Once the vision is clear and the plans are set, executives at the middle and lower level can work according to it and put in their efforts to convert visions into reality.
But digital transformation requires talent to create new and innovative ways to effectively respond to the increasingly complex nature of a company's internal and external business climates. The very idea behind digital transformation is to help businesses grow and stand out in the cut-throat competition.
Many platforms such as Infrastructure-as-a-Service, IoT edge, cognitive computing, and cloud application platforms are emerging within the digital transformation. These platforms along with the suitable strategies can prove to be a boon for various enterprises.
PLATFORMS
Information System Platform – This platform includes various different kind of technologies and application needed to run the internal parts of an organization.
Customer Experience Platform – This platform includes the elements for multichannel interaction and commerce. They should be agile enough to adapt to the changing need of the customers.
Analytics And Intelligence Platform – This platform provides information management. It also includes analytical capabilities which further helps to accelerate the pace of decision-making process of any business.
loT Platform – This platform provides sensors that connect to the physical assets of the organization. It helps in the process of monitoring, control, optimization, and monetization.
Business Ecosystem Platform – This platform enables the generation of, and the connection to, external ecosystems, marketplaces, and communities all around.
STRATEGIES
Change Management
Awareness – Educating your employees about digital transformation, and its value for the organization can lead them to an easy access of pre-planned goals.
Assurance – Building confidence in your employees that digital transformation is good for them and it will make their work easier can make them more productive.
Assistance – Supporting the employees throughout the transition phase can help them build more self-confidence. Thus by becoming their mentor or guide, they can work more efficiently.
Training and Development
Implementing new innovative technology can be of no use if the employees are not competent with it. Train your employees with the upcoming technologies that you are going to implement in your business.
Conduct learning and development programs that equip your employees with the upcoming processes of the business and help them develop their skills to keep up with the changing technologies. Along with this, it will prepare them for the upcoming digital transformation and will also enhance their productivities. Moreover, it will help the organization to retain their valuable employees and drive digital transformation smoothly.
Risk Assessment and Plan of Action
Digital transformation is a huge business change. The enterprise must be aware of certain risks.
It involves a large investment and business efforts in order to implement new technology. For a successful digital transformation, it is necessary to deploy correct technology in the correct department and choose correct implementation partner.
On the other hand before implementing the technology, again look for the risks and plan an action to cope up with the risks. A strategic risk management enables you to manage any kind of upcoming risks.
Transforming Business Models
Traditional business models turn questionable with new and emerging technologies. This includes customer relation, revenue models and all kind of models which are considered "standard practice". Companies redefine how functions evolve the boundaries of their enterprise.
Digital Globalization:
Multinational companies are increasingly transforming to truly global enterprise. Digital technology has helped various enterprises to increase worldwide teamwork while remaining locally responsive which increases the efficiency and reduces the risk.
Creation of New Digital Businesses:
Merging digital products with the traditional products can be more effective for your enterprise and it can also work very smoothly.
Digitally Modified Business:
Digital transformation is not about changing the way of technology but it's all about changing the way of your business. If you want to survive the market, it is important to transform the way you do your business.
Building Bridge between Technology and Innovation
Another strategy of enhancing the business is building bridges between the existing and 'emerging' technologies. These technologies are interconnected and strengthen each other to embrace something new and innovative.
Various enterprises have realized that coming up with the innovative business approach is a better and quicker way of solving challenges of whatever nature. There must always be a kind of bond between the technologies and innovation.
This enables you to make a solid difference with your strategy by enhancing your actionable intelligence (what data should become), hyperactivity, speed (what is offered by cloud) and more data (what is offered by Internet of Things, mobility and so on) along with convergence of purpose, people, information, innovation, processes, value, optimization and different business models.
Keep Evolving
The final and the most important strategy for a successful digital transformation is to accept the change and work accordingly. You should always be ready to transform your business according to the changing needs of your customers. "Move with technology, innovation and time" should be your first motto. If you don't follow your customers' digital behaviors than none of the recent transformations will matter.
So, how can your enterprise keep evolving? You need to continually use Analytics in order to measure your success. You should keep setting your goals. You should regularly check what works for your business and what doesn't. This would enable you to know when new patterns have emerged and then you can easily adapt to suit these new patterns.
Recent posts
November 04, 2021

August 15, 2021

August 12, 2021
Articles
Global Presence
For 360o business innovation across the globe, get in touch!