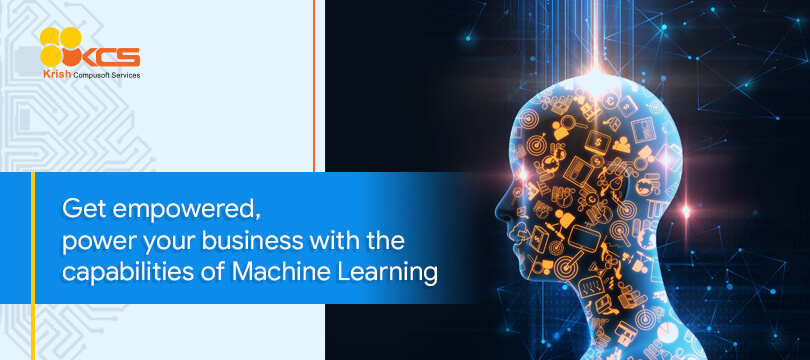 Category:

Hi-Tech
Get empowered, power your business with the capabilities of Machine Learning
Technology is inescapable! In the era of tech disruption, futuristic technologies are invading almost every facet of business in every industry. There are many organizations that are rapidly becoming aware that change is the only essence to thrive. They are embracing next-gen technologies to remain relevant. So what is it that the market leaders have found in the potential of technology that is driving them to hustle? And most importantly, what is the need for businesses to adopt change?
Technology is just getting better every day, what is new yesterday will become old today! And for businesses to stay in the lead and thrive, they have to be more vigilant than ever in innovating and future-proofing their businesses. But, if your company isn't keeping up with the revolution, be afraid of its longevity! There are chances that you may fall behind against the existing smart players, become irrelevant to your millennial customers, and miss opportunities to reach out to potential audiences.
Learn from amazing examples of the most adaptable businesses. IBM is on the top because it keeps changing its hardware, software, and has expanded its line of products a dozen times to reach out to more people. Even HCL, Google, Facebook, and Apple are investing heavily in upcoming technologies like machine learning, virtual assistant, and artificial intelligence. Even education or doctor's offices, one of the most traditional businesses are also up for technological advancement. It has thus become imperative for traditional organizations to adapt or die!
Machines have long invaded the very existence of business because of its intelligent ability to enhance human efficiency. Machine learning technology is enabling marketers to drive customer experiences at scale with smart techniques. Machine Learning isn't a buzzword anymore. It has been the talk of the town since the past couple of years. Believe us 2019 is going to be the year for businesses who have waited to jump on the bandwagon and experience the goldmine of opportunities for their industry.
How to get empowered by the innovations offered by ML?
Machine learning helps businesses enhance scalability and improve operations. It can be a solution to a variety of business complexities. Today, ML models are being used in everything right from spiked in web traffic, identifying patterns from raw data, analyze outbreaks of diseases and stocks & commodities and more. Here are the few of the benefits of machine learning which businesses must implement if they want to thrive in the coming future:
Predict customer behavior:
Used by major organizations like Facebook, Apple, and more to predict customer behavior and convert the insights into prescriptive insights to increase customer base, improve demand forecasts, enhance services, and offer them what they require.
Analyze sales data & financial analysis:
Sales can accelerate by uncovering the most valuable information from the raw humongous data. ML can help predict fraud in a large volumes of data and thus help in risk, loan, & security management, investment predictions, and improve customer service.
Medical prediction and treatment
The healthcare sector is one of the biggest sector with a goldmine of data. Applied best with more data, ML is used to better diagnose diseases, improve the efficiency of research, personalized treatment, outbreak predictions, control measures, smart health records.
Fraud detection
Used to look for fraudulent online transactions and separate from legitimate transaction to enhance security while online shopping or any online business.
Product recommendation
Also used to encourage product purchases as we can identify hidden patterns, group similar things by matching large product inventory. The results then can be used to suggest customers according to their demands.
Accelerate your machine learning strategy by outsourcing!
The scope of machine learning is unlimited and when applied to various business models one can dig up so much information which otherwise would be impossible to tap in and assimilate. It's time businesses tap into the knowledge of deep learning, natural language processing, neural networks and more to replicate human decision making and use real-time applications.
Machine learning can bring a lot of benefits to your business, but the most important thing is to understand which solution will best suit your needs and which will help you understand tons of data at your finger-tips! Partner with top machine learning solutions provider who can assist you in better understanding of technology and how it can change the way you look at your business.
Talk to us today to make the future of your business strong!
Machine learning is an evolved technical tool that utilizes machine intelligence to capture the untapped areas of business models. We at KCS, use cognitive technologies like AI, machine learning, and big data analytics as one of the pinnacle problem-solving techniques to help established as well as emerging businesses predict, think, and act.
Take advantage of our extensive pool of IT professionals and technological expertise to harness the power of best-in-class machine learning solutions. It's time to move faster with greater precision, improve decision-making abilities, and create beneficial connections with customers hassle-free.
With our proficient and proven solutions businesses can now tap into the vast unexplored reserves of unprocessed data to make well-informed decisions from them. Be it deep learning, data mining, or analyzing the huge chunk of raw information, we can help you set up a formidable process of data supremacy so that you can outperform your peers effortlessly.
Recent posts
March 30, 2022

November 04, 2021
Articles
February 02, 2022

November 15, 2021
Global Presence
For 360o business innovation across the globe, get in touch!