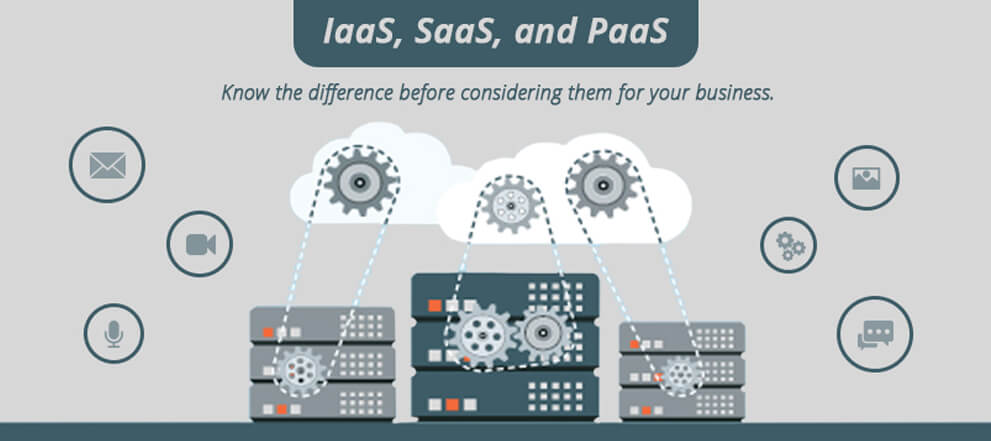 Category:

Hi-Tech
IaaS, SaaS, and PaaS know the difference before considering them for your business.
The future belongs to cloud solutions, and almost every tech-savvy enterprise out there is now recognizing the potential of this robust platform which has already affected the businesses by successfully storing and balancing the existing workloads. The cloud computing services is a very broad concept with multiple models, so before you consider switching your business to the cloud, it is vital to have a deep understanding about the differences as well as the advantages of each model according to your business needs.
For firms who have decided to consider cloud services for their application or fundamental infrastructure deployment, it is necessary to choose the right platform. Cloud procurement is usually based on three models: Software as a service, Infrastructure as a service, and Platform as a service with each model having its own complexities, details and hybrid prototypes.
IaaS
With a rising cloud adoption among enterprises, a majority of them plans to run their operations on the fundamental building blocks for cloud i.e. Infrastructure as a Service (IaaS). This robust model helps organizations eliminate high cost, on-going maintenance cost, operation complexities and drive innovation for a high level of success and contentment.
For enterprises with large resources, it is important to move to IaaS to cut their time to deploy new applications and ensure reliability as well as the availability of accurate infrastructure. Enterprises with an absence of data-centre or who require fast computational power to run variable workloads with fewer capital expenditures as perfect cases of IaaS adoption. In brief, most of the companies believe IaaS will have a role to play in the success of their organizations down the line and help them reach their goals faster.
SaaS
Like to benefit from the application without maintaining and updating infrastructure as well as components, SaaS is the best pattern for start-ups or small enterprises. One of the fastest growing areas, SaaS solution is agile, scalable and extremely secure. It is a decade-old solution, and the most commonly used technology to build applications aiding customers to deliver the best value along with flexibility and elasticity.
SaaS delivers applications using internet and runs directly through a web browser and do not require any installations or downloads on the client side. It streamlines the maintenance and support process and aids in reducing time and money spent on tedious operations like managing, installing, downloading, or upgrading the software. With SaaS-based applications, organizations can now focus on what really matters than on the application technicalities.
PaaS
Cutting-edge PaaS cloud technology has come a long way from computers replaced with mobile, growth in the Internet of Things (IoT) and now advancement in Artificial Intelligence. Platform as a service beats IaaS and SaaS by helping organizations outperform their peers by developing applications without having to invest in any infrastructure as well as hardware or software necessary to build and run the application.
This way firms can save money in more than one ways as well get aid in maximizing the application value by building and deploying it quickly and securely. With PaaS, even the small or medium-sized enterprises can acquire the benefits which were once only available for firms with large resources and stay ahead in the competition. You can now make apps as per your business requirements and not as per the machines you can afford.
Summary:
Overall all the models have their own features and functionalities and so there is no 'one-size-fits-all' enterprise concept. It's just organizations have to thoroughly understand the differences and compare it to their own cost, business requirements, and benefit equation before selecting one.
So no matter which model you prefer, shifting to the cloud is the best decision for the organizations as cloud is the future of technology and is definitely here to stay!

Recent posts
March 30, 2022

November 04, 2021
Articles
February 02, 2022

November 15, 2021
Global Presence
For 360o business innovation across the globe, get in touch!