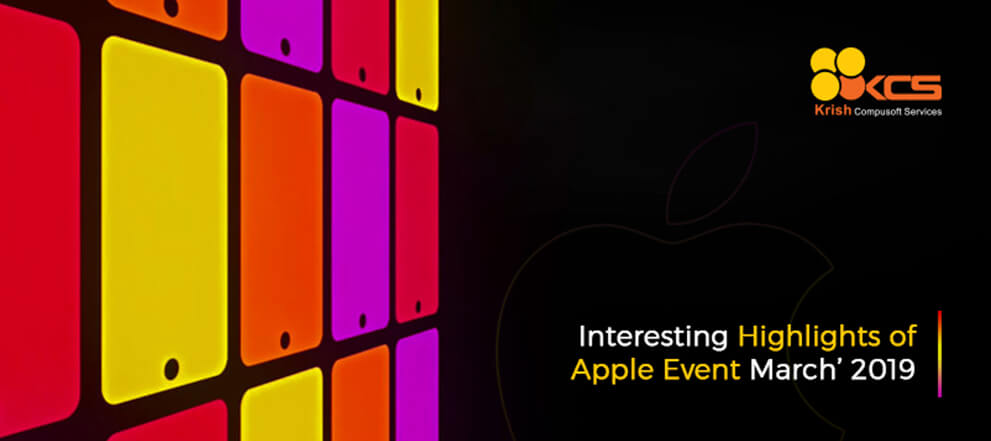 Category:

Hi-Tech
Interesting highlight of Apple event march 2019
After knowing a lot of daily hardware updates, Apple has finally revealed its software news along with the new subscription services in a special event held on 25th March 2019. Apple released its subscriptions across television, news and video games.
Finally "It's ShowTime!" Apple's event unveiled the next-gen services. Event's keynote – Credit Card Service brought a new business venture for Apple. All of the services provided by Apple are its key differentiator. Interrupting advertisements is never an option now. Also, your consumption pattern & behavior will not be shared with the marketers. Unfortunately, many released product didn't receive an onstage live demo. Although, it will be available much later this year.
Following is the recap of the biggest announcements of Apple's Recent Event.
Apple Card
Apple has finally launched its own credit card - 'Apple Card' while following the footsteps of Amazon. It offers instant online signup, more understandable statements, app-based support and much more. It is done in partnership with MasterCard and Goldman Sachs. The app also tags retailers and locations so you can swiftly browse your past transactions and remember where you may have made your purchase.
Every time you make a purchase, the App automatically creates new security codes.
Unlike traditional credit cards, it doesn't even have any sort of number, signature, CVV or any expiration date.
Your purchase details are stored locally to prevent potential ad targeting.
It offers 2% cash back reward that is paid daily into your Apple Pay Account.
No concept of increased interest rates or late fees can be seen for late payments, however, there can be certain limitations.
The App will soon offer a wheel showing the interest you have to pay on the basis of your minimum payments.
Apple Arcade
Apple's Arcade subscription service is all you wanted to know so far! Apple is transforming its paid games into a subscription service called – Apple Arcade. Apple's version is very different from the cloud gaming services announced by Google. It is a games subscription that is available on the App store instead of old titles like Vbox or PlayStation.
The subscription fee is yet not disclosed, but it revealed that the package will include 100+ games exclusively for iOS. Now you can also play games in offline mode.
Apple TV Channels
With the new Apple TV update, you can simply build your own custom channel lineups from any source. It majorly aims at channels like PBS, HBO, Acorn TV, Tastemade as well as CBS without the users need to jump on various third-party apps. Unlike a traditional system, users have the benefit of pay per channel instead of choosing large packages from cable companies. But its pricing was also not revealed during the keynote.
Apple TV will be updated very soon. It provides better suggestions through Machine Learning. The app is coming to Mac and will also be available through Roku, Amazon Fire TV, and smart televisions. The support will expand to 100+ countries, but the regional launch time is yet not disclosed.
Apple TV Plus
Along with the new subscription system for the Apple TV, a plus package is also available for original programming. However, Apple didn't announce detailed information leaving us just with the name and its availability in an online & offline view. TV Plus is Apple's original content subscription service, and the event bustled many celebrities on the stage including Jennifer Aniston, Steve Carrel, Reese Witherspoon and many more. It is coming soon.
Unfortunately, we didn't get any kind of trailers of the individual shows but there will be original programs including a science fiction about a world with blind inhabitants, documentaries about immigrant life in America and also children programming featuring the characters of Sesame Street.
Apple News Plus
Apple News Plus is an extension to Apple News offering. It is a subscription offering for magazines like the Los Angeles Times and The Wall Street Journal. It is launching digital subscriptions to newspapers along with 300+ publications. There is good news! It is just $9.99 per month and the first month is absolutely free along with family sharing!
Apple News Plus shows magazines with a new presentation – Live Cover i.e. a lightly animated cover a more interactive and realistic look. Underneath the cover, you will find highlighted stories listed with blurbs as well as the stories recommendations that you might never typically read. You can browse through your subscribes magazines. New issues will be automatically downloaded for offline reading.
Recent posts
March 30, 2022

November 04, 2021
Articles
February 02, 2022

November 15, 2021
Global Presence
For 360o business innovation across the globe, get in touch!