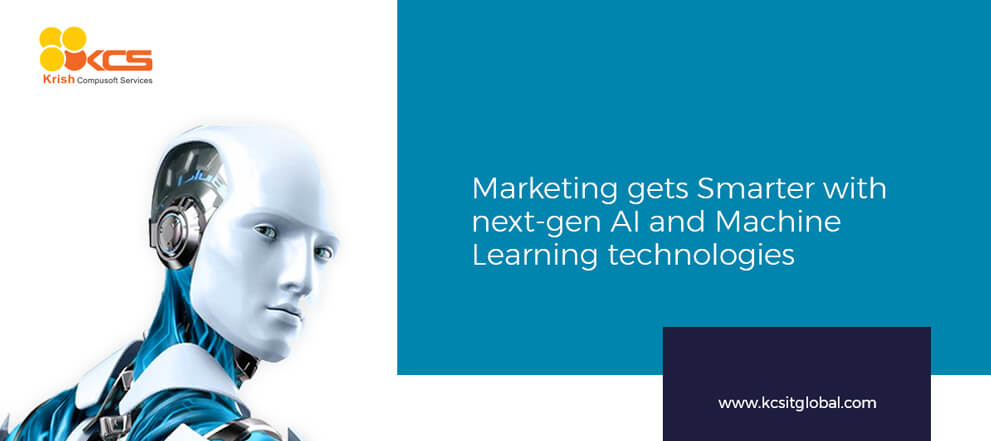 Category:

Pharma & LifeSciences
Marketing gets smarter with next-gen AI and Machine Learning technologies
The technological advancements in the recent years is what will shape the future of various organizations and it is already influencing the way we live and work today. One obvious opportunity for utilizing AI and Machine Learning in the business lies in the fact that it teaches the employees about their responsibilities and the organization.
On a wider scale, AI and Machine Learning is poised to enhance marketing strategies and contribute towards the rapid operation growth and development of any enterprise by providing an edge to ant technological environment.
Artificial Intelligence (AI) and Machine Learning in Marketing
Skillful and professional people, artificial intelligence and machine learning will be the ultimate future of digital marketing. According to the survey of QuanticMind, more than 97% of the industry experts trust that the fate of digital marketing will be completely impacted by AI-based marketing automation and Machine Learning techniques.
The significant drivers of AI and ML-based marketing are as follows:
Development of present-day AI and Machine Learning tools
Chatbots for incredible user experience
Content creation of predictive intelligence
Escalating the magnitude of dark social sharing
Micro-moments or correct data at the correct time, in a real-time environment
Customization of marketing at scale
When machine learning is amazingly high, it has a great impact on marketing and sales of the modern business enterprise. According to a report, over 75% of the organizations boosted sales by over 10% by executing these techniques in their marketing strategies.
How AI and ML are becoming the driving force of Marketing
There is a huge difference between traditional marketing and AI and Machine Learning based marketing. Traditional marketing is propelled with exceptionally constrained understanding into the behaviors and purchasing patterns of the targeted audience.
On the other hand, AI-based projects or marketing strategies consist of distinct information regarding the behavior of customers, their purchasing patterns, and other parameters. This precise information helps in accomplishing better conversion rates and a consistent increase in the sales of the company.
Various different kinds of Machine Learning models are immensely used in the modern-day digital marketing in order to release the power of AI in the modern business.
Some important Machine Learning based marketing models are mentioned below:
Accurate prediction of risk and interventions
Campaigns of Machine learning that are based on pay per click
Machine Learning awareness based content campaigns
Highly focused email campaigns
Chatbots and other tools that help real-time content
Predictive data modeling
The above-mentioned models are powered by different types of algorithms and they serve marketers in increasing the outreach of targeted audience, improve the relevant audience, elevate an action, and generate an extraordinary user experience.
AI and Machine Learning is the Stellar Solution of Modern Marketing
Artificial Intelligence and Machine Learning are widely changing the scene of modern marketing. A variety of tools based on robust machine learning languages are doing great in enhancing the marketing strategies. Along with this, various new tools, cloud-based platforms, and apps are regularly emerging in the marketplace.
AI and ML are the stellar solution of modern marketing because they offer:
Data-driven enhancement of marketing drives
Increase in sales and profitability
Unmatched user experience and client satisfaction
Improved relevance of targeted audience
Rapid and precise sales projections and predictions
Obtaining superior value from big data
Increase in competitive benefits
Reduction in the overall cost of marketing
Effective awareness of customer behavior for positioning marketing strategies in a better manner
Rapid solutions to the problems of marketing
Increase in Sales Qualified Leads (SQLs)
Improvement in Marketing Qualified Leads (MQLs)
Growth of strong customer relationship and support
360-degree viewpoint of a customer
Improving the awareness of marketing campaigns
Accurate and intuitive promoting portfolios
Improvement in customized marketing
Fine-tuning of the models of propensity
Smarter point-of-sale systems reduce unnecessary stocks and inventory
Considerable reduction in customer churn
The main goal of AI and machine learning based marketing is to understand the customer in a better way and provide them reliable and brilliant solutions. This leaves a great impression on the bottom line of business
Recent posts
March 30, 2022

November 04, 2021
Articles
February 02, 2022

November 15, 2021
Global Presence
For 360o business innovation across the globe, get in touch!