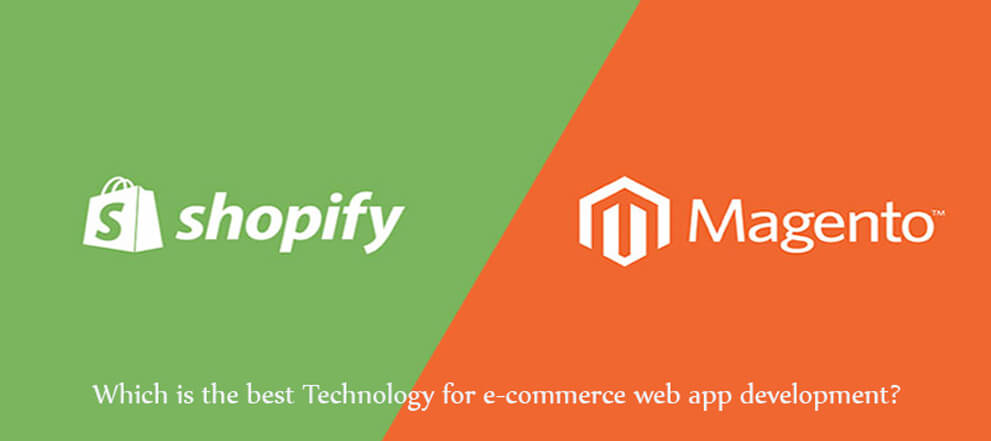 Category:

Retail / FMCG
Shopify vs Magento: which is the best technology for e-commerce web app development?
Ecommerce is dynamic today which once was just a surprise to the world. It has taken over businesses more or less like storm and everyone wants to adapt to the internet's way of doing business. Three critical factors of selecting the right ecommerce platform includes creating content, managing and regular upkeep. If not done right, it could result into the fall of your online business initiative. It becomes even important to ensure these critical factors when you are a start-up with limited resources to invest in.
But thank god for options! Ecommerce is not just limited to one platform but there are many that one can choose from. Looking into your budget and requirements, you can pick amongst the best that fits. Digging deep into which ones are the favourites, we think taking your business online might not be all that tricky. Magento and Shopify are two highly appreciated ecommerce platforms amongst businesses. However, we are going to help you pick the right platform by evaluating the two on several parameters, so the decision you make is the right one.
Shopify vs Magento
As an e-commerce Web Application Development, it is a commercialized product and one must pay for it. Magento is freely available as an open source platform. The hosting varies as Magento needs to be self-hosted along with the complete installation and configuration wherein Shopify is hosted by your store. The ease of use in Magento is higher than Shopify.
Comparison on the basis of the following parameters:
Managing Inventory: When you pick Shopify, it is much restricted in its starter plans. To use most of its features, you might have to burn a hole in your pockets. However, as far as Magento is concerned, there are a lot (a lot!) of features virtually available. But because Shopify works on a much managed server, the possibility of its slowing down when you add a lot of products is much less than Magento.
Availability of Templates: There are a large number of themes and templates available on both the platforms for various purposes. The collection on Shopify is definitely lesser than Magento and that's where it gains a point.
Customization: Today every platform is pacing neck to neck to remain competitive and favorite amongst tech-enthusiasts. Shopify and Magento equally enables you to play around and customize your website's basic functions. With Magento you might know some coding as it is an open source but with Shopify, it just simplifies provided pre-made menu with plugins.
Cost: Because Magento is an open source, it is naturally free or less expensive than Shopify. But only if you are ready to take up the painstaking job of installing, coding and configuring, then Magento is for you. Otherwise, pay a little more cost and get Shopify as a complete managed service.
Overall, both these platforms are powerful and functionally loaded in their own way. It is about what suits your requirements best.
Recent posts
November 04, 2021

August 15, 2021

August 12, 2021
Articles
Global Presence
For 360o business innovation across the globe, get in touch!