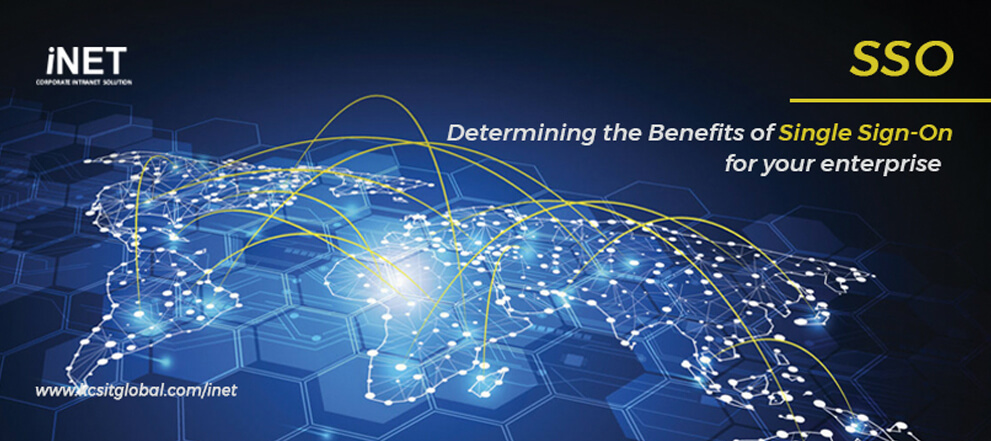 Category:

Transportation & Logistics
SSO determining the benefits of single sign-on for your enterprise
Are you accessing a number of applications, websites, and systems on a regular basis? If you are tired of memorizing multiple passwords or if your customers are tired of overly complicated password-based applications that your organization maintains than the Single Sign-on solution is just for you!
Been around for quite some time, the Single Sign-on authentication technology has just recently started gaining much traction, and is now definitely here to stay! Major enterprises have realized the significance of this technology and have implemented across their infrastructures to enhance their user experience. Did you know the major tech companies such as Facebook, Google +, Twitter, Yahoo and PayPal use Single sign-on solution to sign into a third party website instead of creating a new login account specifically for that website?
Single sign-on is somewhat a new technology in the market and is considered to be a champ alternative to the credential loss. The comprehensive use of SSO is to impose uniform enterprise authentication and authorization policies across all the applications as well as systems in the enterprise. The general internet users as well as business employees, without having to remember multiple username and passwords can now log in using a single set of credentials. This not only boosts security but also makes the user easily remember their credentials without having them to jot it down somewhere. SSO is based on trust, i.e when applications or software systems have trust with a common identity provider (IdP) than they can give the responsibility of authenticating the user to the IdP while keeping the power to decide what type of access should be authorized.
Read to know how your organization can benefit from implementing a single-sign-on solution for your website:
Advantages of Single Sign-on for enterprises:
Reduces the cost of credential administration: SSO enhanced the effectiveness of administrative work by increasing the speed as well as quickly removing the account or network for leavers. According to a study, improving password accessibility in an organization boosts significant business savings. By eliminating the stress of memorizing a number of passwords, SSO can help to reduce the stress on the help desk while reducing costs as well.
Boosts Productivity: SSO helps in reducing the workload to a great extent, by reducing password-related help-desk calls and aids in retrieving the forgotten password by themselves, without any helpdesk support.
Improves security and compliance: SSO helps improve security and compliance if deployed properly, thus relieving users from the burden of multiple credentials. It can also configure automatic logging out policies for users to prevent unauthorized access.
Enhances user experience: SSO is built to enhance user experience as well as usability. As the users do not require to remember multiple login credentials, it reduces their frustration level and also saves their time and effort by allowing for automated login to other collaboration and communication applications. Get seamless user experience across multiple domains by logging at one single access point.
Facilitates B2B Collaboration: With an increase in the number of products, there is a significant increase in the interconnection between many companies. In such a case, where the involvement is of a variety of users for exchange of information, authentication and authorization mechanisms for the access of data becomes vital. The Single sign-on solution simplifies the process facilitating the B2B collaboration, allowing the companies to develop products faster.
Thus, SSO has garnered a lot of popularity over the recent years in a wide range of businesses including banks to large enterprises to universities who provide a host of services that require SSO in order to improve the user experience.
Recent posts
March 30, 2022

November 04, 2021
Articles
February 02, 2022

November 15, 2021
Global Presence
For 360o business innovation across the globe, get in touch!