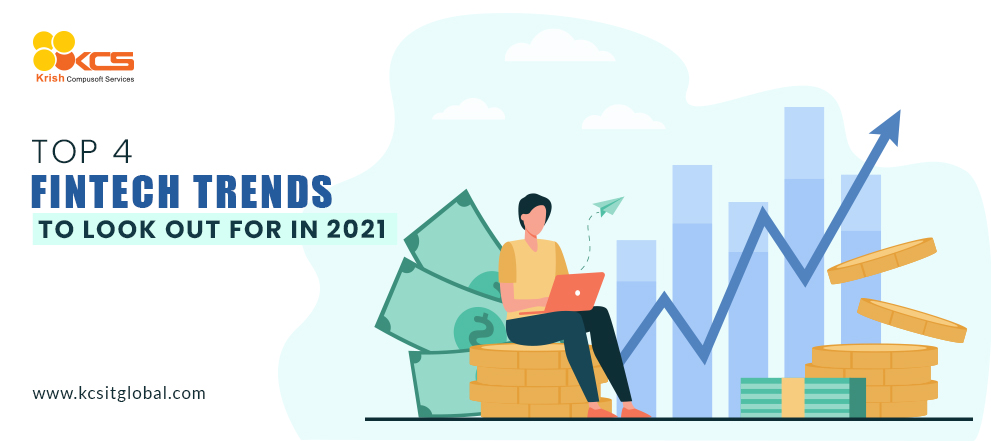 Category:

Financial Services
Top 4 FinTech Trends to Look Out for in 2021
Since the beginning of 2021, financial technology (FinTech) is accelerating the positive change in the business industry. All the latest innovations in the finance industry are meant to offer an uninterrupted experience to the customers. However, these advancements won't make difference overnight. Instead, a streak of small and incremental changes will ultimately lead to their transformation and fintech is sure to be at the very center of the reinvention.
One of the biggest transformations has been the inauguration of the latest updates in various fintech products such as robo-advising, insuretech, and regtech. Right from open banking systems to biometric security models, fintech is here to set the trends and make a charismatic transformation in the financial sector.
The finance-related applications offer modern and innovative solutions to enhance financial services. The primary goal is to satisfy the users' demands and help them to handle their finances. Fintech solutions are widely accessible and use combinations of biometrics, eCommerce, artificial intelligence, and blockchain. According to Goldman Sachs, the Fintech industry is estimated to be $4.7 trillion. It is also stated that 2 out of 7 people in the world are already using some form of Fintech innovation.
According to a recent report, 46% of FinTech enterprises globally agree that artificial intelligence (AI) is one of the most relevant technologies for investment. PWC states that 77% of existing financial companies will continue to concentrate on internal modernization in order to increase consumer retention. A lot of people think of fintech as a brand name or an application. But in reality, the word is collectively used for technological innovations and the trends that revolve around it.
Top 4 FinTech Trends to look after in 2021.
We have observed drastic growth in Fintech during the COVID-19 pandemic. As the bank shut down, people were significantly dependent on online financial services. A Fintech solution is so widely acknowledged that 96% of global customers have reported using it, once in their lifetime.
1. Digital Banking = New Normal:
Even though vaccine for COVID-19 vaccine is rolled out in various countries, people are still being skeptical about leaving their homes. Hence, visiting a bank or any financial institute physically has plummeted. All thanks to the rise in artificial intelligence, biometrics, and cybersecurity, online/digital banking is easier to access than ever. With the help of various FinTech applications, customers are now able to execute important financial tasks along with accessing a wide range of financial information.
According to a recent survey, 14.2 million people in the United States of America itself are considering digital bank as their primary money management system. On the contrary, 23% of the United Kingdom's population (approximately 12 million people) rely on digital banking services. Accelerated by the COVID-19 crisis, which left a lot of people in a state of economic instability, digital banking services are getting significant popularity because of their accessibility and easy-to-use nature.

2. Enhanced security with biometrics:
Hackers and cybercriminals are now more active since the whole world has shifted online. Hence, the Fintech sector has come up with advanced safety measures to tackle security breaches. A biometric security system is a perfect way to take the customers into confidence and assure that their data is secured. Though biometric sensors that need physical contact are being discouraged because of the circumstances, industry experts will soon come up with contactless biometric security systems.
3. Secured financial transactions with Blockchain:
Using the latest technologies, blockchain, people can safely do all of their financial transactions. As per a report, 48% of bank executives think that blockchain technology is capable of making bank transactions safe and secured. Because blockchain works on decentralized networks, there will not be any government entity or third-party involved. Hence, the data will be protected. Business Insider Intelligence described that 48% of banking executives believe that the latest technologies like artificial intelligence and blockchain will have the greatest impact on banking in 2021.
4. Paper-less banking with Neobanking:
Neobanking, also known as internet-only banking administrates exclusively without any help from conventional bank establishments. The term "Neobank" was first coined in the year 2017. It was a feasible FinTech solution for resolving the challenges encountered by traditional banks. As of 2021, Neobanking is widely available and enterprises can either get their license or work with a brick-and-mortar bank to provide their financial services. In the countries like the United States of America, their development has been depleted because of regulatory barriers. But the recent liberation of rules suggests that digital-only banks in the USA are ready to take off.
Conclusion:
All of the technology trends in the finance industry we discussed were emerged because of customers' needs. Fintech applications provide financial services. However, it is still growing so that the less-privileged society can access safe financial services as well. If you are managing a finance institute or planning to start one and need to integrate cutting-edge technology into your business, KCS will simplify all the worries. Our team of experienced tech-geeks will turn all your ideas into reality.
Recent posts
March 30, 2022

November 04, 2021
Articles
February 02, 2022

November 15, 2021
Global Presence
For 360o business innovation across the globe, get in touch!