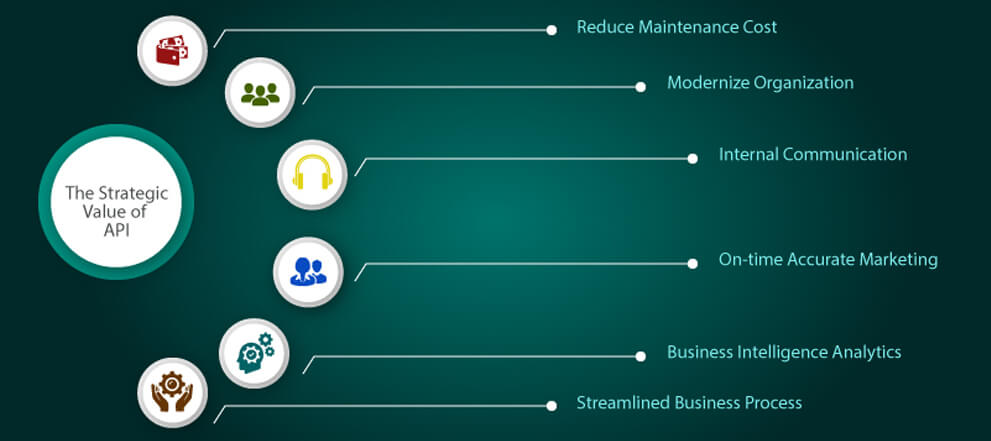 Category:

Pharma & LifeSciences
Unearth the importance of API to create successful and powerful digital products
Application Programming interface (API) is an important technology to thrive in this modern era! It is one of the key components for a business that uses software to interact with one another. With evolution in the technology, the role of API's has entirely changed from the interface and cross-application communication to a one-stop solution for multiple business advantages.
If businesses aim to flourish, they will have to digitally transform and use API technology to become more competitive. The world of API technology has a lot more to offer from protocols or specifications to exchange information online and request online services, thus aiding business to grow at unprecedented rates. Organizations can effortlessly interact with their customers, share services with external firms and reform their internal system with API technology. There are many types of API like: Web services API, Source Code API, Mobile API, Library based API, Hardware API, Class based API etc.
It's the age of API which is the core engine to drive the strategy of business to great success. It's time for businesses to make a smart move to analyze the potential of API technology and implement it effectively.
Below are some points supporting the benefits of API for business and their role to develop robust digital products:-
1) API Integration:
API integration is the epicenter of any business. It not only enhances business prospects but also makes any website more appealing. Many firms are deploying third party application integration technology to reap benefits. Few popular application integration are: Payment processing, News feed, tracking solutions, Chat Systems, Discussion Forum, Shopping cart and Social Media.
2) Boosts Brand loyalty:
With API's the business website could be empowered to provide latest data to the page. This robust digital product helps companies improve site loyalty and enable higher conversion rates to grow a business. API's are best known to enhance the user experience and directly prompts more traffic to the site and hence use it efficiently.
3) A modernize, digitized organizational structure:
API pushes businesses to reform and modernize their internal structure and thus function smoothly and promote success.
4) Lightweight mobile apps giving more functionality and power:
API helps firms deliver lightweight mobile apps without losing the key components and functionality of the business you provide. It helps you to connect to the remote platform to retrieve data, push files and manage operations.
5) Business Intelligence analytics:
API's help to harness remote storage and remote processing power for the business intelligence analysis. If your business requires storing and retrieving data, images or menus over the cloud, then API cloud is the thing you should use. You can also manage calculations without complex algorithms using this power-packed technology.
6) Excellent to generate leads and boost outcomes:
All the popular platforms like Amazon, Facebook, LinkedIn, Instagram and lot more have gained their authoritative status as they were able to engage users by providing excellent experience and also make users click the links. With an accurate use of API's many successful businesses were able to create a niche for themselves in the market.
Hire KCS for efficient integration of Web Application and Mobile Application Development for getting faster and better ways to enhance your ROI. Our developers are skilled to get you both standard and customized 3rd party API integration to suit your unique business needs. Our core forte is to blend any ready-to-use software products with your existing organizational structure and thus help you achieve your goals effortlessly and within budget.
The best firms that use API functionality to the core are Expedia, Salesforce, Bookmyshow, Flipkart and many more. These companies have understood the value API's can get for their business and thus use it exclusively to promote success.
Make an investment in your API strategy today to reap higher rewards! API is the only secret for a successful business.
Recent posts
March 30, 2022

November 04, 2021
Articles
February 02, 2022

November 15, 2021
Global Presence
For 360o business innovation across the globe, get in touch!