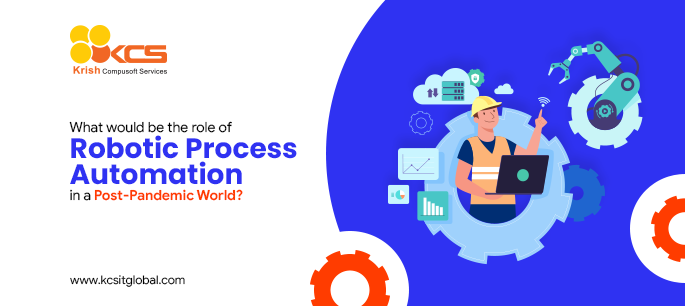 Category:

Hi-Tech
What would be the role of Robotic Process Automation in a Post-Pandemic World?
The Coronavirus pandemic has caused significant disruption for a lot of enterprises in one way or another, forcing them to integrate digitalization. Leveraging innovative technologies has been critical to business response, with Robotic Process Automation (RPA) proving to be a savior for business continuity. Automation combines with artificial intelligence and machine learning are allowing more sophisticated solutions across varied business verticals.

With the rise of claims and inquiries pouring in from customers, entrepreneurs dealing with the challenges of managing a scattered workforce have opened their eyes to the importance of digital transformation. They have adopted RPA to allow the management of new claim types with automation, as new function codes are being generated as a result of the global epidemic. It has increased the demand for significant operational capacity as resources are at capacity, and it looks like implementation of RPA is set to continue post-COVID-19.
What is Robotic Process Automation?
In general, RPA is a modern-age technology that can emulate, imitate, and integrate human actions to intensify and execute a business process with the help of bots. This technology is aiming to enhance efficiency, minimize cost, and simplify operations within an organization. RPA integrations could be as simple as automating email or chat responses to handling thousands of bots to manage the large application.
Analysts at Forrester Research conducted research and predicted that intelligent automation suites will offer one-quarter of all RPA solutions. The study also stated that 20% of enterprises will increase intelligent document extraction investments with the help of Intelligent Document Extraction Platforms. In addition, 30% of enterprises will focus on quality using better planning and testing before the deployment of automation.
A report published by Automation Anywhere's Now & Next State of RPA shows that RPA integrations have passed the tipping point for organizations' implementation and have entered the mainstream in the wake of COVID. The report states that 63% of enterprises are already deploying or actively escalating RPA to increase business resilience and productivity. Moreover, 78% of organizations have already realized productivity gains. In several cases, where more than 100 bots are deployed, businesses were more likely to have achieved their goals.
Benefits of Robotic Process Automation Post-COVID-19 Pandemic
Speed and Productivity
Cost Savings
Business Continuity
Accuracy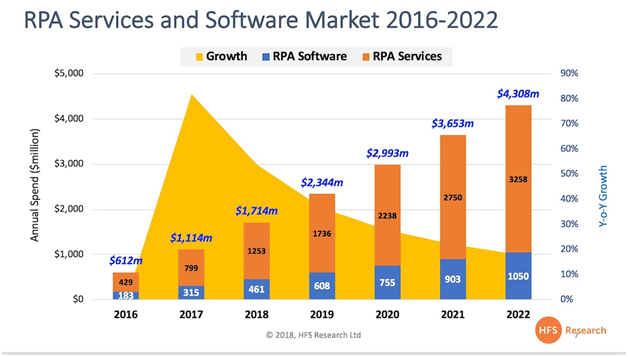 Increasing employee productivity during the age of automation:
During the COVID-19 pandemic, resources were less and margins tight, and the automation of manual operations can help to streamline workflow for low-staffed companies and offer them the flexibility to enhance scalability, both up and down. Contrary to popular belief, Robotic Process Automation is not just a medium to reduce headcount, but an efficient technology to support the skills of the human workforce, and make their jobs more meaningful by managing more value-add complicated tasks.
More often, employees have to sacrifice valuable time on low-value, repetitive operations that include data analysis, form filling, and database writing directly impact productivity and taking time away from more customer-facing and meaningful work.
Barriers to saving enterprises making better use of automation:
30-50% of initial RPA projects globally fail to get past the pilot phase or proof of concept. Regardless of the transformational capabilities, the technology offers several organizations experience hurdles with leveraging the required holistic change management approach to implement the technology into the organizational structure.
Automation projects often misfire, after a lot of time is wasted on explaining and projecting what will be executed. For avoiding technicalities getting lost in translation among IT technicians and business leaders, building clear lines of communication is important. Every enterprise is unique in its way and will need close alignment with people and existing processes, overseen with effective leadership to convey new initiatives.
Conclusion
Automation has now become an invaluable asset for unlocking critical agility, resilience, and cost efficiencies as entrepreneurs find their feet in the uncharted market situation. After months of workforce restricting and reduction, now is the time for organizations to plan and invest in RPA solutions to support remote as well as on-site employees adapt. KCS is a leading RPA service provider that provides solutions that can be used to automate several aspects of an organization's processes. We specialize in the development of intelligent RPA solutions right from basic automation to sophisticated RPA software with multiple actors and data sources.

Recent posts
March 30, 2022

November 04, 2021
Articles
February 02, 2022

November 15, 2021
Global Presence
For 360o business innovation across the globe, get in touch!