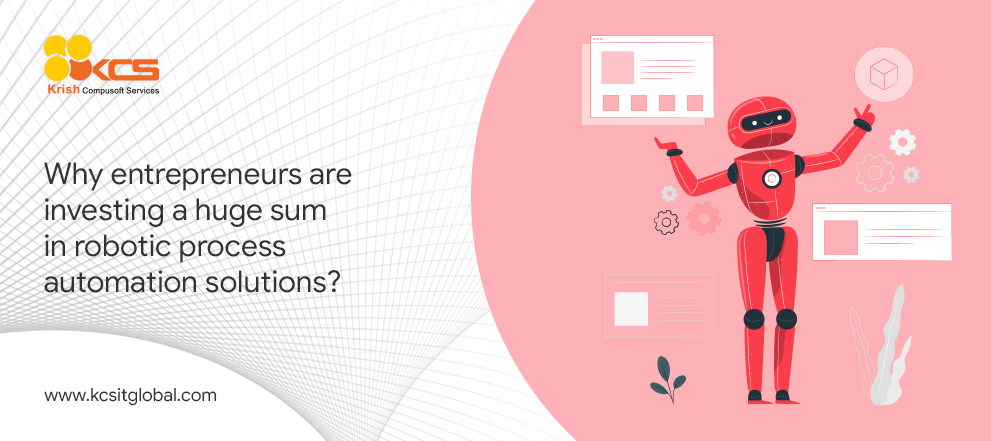 Category:

Hi-Tech
Why entrepreneurs are investing a huge sum in robotic process automation solutions?
What is Robotic Process Automation?
In simple terms, robotic process automation (RPA) renders various benefits over traditional automation solutions. It helps enterprises to save a lot of time, money, and free up the workers and resources with a minimum technical barrier. It enables businesses with an increase in productivity, higher accuracy, the capability to streamline regulatory compliance, quicker services, and higher consistency.
Robotic process automation (RPA) is the development or deployment of software robots or bots that can automate rules-based and repetitive mundane operations executed by a human being within a workflow and process-related applications. Grand View Research analyzed that the current RPA market is worth $125.2 million, which is expected to grow $8.75 billion by 2024. There is no doubt in the fact that the adoption of robotic process automation solutions is skyrocketing with its capability of delivering quick ROI and improved control of operations.
A study conducted by Salesforce states that 70% of the customers expect enterprises to understand their demands and expectations. This is one of the huge challenges businesses face these days. Also, companies must figure out the way to cater to increasing customers' needs. For many years, we are reading about organizations refusing to keep up with the latest technology and run out of business.
Enterprises these days are constantly keeping an eagle eye on the path-breaking technological innovation that can transform the way they run their business. Recent industry on accounting and finance professionals concluded that RPA software played a vital role in eliminating all the time-consuming and repetitive manual processes that an accountant faces every day. Robotic process automation solutions can also enhance the efficiencies to deliver more accurate intelligence data and offer real-time access to financial data with analytic capability.
RPA enables enterprises with the ability to cut staffing costs and human errors as well. David Schatsky, one of the directors of Deloitte LP, recalls a bank's experience with the implementation of RPA. In this experience, the bank revamped its claims process by deploying 85 bots to execute 13 processes, managing 1.5 million requests per year. The bank included capacity equivalent to 200 full-time workers at an estimation of 30% of the cost of recruiting more staff.

Bots generally come with low-cost, easy to implement, and require no custom software or deep system integration. Schatsky says that such characteristics are essential as enterprises seek for growth without investing notable amount or friction among workers. Companies can also boost their automation process by integrating RPA with cognitive technologies like ML, natural language processing, and facial recognition, automating high-priority tasks that in the past needed the perpetual and judgment capabilities of humans.
Let us understand why entrepreneurs are investing a huge sum in RPA service providers India
1. Processing cost reductions:
One of the biggest benefits enterprises can get from the robotic process automation solutions is the immediate and remarkable reduction in the cost it can deliver. When various operations are automated, not only they get executed quickly, but it can also be performed constantly at much lower rate. Hence, one can get optimum results for less, which results in a better bottom line.
2. Robust billing system:
With the help of RPA, accounts payable and data digitalization processes can be automated, and this leads to improving billing efficiency. By updating administrative tasks, healthcare organizations can relatively economize labor and financial resources.
3. Increased employee productivity:
Increasing employee productivity is yet another consequence of robotic process automation services. Also, the chain of positive effects doesn't end here. Craig Richardville, one of the pioneers of transforming healthcare to the digital industry asserts that a higher-level of healthcare professionals' job satisfaction is proportional to not only with better care for the patients but also with greater ROI for the company.
4. Streamlines communication:
Replacing document creation tools with RPA can result in smooth-functioning critical communication processes with the help of its intelligence. Robotic process automation can make changes in one document using triggers and processes to effect these changes throughout other documents. This process eliminates the pressure on employees to manually edit files and make smaller changes. In addition, these processes help end-users, representatives, and on-field workers to get real-time updates every time.
5. Complete data security:
Robotic process automation solutions can also be combined with various applications to increase the security of enterprise data. These integrations will assure that client's apps are not changed or altered by the robot. This system lowers the risk of unauthorized access as business functions use and inherit the existing security infrastructure where authorization concepts are already implemented.
Conclusion
Most of the general population is worried about the disadvantages of automation backfiring and losing out jobs to it. Still, industry experts have highlighted that the positive effects will far exceed the cons of RPA and mentioned that it may transform the way we work and perceive it on various levels. For the startups and giant enterprises that are looking for RPA service providers in India, KCS is the best place to achieve all your needs. They have a dedicated team of aces who are experts in render bespoke solutions to all your problems.

Recent posts
March 30, 2022

November 04, 2021
Articles
February 02, 2022

November 15, 2021
Global Presence
For 360o business innovation across the globe, get in touch!