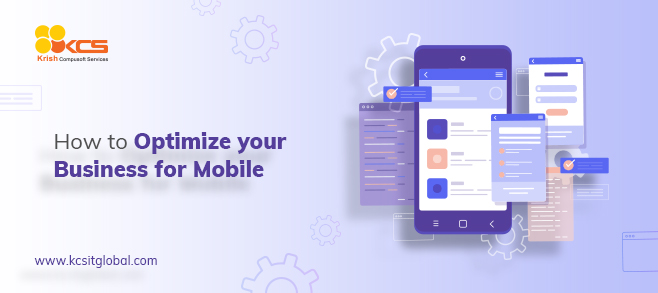 Category:

Mobility
How to Optimize your Business for Mobile
­Mobile has become so prominent these days that we cannot imagine our life without mobile phones. Mobile phones are inevitably present in everyone's pockets and thus have become a perfect and popular medium for business and marketing. With life moving at a fast pace, priority and focus has shifted to online business. It is preferred as it saves time, offers good variety and makes things easy and efficient.
The usage of internet in mobile phone has gained prominence even than that of desktop internet usage. It has become a necessity for all the businessman to consider its importance and conduct their business in accordance with it. Optimization of business is all you need in order to keep your customers engaged and also for the development of your business.
5 WAYS TO OPTIMIZE YOUR BUSINESS FOR MOBILE
1) Optimize website to fit Mobile and Tablet screen
We are evolving and so is the technology! The one zone where numerous little and medium organizations are still slacking is the company website. The website may be attractive but it may not look that attractive on a mobile phone. You can take advantage of the mobile optimization tools and optimize your website. As per the statistics,
Mobile owners worldwide will increase to 7.33 billion by 2023.
If you cannot do that, create a mobile-friendly site which offers clear display and large font size and contact information on the top that can be easily accessible by any mobile phone user. Also by offering what mobile users are interested in like videos makes it more interesting.
2) Easy access to your business on mobile search engines
If you already have a website mobile friendly or not you might have known the importance of SEO (Search Engine Optimization).This involves concentrating on a successful SEO strategy. Local search is a powerful tool for any kind of business.
If there is an easy availability of your business on any search engine customers will definitely visit the site for details information. Moreover, if it includes the website mapping and social media information, the customer can quickly contact the enterprise without any hassle.
3) SMS or Text Message Marketing
Customers tend to forget very quickly because of the ever-evolving technology and competitive business market. Always make your customer remember that your business exists. It can be a very effective way to promote your products or any event which a customer can actually find interesting. Let your customers know about this text system on websites, social media pages or your retail shop (if you have one).
4) Regular Updates
"If you don't take care of your customers, your competitors will"
Visitors access your site and social pages more often from their mobile phones as compared to that of their laptops or desktops. Regularly update your sites, web pages, and social media about your latest product, sale or an event or else your regular customers won't be regular anymore.
5) Enhance Mobile Strategy
New technologies and innovations can be seen in every business. Mobile strategy is an approach to incorporate mobile phones in your business. It can prove to be the most beneficial among all the strategies you have planned for your business.
Therefore, you should never rely on your ongoing mobile techniques and strategies. Always try to evolve your mobile strategy in order to grow your business. Productive and eye-catching mobile strategy is what makes the customer engages with your business.
Recent posts
March 15, 2022

November 29, 2021

November 12, 2021
Articles
February 02, 2022

November 15, 2021