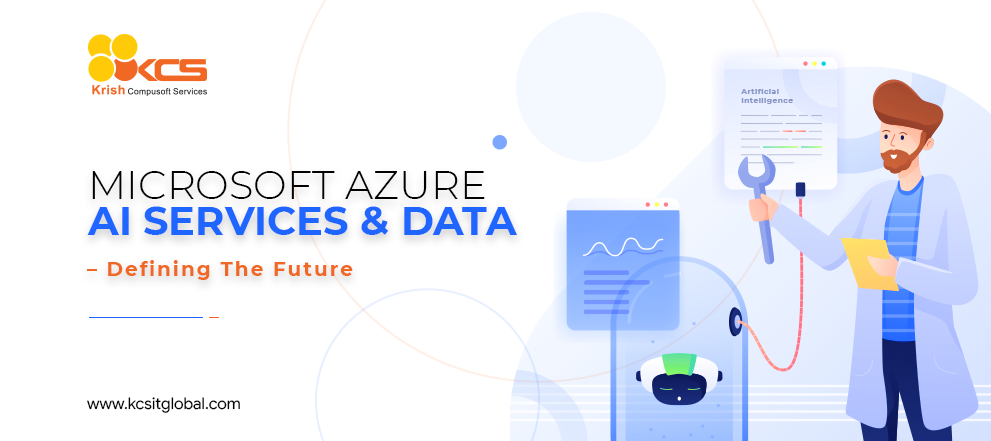 Category:

Cloud, Data Engineering & Analytics, AI & Automation
Microsoft Azure AI Services And Data – Defining The Future
A bunch of companies across the world are investing billions of dollars in artificial intelligence with the goal of creating generic interaction between people and applications. According to the experts, by 2025, the wearable AI industry is expected to be worth $180 billion.
Therefore, AI has brought the revolution in the process of industries transformation that has been never seen before. Although the notion of artificial intelligence (AI) is not new to the market but it took almost 3 decades to leverage AI in order to simplify the human's life and business processes.
Here are a few examples of business fields where AI is commonly used:
IT and Security
Customer Services
Business Operation and Business Support
Finance and Accounting
Human Resource
Note:
A Quick Definition of AI: AI refers to a digital computer's or a computer-controlled robot's capacity to execute tasks that are often associated with intelligent individuals.
Microsoft, one of the prominently known enterprises development and IT shops has launched its Azure AI platform after years of research by Microsoft experts. Azure Artificial Intelligence Services have been designed especially for developers and data scientists to build an innovative application and their own solution with a view to resolve complex problems, enhance customer experience and create a future.
According to Azure's collected data, 95% of Fortune 500 companies trust their business on Azure. Companies like Pepsi, Amway, Airbus, BBC, and others are using Azure AI in a variety of ways to provide engaging consumer experiences, uncover new business possibilities, and make a significant impact.

Azure AI Capabilities That Will Enable Businesses To Use AI With Even More Confidence
Now each sector and organization are realizing the potential of AI and aggressively seeking AI-based solutions. As a result, they demand AI development that is secure, scalable, and responsible. To meet this demand, Microsoft Azure AI has added the following new AI capabilities:
1) Build an Azure-based machine learning model anytime, anywhere
Now organizations can utilize Kubernetes clusters for model training and that allows containers to run across multiple machines and environments with the help of Azure Machine Learning. Ultimately, they'll be able to execute the machine learning model close to where the data is stored.
Additionally, with the manageability, consistency, and dependability provided by Azure AI/ML, users can readily manage all resources from a single pane.
2) Provide an extremely pertinent search experience with Azure
Searching is the most basic and highly crucial functionality which directly create an impact on customer experience. Nowadays, users can search in many ways, such as keyword search, Boolean search, context search and many more. Azure AI new capability of search method extended its power.
This searching functionality enables organizations to serve the most relevant searching outcomes in their application along with the summer response that helps consumers comprehend what they need faster.
3) Form Recognizer now has more language support and new capabilities for extracting data
Businesses are frequently speeding up the process by extracting information from any sort of document, such as a driver's licence, passport, invoice, and so on. The Azure AI form recognizer saves time by eradicating the need for human data entry and optimizes the customer experience.
This Azure AI/ML feature uses advanced machine learning to extract text, key values, tables, and any other structure from a document. Moreover, the client can able to process form submissions in more than 73 languages.
With Azure Data And AI, Businesses Can Exploit The Potential Of Data
Organizations should strive for greater agility in order to remain competitive and ensure business sustainability in an era of unprecedented unpredictability. Nowadays, agility is about to investigate and use data in a lucrative way that empowers workers at work and enhances the user experience regardless of size.
Every day, individuals across the world generate 2.5 quintillion bytes of data. And businesses can carry out this data to make more profit, but this necessitates a computer platform with infinite scalability, performance, and possibilities enabled by accessible data.
Here are some services provided by Microsoft Azure AI with the aim to help organizations to achieve limitless capabilities:
1) Unmatched Analytics: - Azure announced Synapse Analytics, a bottomless service that reunifies data integration, enterprise data warehousing, and big data analytics, with the promise of making analytics safer and performant. Clients can scan their source systems and have their current scripts instantly translated into TSQL with only a few clicks. What used to take weeks or months to complete may now be done in minutes.
2) Data Governance Across the Broad: - Because AI is revolutionising real-time data governance, Microsoft Azure will launch Azure Purview, a data governance service, in December 2020, with this demand at its heart. Customers have used services to categorise over 14.5 billion data points from the day it was released, allowing them to gain a historical perspective of their data collection.
3) AI-Powered Search: - Azure Cognitive Search is the first cloud-based search engine with AI capabilities, with the goal of serving meaningful search results and providing users with a highly relevant search experience.
4) Azure Migrate to Enhance Migration Experience: - SQL is one of the most preferred databases for businesses thus making migration easier than ever Microsoft Azure introduced the Azure Migrate. It offers various tools such as discover, assess, and migrate workload just in few clicks. By analysing their SQL source and destination landscapes at scale, with integrated SKU suggestions and cost estimates provided, the technical process is easy to grasp even for non-technical people.
What Does Microsoft Azure AI Provide You?
AI is creating a better future for businesses by showing its capabilities to take data science and technology to the next level. Azure AI/ML platform offers a bunch of services that can't be matched by their competitors, let's have a look few most prominent services:
Azure Cognitive Search
Enhance AI Application
Microsoft Azure AI and ML
Azure Artificial Intelligence allows businesses to improve their present or prospective projects in a multitude of ways, including faster app creation, data analytics, and machine learning capabilities.
How KCS Can Help Your Business To Make The Benefit From Azure AI?
KCS is a Microsoft Gold Partner and Specialist who not only provides Microsoft Services but also advises and assists customers in selecting, installing, and using the best services for their organisation. KCS is an Azure platform specialist who can assist you in finding the best AI solution for your company.

Recent posts
March 15, 2022

November 29, 2021

November 12, 2021
Articles
February 02, 2022

November 15, 2021